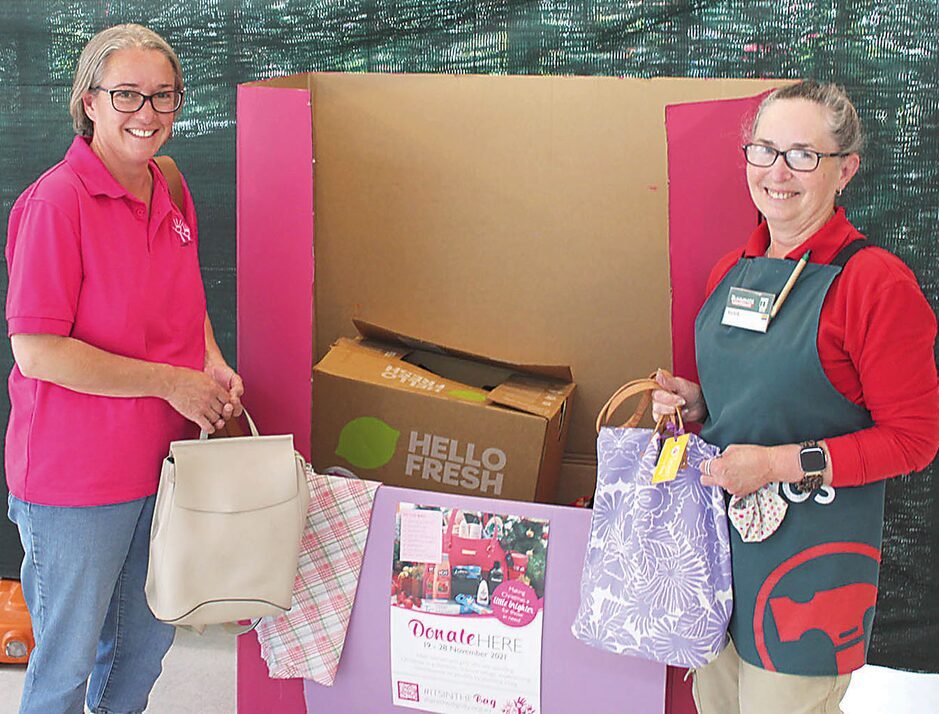 Share the Dignity is calling on local residents to support women and girls in need this Christmas through its annual #ItsInTheBag Christmas appeal, encouraging people to donate a bag and drop it off at Bunnings, Sale, from now through to this Sunday, November 28.
The initiative, which is now in its seventh year, aims to ensure that every woman and girl spending Christmas in a domestic violence shelter receives the basic essentials – including pads and tampons, deodorant, toothbrushes and toothpaste, shampoo, conditioner and soap – as well as little luxuries such as hair accessories or a handwritten note.
With COVID-19 pushing more vulnerable women and girls below the poverty line, and at greater risk of homelessness and domestic violence, #ItsInTheBag donations are in high demand.
Share the dignity local volunteer Kyla Earsman explained the importance of the donations for local charities.
"I have got daughters and we are incredibly privileged to not need this … that is what drove me to volunteer," she said.
"Especially with COVID it has been difficult, and many women need this now more than ever," Ms Earsman said.
Share the Dignity Victoria team leader Donna Levinson-Murray said for many women and teen girls, this was the only gift they would receive this Christmas.
"I want to encourage Victorians to give where they can, in whatever way they can – that might be putting together a bag, sponsoring a bag online, or as simple as donating the essential items," she said.
Gabi Alosi received an #ItsInTheBag donation when she found herself homeless at the age of 22, and knows first-hand how a simple gift can provide hope and dignity.
"I experienced homelessness through my mental health," she said.
"… I ended up in a youth homeless shelter.
"I wouldn't wish that on anybody else," she said.
"The bag made me feel incredibly loved and cared for, and that was something I hadn't experienced in a long time either from myself or others.
"It meant a lot to me that people felt that I even deserved to receive a bag, and that they were proud of me for moving forward in my life."
Ms Earsman explained how the bags were distributed once they were donated.
"The bags go to local charities and they engage with who needs it," she said.
"Gippsland often needs to bring in bags from Melbourne just to keep up with demand."
Ms Earsman said if residents were unable to donate a full bag, they could still donate brand new items which can be added to bags that may be missing items.
Those wanting to support the initiative can drop-off an #ItsInTheBag donation to their nearest Bunnings store from November 19 to 28, sponsor a bag online, or register to become a Share the Dignity volunteer.
The drop-off point is in the café in the back corner of the Sale store.
Supporters can sponsor bags year-round.