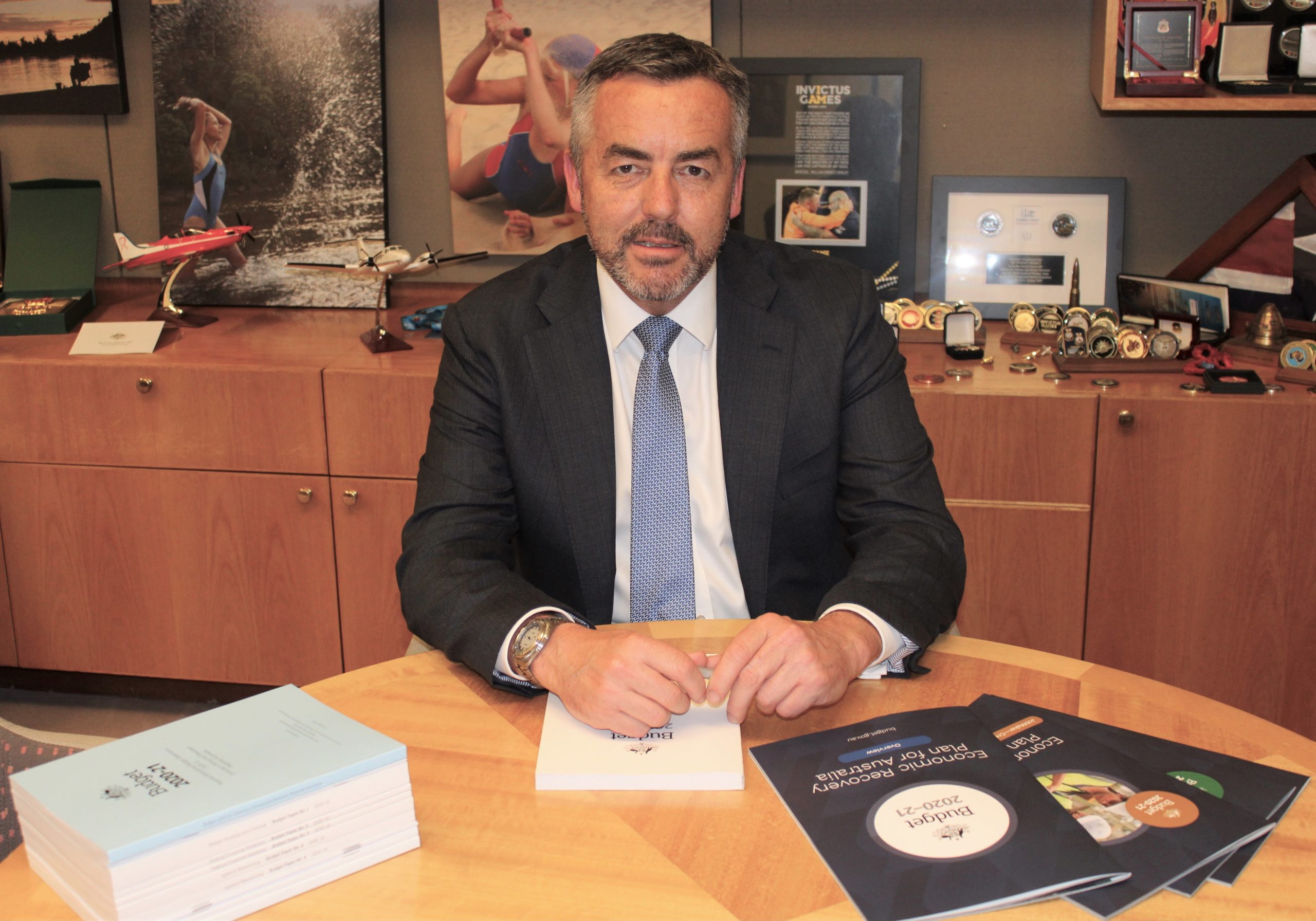 GIPPSLAND MHR Darren Chester has described this year's federal budget as "a bold plan that invests in people, businesses and our communities to create jobs and keep us safe".
Mr Chester has welcomed the budget's focus on supporting and creating new jobs, particularly in regional areas, with record funding for new infrastructure and critical services like defence, health, education, disability and aged care.
"This budget is a plan to deal with the difficult times we are facing as a nation," he said.
Mr Chester said the 2020-21 budget provided an important investment in infrastructure and essential services, supported local businesses and local jobs, while also helping Gippslanders to meet everyday living expenses.
"Australia entered the COVID-19 recession in good economic shape and has weathered the crisis better than most comparable countries so far.
"We are determined to keep doing whatever we can to protect the lives and livelihoods of all Australians.
"Our budget recognises that regions like Gippsland have been changed over the past 12 months by drought, bushfires and the pandemic, but Gippslanders themselves haven't changed. We are still resilient, determined, hardworking and largely optimistic about the future.
"Our tax cuts are putting more money back in the pockets of Gippslanders and two cash payments of $250 each will help pensioners and veterans with the cost of living."
Mr Chester said the 2020-21 budget provided an important investment in infrastructure and essential services, supported local businesses and local jobs, while also helping Gippslanders to meet everyday living expenses.
And government programs designed to help job seekers, including women and young people, find paid employment would support the region as more businesses began to return to normal operations.

"Every budget is important, but this year's federal budget is probably the most important for the past 50 years," Mr Chester said.
"This budget is all about jobs: helping people find jobs and helping others keep their jobs.
"This budget is making a crucial investment in local jobs and infrastructure that will help invigorate our region's economy after enduring drought, bushfires and the coronavirus pandemic.
"The federal government is also continuing to provide the critical services that we want and need in regional and rural communities by allocating record funding to hospitals, schools, childcare, aged care and disability services.

"The government's investment in essential services and infrastructure will help us build a stronger economy, a stronger Gippsland and a stronger Australia."
Victorian Chamber of Commerce and Industry chief executive Paul Guerra said the budget included much-needed support for the survival and recovery of Victorian businesses.
"This is a budget that will reward local businesses for their grit and determination, the ambitious entrepreneurs who have steadfastly stayed the course, and who are all ready to resume when permitted to grow Victorian jobs once again," he said.
Victorian Farmers Federation president David Jochinke said farmers were generally satisfied with key spending commitments to help enable young Australians to work in agriculture and important water infrastructure spend.
"We applaud the $17.4 million invested to provide $6000 grants to help enable workers to immediately relocate to regional areas to fill the estimated 26 thousand vacant jobs," he said.
"It's good news for farmers and the industry with the investment for Australians to pursue careers in agriculture and the wage subsidy for employers to help employ young unemployed workers on farms.
"Farmers will no doubt welcome the $50 million in funding for the popular Emergency Water Infrastructure Rebate Scheme, but for farmers to benefit the Victorian government must match the federal funding.
"The single most important asset to farmers is water, and we're pleased to see the $2 billion commitment in grants to build new pipelines, weirs and dams."
The Brotherhood of St Laurence believes the budget has missed an opportunity to bring all Australians along in the recovery from COVID-19.
While it was happy to see a focus on youth employment and training, executive director Conny Lenneberg said the government had offered little support to others in need.
"The government showed great leadership during this pandemic with initiatives like JobKeeper and the Coronavirus Supplement, but even though this crisis is far from over, the supplement has now been cut," she said.
"People around the country still need help to rebuild their lives."
Income tax cuts for more than 11 million Australians, with an extra $1060 to $2745 for low and middle-income earners and up to $5490 for dual income families;
Two payments of $250 to support age pensioners;
Superannuation reforms to save Australians $17.9 billion over 10 years;
$5.7 billion for mental health support, including critical front-line services and suicide prevention;
$3.9 billion for the NDIS to support 400,000 Australians with disabilities;
$1.6 billion for an additional 23,000 home care packages to support older Australians who wish to remain living in their homes; and
$376 million for new and amended listings on the PBS, including lifesaving medicines to treat leukaemia, melanoma, Parkinson's disease and ovarian cancer.
$1.2 billion to create 100,000 new apprenticeships and traineeships, with a 50 per cent wage subsidy for businesses who employ them;
JobMaker Hiring Credit through which eligible employers can claim $200 per week for each new employee aged between 16 and 29 and $100 per week for each new employee aged between 30 and 35;
$240.4 million to increase women's workforce participation, improve earning potential and enhance economic independence; and
Temporary tax incentives for businesses with a turnover up to $5 billion to encourage investment and improve cash flow.
$14 billion for new and accelerated infrastructure projects;
$2 billion for road safety upgrades to save lives; . An extra $1 billion over two years for the Local Roads and Community Infrastructure Program for better roads, footpaths and street lighting;
$249.6 million over four years to modernise recycling infrastructure, reduce waste and recycle more within Australia; and
$200 million to boost local infrastructure in regional communities, $100 million of which will be for tourism-related infrastructure.

$70.6 million to complete the duplication of the Princes Highway between Traralgon and Sale, bringing the federal government's total contribution to $202.6 million;
$10 million from the Regional Recovery Partnerships fund for Gippsland;
$1.9 billion investment in low emissions technology, including $70.2 million for a regional hydrogen export hub and $50 million for a carbon capture and storage pilot program, with the Latrobe Valley named a potential location;
$1.8 billion in funding for the environment to help wildlife recover from the summer bushfires and to protect and enhance the environment;
$7 million to seal the final section of the Bonang Highway;
$1.8 million to create shellfish reefs in the Gippsland Lakes; and
$150,000 from the Stronger Communities Program to help community organisations undertake small capital projects.