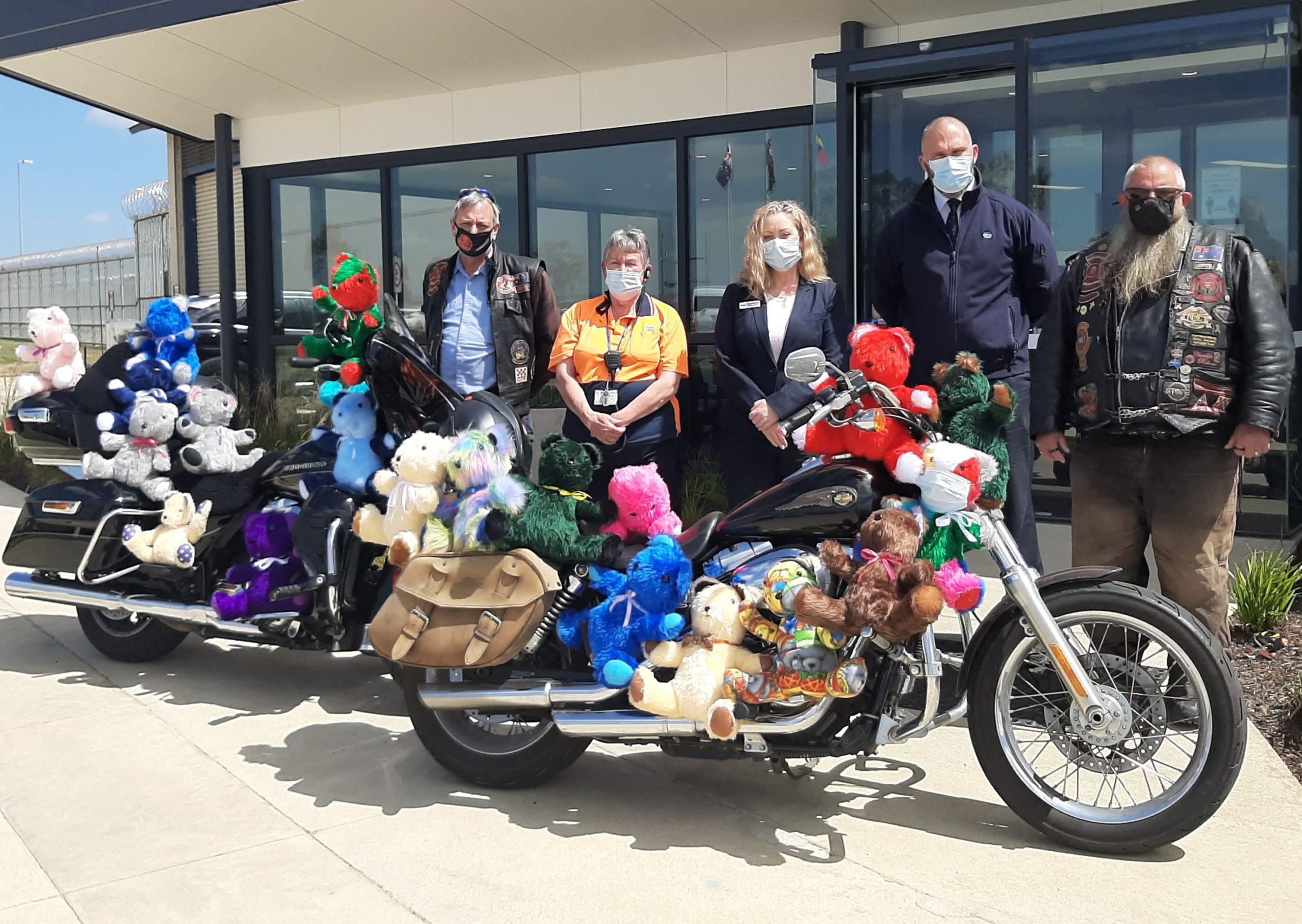 COLOURFUL teddies of distinction will feature in the 23rd Red Knights Keith Hamilton Toy Run this Saturday.
Twenty five handmade bears – plus one bright pink and cuddly wombat – were recently handed over to the Red Knights motorcycle club by Fulham Correctional Centre staff.
Throughout the year prisoners have been making teddy bears for the club's toy run as part of a prison education and vocational training program.
Prison general manager Natalie Greenfield said the craft project had a motivational and community benefit, with prisoners who made bears also getting the opportunity to make one for their own children or loved one.
Ms Greenfield said participants learned new skills and were able to express themselves creatively, choosing their own colours and patterns.
The prison has been involved in the program since 2015.
Fulham industry officer Helen Dolan said the prisoners had been busy this year making many craft items such as clothing and curtains, plus pouches and wraps for wildlife shelters inundated with animals from the east Gippsland fires.
"It has been fabulous, and the prisoners have really loved it," she said.
The prison-made wildlife wraps and pouches were reportedly so popular because of their quality, helpers at shelters in Mallacoota kept asking "are there any more prison ones?".
Ms Greenfield said the craft project was a welcome project for prisoners after a "challenging" year, with lockdown and measures to keep people safe in the wake of COVID implemented quickly.
"Everything was turned upside down, but in terms of managing things the prison has done really well," she said.
"We didn't have any positive cases, but we were prepared if we did.
"All staff still wear masks and there are strict hygiene protocols like single-use face masks, temperature testing, donning and doffing stations and handwashing that are still adhered to."
Ms Greenfield said the initial stages of the pandemic felt like a "tidal wave" had hit, but once processes were put in place under the advice and guidance of Corrections Victoria, and communication was maintained with staff and prisoners, "everybody knew what they had to do".
The Red Knights Keith Hamilton Toy Run comprises two rides – one longer ride from Sale, through Rosedale, Heyfield, Newry, Briagolong and Stratford to Maffra, and a slower, shorter one for older bikes.
The first ride will depart the Sale clocktower at 9am and meet at the Maffra Shed at 11.30am for the procession ride back to the clocktower for the presentation of toys from 12.15pm.
Mr Young said the club would love anybody who rides a bike to go along and be part of it, and the community is invited to cheer riders on and be involved in the community initiative.