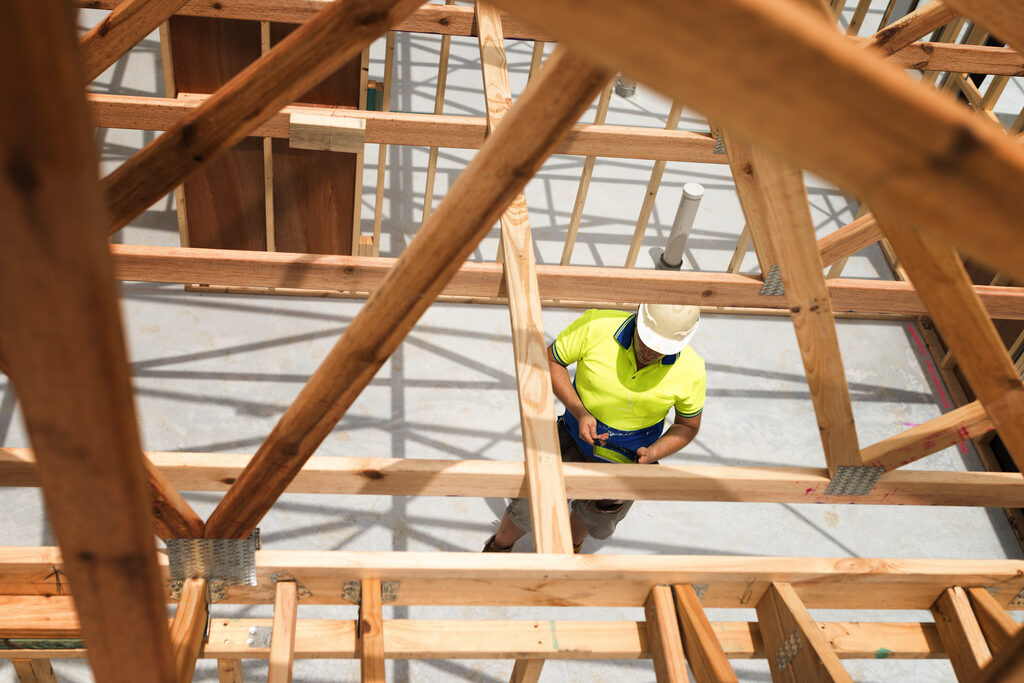 CONSTRUCTION workers statewide must show proof of vaccination in order to keep working beyond Thursday, in a move welcomed by the Master Builders Association.
Mr Andrews said public health officials had become increasingly concerned about transmission and exposure in construction settings, with evidence that it emerging as a 'vector' of the virus into regional areas.
In light of the cases seeding from Melbourne into regional Victoria, construction workers will no longer be able to cross the metropolitan-regional boundary for work.
To limit further spread in the industry, construction workers across the state will need to show evidence to their employer that they have had a first dose of the COVID-19 vaccine by 11.59pm this Thursday.
Limited medical exemptions and proof-of-booking exceptions will apply, in line with previous requirements for residential aged care workers.
Tea rooms will close and food or drink will not be able to be consumed indoors at work.
"If you're travelling back and forth from metropolitan Melbourne into the regions and back again then the virus will hitch a ride," Mr Andrews said.
"We want to try and limit the impact on regional communities, and if we see all this construction movement then we will see more cases, and that will mean we have no choice but to lock down bigger and larger parts of regional Victoria."
Along with aged care, construction and freight workforces, healthcare workers will be the next workforce to have vaccination become a requirement to work, with school and childcare staff, police and disability workers to follow.
Healthcare workers will need to have received at least their first dose of a COVID-19 vaccine by October 15, or provide evidence that they have an appointment to be vaccinated before November 1, to continue working.
The government will have more to announce regarding school and childcare staff, police and disability workers soon, but confirmed the Chief Health Officer would be assessing vaccination requirements for all authorised workers in Victoria.
Premier Daniel Andrews said the modelling underpinning the newly-announced plan out of lockdowns, conducted by the Burnet Institute, showed the key to opening up and reducing risk in Victoria would be making sure workers across the state are vaccinated.
"As we reach 70 per cent and 80 per cent double dose vaccination targets, the roadmap lists certain venues for opening – but only on the condition that all eligible attendees to the venue are vaccinated," he said.
"As we've flagged before, there will come a time when Victorians who choose not to get vaccinated will be left behind – that time has now been firmly set in the roadmap."
Mr Andrews said the government would conduct trials to support businesses as much as possible in the lead up to transitioning to a "vaccinated economy", with country areas with high vaccination rates and no COVID-19 cases the first to be considered for these trials.
"Both one-off events and specific venues will be considered – with businesses permitted to operate with higher patron caps if all staff and patrons provide evidence of full vaccination," he said.
Proof of vaccination options are also set to be part of the trials, with the Service Victoria app to be integrated with a Medicare certificate that shows proof of vaccination.
Other proof of vaccination options may also trialled to determine what works best for both businesses and patrons.
Mr Andrews said the Moderna vaccine would begin being delivered through pharmacies this week, more GPs would have access to Pfizer and there would be priority vaccination for those who needed it.
"So, if you are yet to book your vaccination, now is the time," he said.
"In our state clinics there are 4796 AstraZeneca appointments and 9076 Pfizer appointments available over the next week.
"More than ever, the best vaccine is the vaccine that's available today."
Pfizer and AstraZeneca vaccinations are available in the Wellington Shire at Gippsland Regional Sports Complex, Sale, on Mondays, Wednesdays and Fridays from 9.30am to 3.30pm; Wellington Respiratory Clinic, Inglis St, Sale, from Monday to Friday from 8.30am to 5.30pm, and Saturdays from 8.30am to noon; and Yarram Medical Centre on Tuesdays and Fridays from 9am to 3.30pm.
Bookings must be made through the Victorian state COVID-19 Hotline by phoning 1800 675 398, or online.
Currently, AstraZeneca vaccinations are available at approved medical centres around the shire, including Ramahyuck Gippsland Family Practice, Sale; Maffra Medical Group; the Clocktower Medical Centre, Sale; Heyfield Medical Centre; Sale Medical Centre; Stratford Medical Centre; and Johnson Street Medical, Maffra.
Book appointments by phoning 1800 675 398​. Walk-ins may be available at some clinics.
For more information about vaccination, click here.