Photos and story by Liam Durkin
They say a man's home is his castle, but for Willung South man Reg Fazzani, his home is actually a castle.
Situated off the Hyland Highway, just a short drive from Gormandale, Mirabilia Castle sits on five and a half acres overlooking bushland below.
The castle boasts everything from the movies, from arched windows to parapet towers, as well as a great hall.
There is even a dungeon and a secret escape — although only one man knows where it is.
That man is Mr Fazzani, who not only lives in Mirabilia, but built it all on his own — stone by stone.
Mr Fazzani estimates he used some 10,000 bluestone blocks, equating to five household bricks each, to construct his castle, which has stood since 2009.
While building a castle is no small feat, the man himself insists there is not much to it.
"It's just like building a giant LEGO set," he said.
"I tell everyone that comes here: 'Don't praise me because I'm no different to you'.
"Whatever I do, you can do if you want to do it.
"Just determination is all you need.
"I'm not trained at anything; it is all self-taught.
"I say to people 'show me your hands', they show me theirs, I show them mine and go 'they work just the same'."
The two-storey castle boasts six bedrooms, a private lounge and an outdoor courtyard.
Understandably, Mr Fazzani is rather particular about his castle, and has an array of antiques and artworks — all meticulously positioned throughout the rooms.
Pre-COVID, Mirabilia Castle was a great tourist attraction, and also hosted themed medieval dinners in its great hall, with Mr Fazzani fittingly taking the role of king.
Some 5000 people have toured the castle, its name roughly translating to 'reflections of the past'.
Visitors will also notice the Fazzani coat of arms and family motto 'Facta Non Verba' inscribed at the castle's entrance.
The motto means 'actions, not words' and is symbolic of the way in which Mr Fazzani has lived his life.
Astoundingly, Mirabilia is in fact the third castle Mr Fazzani has built.
He built Avalon Castle at Cookatoo in the Dandenong Ranges — and rebuilt it after the devastating Ash Wednesday fires of 1983.
It is now one of the state's most sought-after wedding locations.
Closer to Gippsland, he also built Mirador Springs in Trafalgar South, turning it into a thriving bed and breakfast venue.
On the question of why he builds castles, Mr Fazzani said it stemmed from his childhood days.
"Coming from England, I use to play in Henry VIII's hunting lodge, which was the remains of a castle," he explained.
"As a young boy growing up thinking about Robin Hood, I've always loved things from the past … I'm still a child at heart."
Mr Fazzani's foray into castle building came soon after he arrived in Australia in 1961 with his wife and five-month-old baby.
He came with nothing, except a steely resolve from his experiences living through a war-torn England with an Italian surname, time in the Royal Air Force and experience as a boxer.
He found work as a welder in Melbourne and soon became attracted to the idea of being a land owner in return for a 10 pound deposit.
Taking the deal to buy land in Cockatoo without quite knowing what he was getting himself into, Mr Fazzani was greeted with dense bush and not much else.
After drawing a rough sketch of what he wanted to build, the design ended up looking more like a castle than a house.
Mr Fazzani took his design to a council office in Pakenham, and in a sign of the times, was given the all clear provided he wrote 'fly screens on all windows' on the building plan.
He was given a quick tutorial in bricklaying from a friend, and then set about building his castle.
Incredibly, Mr Fazzani would work as a welder during the day, knock off, and then toil away at building the castle — surviving on three and a half hours' sleep for seven years until his project was completed in 1972.
Years of slogging it out creating the castle at Cockatoo eventually paid off in a big way.
The castle became a booming restaurant that took in more than $10,000 a week in cash.
Close to 50 years and three castles later, Mr Fazzani is still actively working on maintaining his castle in Willung South.
Although his balance is slightly off, his fitness has stood the test of time, something he attributes to an active lifestyle and a diet of raw vegetables and nuts.
This active lifestyle has enabled him to take a previously uninhabitable piece of land at Willung South and transform it into the Mirabilia Castle that stands today.
The only thing missing at Mirabilia is a moat and drawbridge, although Mr Fazzani said he had no intention of digging one out.
"I get pleasure out of people enjoying it," he said.
Like all great thinkers, innovators and inventors throughout history, Mr Fazzani could perhaps be labelled as quite eccentric.
He has never valued money all that highly, giving most of what he has earned through hosting weddings and running a restaurant away to charity.
The 86-year-old pensioner confessed he didn't see himself living out his final days at Mirabilia, and has previously put the property on the market.
If any readers so desire to live like a king or queen, it is tipped they will need to fork out at least $1.5 million.
For someone who left school at 15 and is still yet to read a book, Mr Fazzani's castle stands as testament to just what can be achieved if someone truly sets their heart on something.
"Most of the experiences I've had in life have been quite unreal," he said.
"I've been close to death several times, but I always just keep going because I'm a positive thinker.
"Remember there is no one out there better than you — anybody can do anything if they just try.
"Just do it … just believe in yourself and do it."
Those wanting to visit Mirabilia Castle, pending restrictions, can do so by entering 2638 Hyland Highway.
In true Italian fashion, Mr Fazzani always has a glass of wine ready for visitors on the dining room table.
Reg Fazzani built Mirabilia Castle, near Gormandale, with his bare hands.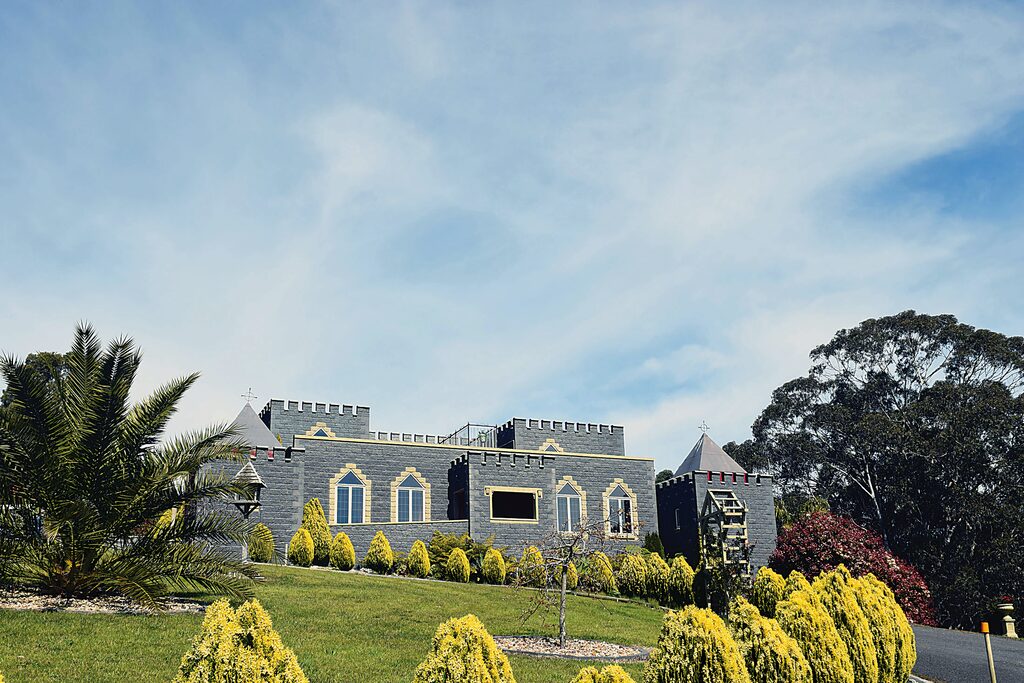 Mirabilia Castle in all its glory.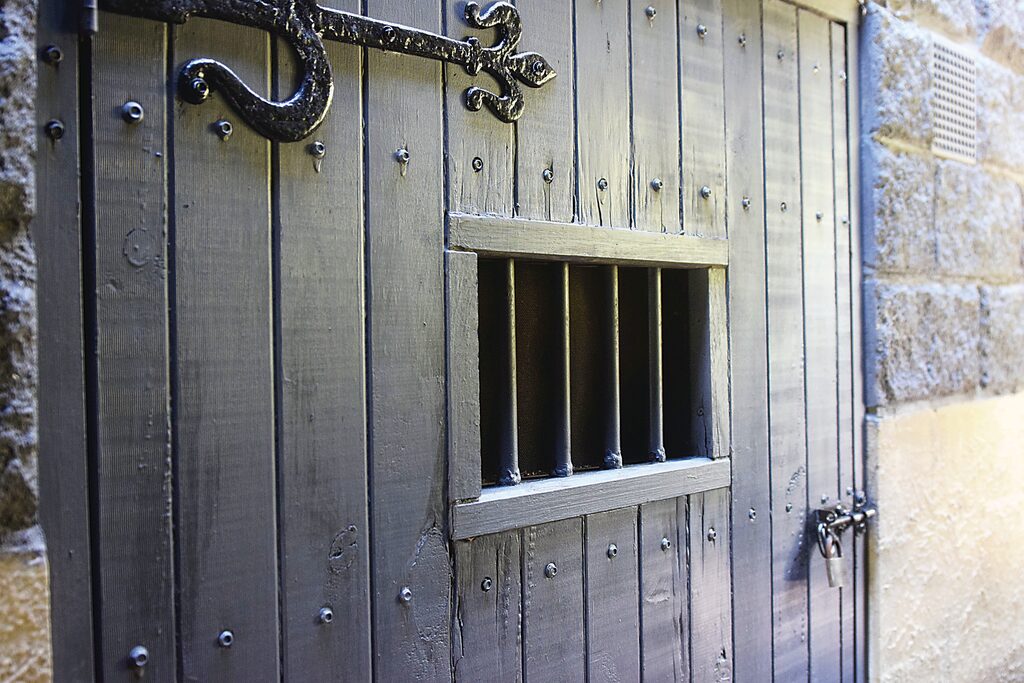 The door to the castle's dungeon.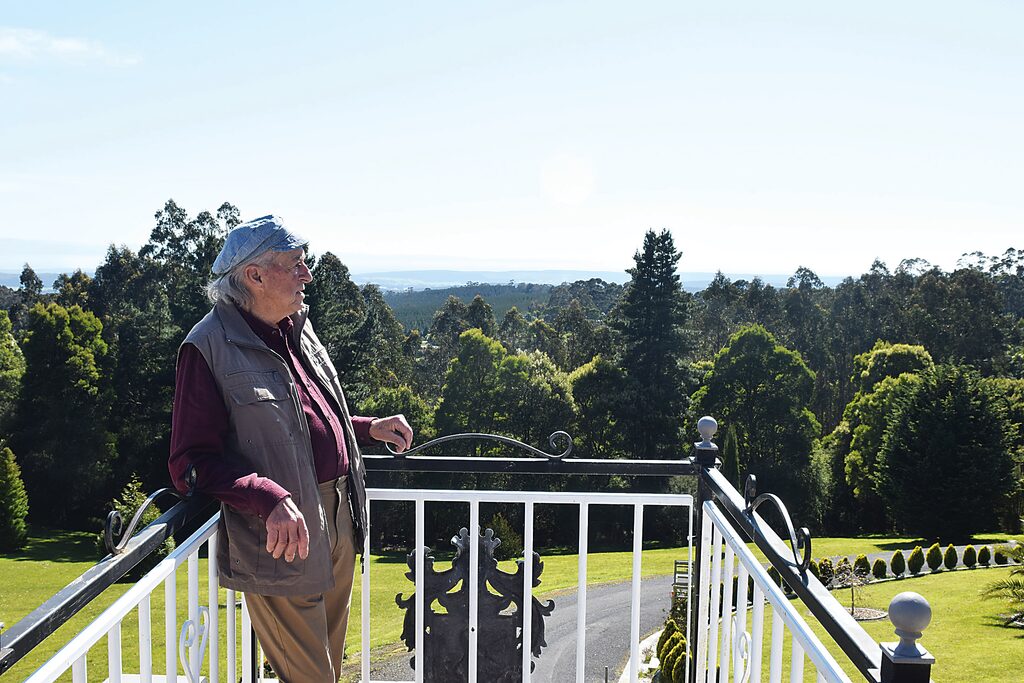 King of the castle Reg Fazzani surveys his domain.
The castle sits as a hidden gem along the Hyland Highway, just out of Gormandale.