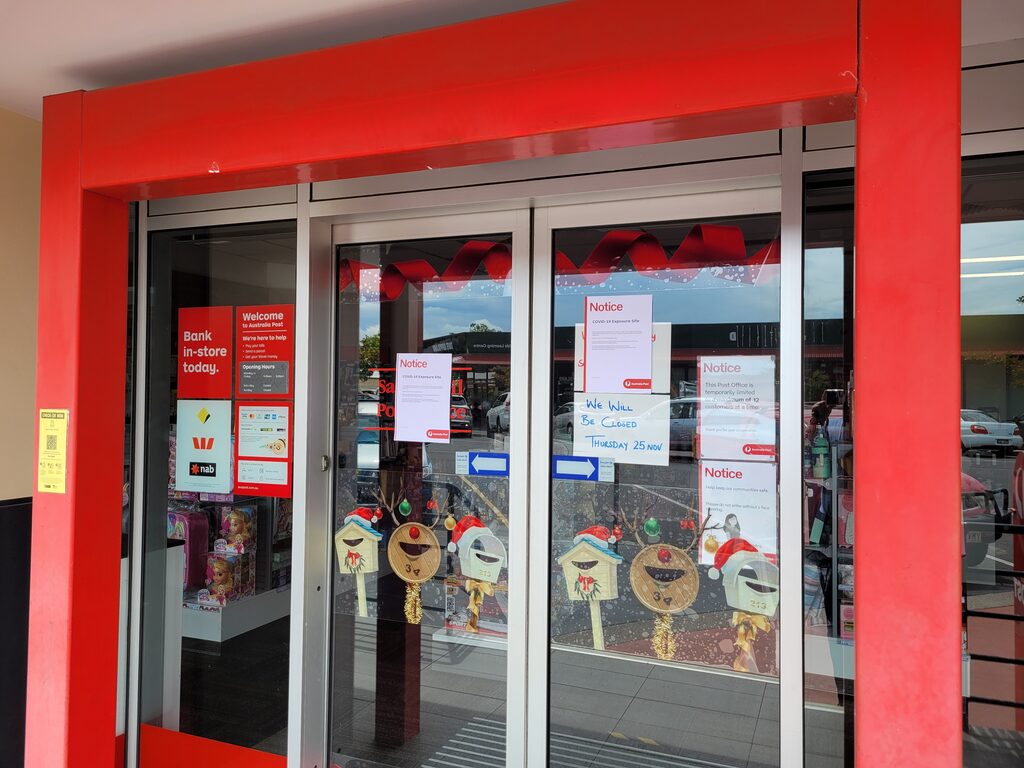 Two post offices, a school and a medical clinic have been the latest sites of concern, following COVID exposures.
Australia Post's Desailly St retail site in Sale has been forced to close this week after a positive COVID case attended the site.
Staff are being tested and isolating until they receive a negative result after a COVID exposure at the site.
The exposure dates are November 17 through to November 19.
An Australia Post spokesperson said it was providing support to its team and was following advice from the Victoria Department of Health regarding cleaning.
"We expect the post office [the Sale site] to re-open in the next few days and will keep the community updated," the spokesperson said.
The Health Department has said it will contact any high risk close contacts.
Stratford Post Office was also forced to close after a positive case attended that site.
It is expected to reopen today at noon, after two staff members who had been in contact with the positive COVID case tested negative.
Sale's Clocktower Medical Centre has advised the practice was a COVID-19 exposure site on Friday, November 19, after two people presented to the practice and were later tested during the weekend.
They were then advised that they were COVID positive, and the practice received notification from the Department of Health and Human Services on Tuesday morning.
The directors and management say thorough contact tracing was completed on Tuesday, November 23, when they were advised by the Health Department.
People deemed to have been in contact anywhere in the practice, including the waiting rooms with the people that were COVID positive, have all been notified and given instructions for their isolation and testing requirements.
Some staff were required to undergo COVID tests and to be furloughed, and all of their results have returned as negative.
The patients of the exposed clinician have also been notified and this clinician will continue to test, as advised by the Gippsland Public Health Unit.
The medical centre advises all close contacts have been informed, and no other visitors to the practice on this day need to be concerned.
A spokesperson said the Health Department and the Gippsland Regional Public Health Unit were satisfied of the processes that had been followed.
"This is a reminder to all … why our team is so vigilant with screening, mask wearing and implementing COVID safe protocols when needed," the spokesperson said.
"Some patients are occasionally frustrated at these repetitive and necessary screening processes, and we are thankful for their patience and respect during these difficult times."
Sale's Guthridge Primary School had a positive COVID case attend the school last Thursday and Friday, November 18 and 19.
Parents were notified of the case on Monday, and the school has been following health advice.