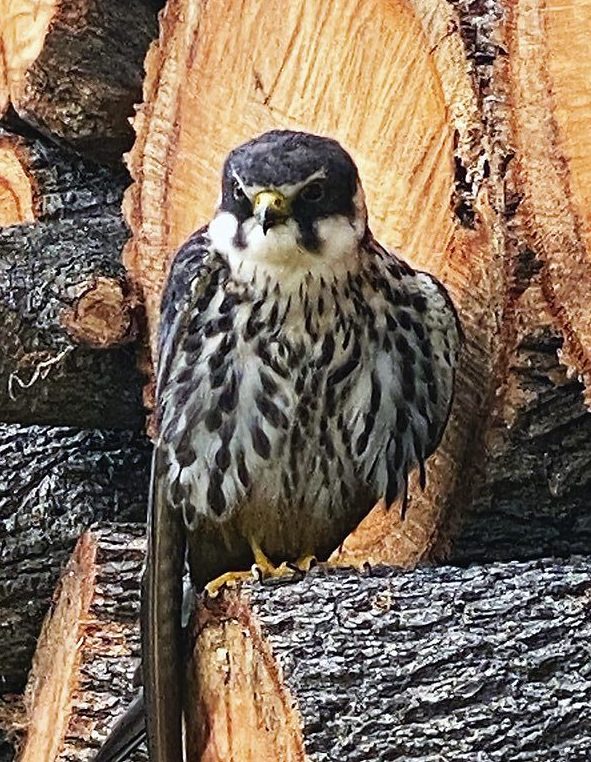 Sarah Luke
A long way from home, a pretty little bird with two sore wings was recently spotted accidentally holidaying in Sale, and has flown right into the history books.
A long-distance migratory species that largely breeds across Russia and winters in Africa and Asia, the Eurasian Hobby is rarely seen in Australia — let alone this far south.
In fact, the falcon has only been sighted a handful of times in Australia, and along Western Australia's coastline.
But it seems this particular bird was hoping to book a room at Bon Accord in Dawson St, Sale, and was noticed around the property by the homestead's owner, Tim Dunnett.
Affectionately dubbed "Bonner" by Tim, he watched the small bird hopping from the homestead's wood pile into a neighbouring paddock and back, and deduced it was unable to fly.
By late afternoon, local wildlife rescuer Lynne Amore, of Sale's Moonshadow Flying Fox Rescue and Rehabilitation, had arrived on the scene for "just another rescue day".
"I didn't recognise it as anything different at the time — I had no idea it would be so significant," she said.
"I thought, it's too small to be a peregrine falcon, and the pattern was different to an Australian Hobby."
In what Lynne described as a fairly easy rescue, she was able to walk up to the bird and gently drop a towel over it, pick it up and place it in a covered carrier.
As per rescue protocol, Lynne had to get Bonner to a vet, or someone experienced in birds.
Retired vet nurse Linda Cunningham, who lives south of Traralgon, has more than 25 years experience as a rescuer, and specialises in raptor care.
Lynne organised for patient transfer, and the bird was with Linda later that night.
Linda took it to her local vet for some x-rays — which found a significant break in one wing and a fracture the other — but still couldn't put her finger on what the bird actually was.
It wasn't until Linda made a few phone calls that she was able to identify the species, and realised it was an extremely significant find.
"One of the first things you do when you rescue an animal is ID the species — it's really quite important — particularly for dietary requirements," Lynne said.
"[Linda] phoned me, and said, I need to talk to you about your little bird, and I thought, why, has it died?
"She told me I'd caused quite a stir — it was the first time the bird had been sighted on Australia's east coast.
"She said, do you realise you're actually the first person to hold one of these birds in their hands in Australia?"
"It was a really big surprise."
After realising Bonner was non-native, a veterinary team tested the bird's bloods for diseases, such as West Nile virus and avian flu, and will stabilise it before surgery.
Given that this species is rarely seen in Australia, the relevant government departments have also been informed.
"The impacts of something like this — you think it's just a little bird — but then it really snowballs," Lynne said.
"Every rescue is a team effort. There's the member of the public who calls it in, the rescuer, the veterinary team, but in this case there's then a whole government level of veterinarians brought in, university researchers, studies … to be able to say you contributed to that is a little humbling in a way.
"It's certainly sent the bird world atwitter," she laughed.
Lynne said no-one was really sure why Bonner was in Sale, suggesting possible theories included high winds, storms and potentially the effects of climate change steering the bird off course.
The hobby's future is still up in the air, with a lot of discussion surrounding what will happen to the falcon.
"To my knowledge, they're fairly sure it won't be released. The likelihood is if it has surgery and survives, it will go into captivity," Lynne said.
Options could include a zoo or hawk sanctuary, dependent on permits.
"From a rescuer's point of view, it's all about the welfare of the bird itself.
"You've got to do what's right by the bird, even if that's euthanasia.
"I personally would love to see it rehabilitated, and if it goes to a zoo, I'd like to see it get a little mate … but that seems unlikely."
The outcome is out of the Lynne's hands, as she awaits a phone call telling her of Bonner's fate.
She said she was chuffed to have been involved.
"I feel privileged; it's been a very special rescue, and it won't be something we'll forget," she said.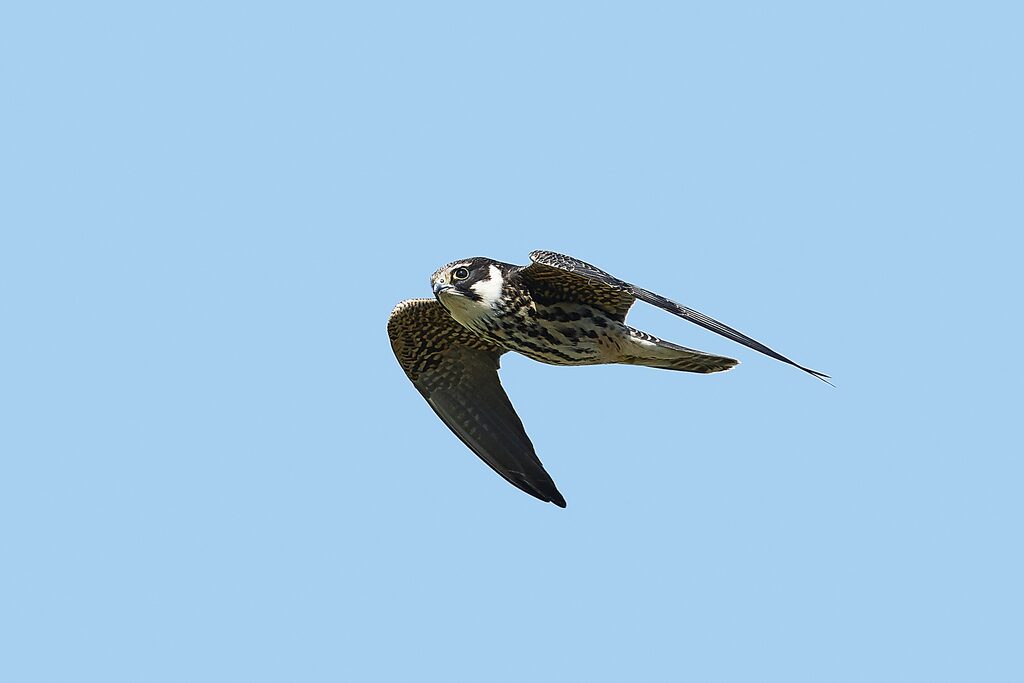 The Eurasian hobby is a long-distance migratory species that largely breeds across Russia and winters in Africa and Asia. Stock image