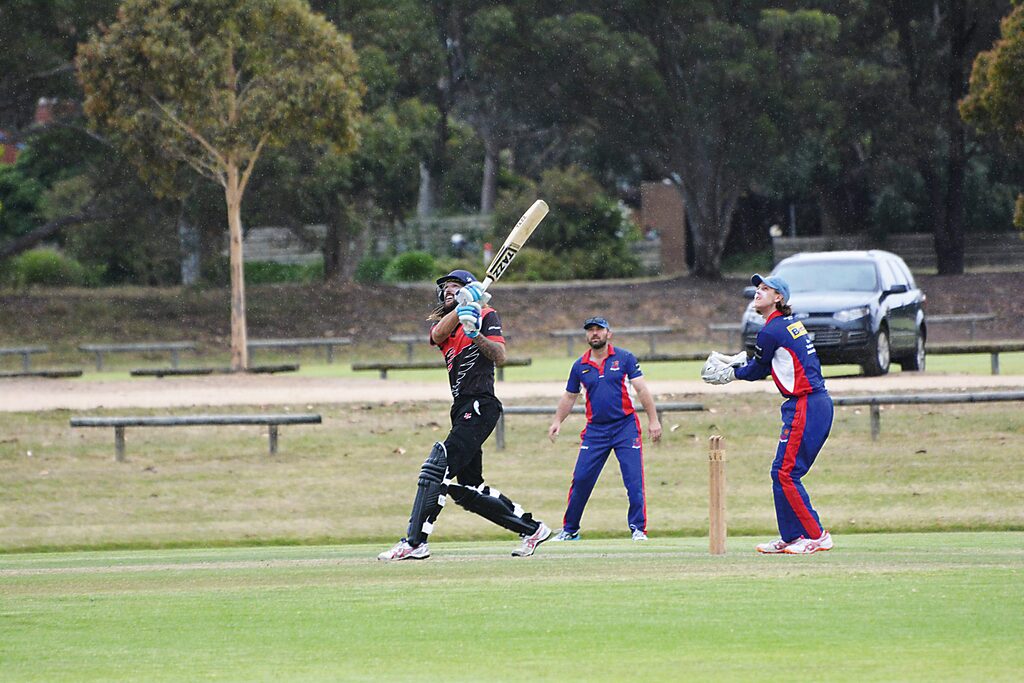 Josh Farrell
The Sale-Maffra Cricket Association was able to get back on the park for round three after wet weather forced round two to be cancelled.
Only two teams remain undefeated with Bundalaguah on top of the ladder ahead on percentage from Stratford.
Rosedale-Kilmany, Boisdale-Briagolong, Maffra and Collegians make up the middle of the ladder tied on one win each.
Longford and Sale round out the ladder, both without a win after two rounds of cricket.
BUNDALAGUAH put together a solid team performance to overcome Rosedale-Kilmany.
The Warriors welcomed back Anthony Scott but he only amassed 15 runs before he was trapped in front by Gayashan Munasinghe.
Cameron Freshwater and Spencer Fox both got starts but only scored 22 and 26 respectively before they fell.
Rohan Diamond gave the Warriors the
flourishing finish the team needed, scoring 51 not out from 48 balls, putting together a partnership with Dylan Rowley at the end of the innings.
Rowley scored 20 not out to get the Warriors to 158 off their 45 overs.
Sam Bedggood and Munasinghe were the pick of the bowlers for Bundalaguah, taking two wickets a piece.
The Bulls got off to a shaky start losing both openers early before Matt Dowsett and Steve Spoljaric steadied, scoring 29 and 21 respectively.
Toby O'Reilly scored a well-crafted 31 off 50 balls before he fell to Ashton Wright.
Bedggood capped off a good day – scoring 52 not out – hitting five fours and one six to guide the Bulls to a win with four overs to spare.
Rowley was the pick of the bowlers against his old side, taking two wickets for 30 runs off his nine overs which included two maidens.
STRATFORD enjoyed a strong win against Collegians, winning by four wickets with 13 overs to spare.
Collegians openers Jed Malone and Tom Morrison got them off to a strong start, putting on 55 before Morrison fell for 28 to the spin of Sam Anstee.
Malone then fell for 33 and was soon joined in the sheds by Tim Dessent.
Captain Isaac Love steadied for his team, scoring 38 off 52 hitting two sixes.
Stratford's bowlers restricted College to 9-170. Wickets went to Bodhi Walker, Jack Tatterson and Tom Wrigglesworth taking two, three and two wickets respectively.
The Redbacks welcomed back Andrew Tatterson, with the opener scoring 46 at the top of the order off a staggering 29 balls to get Stratford off to a flying start.
Collegians' bowlers fought back well through the middle order with thanks to Charlie Morrison who finished the match with two wickets from his five overs.
Walker then guiding it home for Stratford with 51 from 59 deliveries.
Love rounded out a good individual day taking two wickets for 28 runs from his seven overs.
BOISDALE-BRIAGOLONG was happy to rejoin the winners list with a big win over Longford.
The Saints put in a strong batting performance but lost a steady stream of wickets throughout the innings which hampered their run scoring efforts.
Steve Noble started Boisdale-Briagolong's innings strongly with 59 from 63 deliveries, hitting eight boundaries before he fell to the bowling of Jarryd Floyd.
The Saints' lost wickets through the middle of their innings before Connor Hughes and Dylan Bolton steadied.
Hughes atoned for his duck in round one, falling just short of a half century, hitting 47 from 64 balls.
Bolton helped the Saints to their final score of 191, scoring 26 from 29 deliveries before being run out.
Kerrod Macgregor-Davies had a strong day with the ball for the Lizards, taking three wickets for 32 runs, and Jake Wynd continued his great start to the summer taking two wickets to go with his six from round one.
Longford's batting innings got off to a shaky start with the Saints' opening bowlers doing the damage up front.
Connor Hughes took two wickets for 13 runs off his six overs, which included two maidens.
Louis Howard finished with incredible figures of 3-13 off nine overs to create a challenge for the Lizard's batters immediately.
Jarryd Floyd and Mathew Johns put on a strong comeback for the Lizards, scoring 42 and 33 respectively to put some pressure on the Saints.
Liam Hurst enjoyed a strong day for the Saints, taking two wickets for 16 runs from his nine overs which included three maidens.
MAFFRA enjoyed a big win against Sale with thanks to Daniel Bedggood, who fell just short of a century.
One of the SMCA's greatest cricketers, Bedggood batted almost flawlessly at second drop and scored 90 runs off 81 deliveries, hitting five fours and five sixes.
Bedggood was ably assisted by young gun Ben Harrington who scored 25 from 57.
Sale's bowlers chipped in as a unit to restrict the Eagles to 187.
Lachie Carman, Ben Jones and Brody Dobson all took two wickets to ensure the Eagles experienced a steady fall of wickets.
Sale struggled to get any fluency throughout their innings with the bat, losing wickets at regular intervals throughout their innings.
Captain Rohan Blandford provided a response after both openers fell cheaply, hitting 25 from 45 before he fell to an outrageous running catch by Maffra captain Josh Davis.
Blandford skied a ball over Davis' head at mid-off who turned and put the afterburners on, taking a fully stretched dive, catching the ball over his head and landing to take a big wicket for his team.
Hayden Glover attempted to steady for the Swans, but lost wickets around him, scoring 32 from 38 balls before he fell to Mitch Bennett.
Ben Durrant was the pick of the bowlers for the Eagles, taking 4-28 from his nine overs to ensure the match did not slip away from Maffra's grasp.
Bennett continued his consistent start to the season, taking two wickets from his five overs.