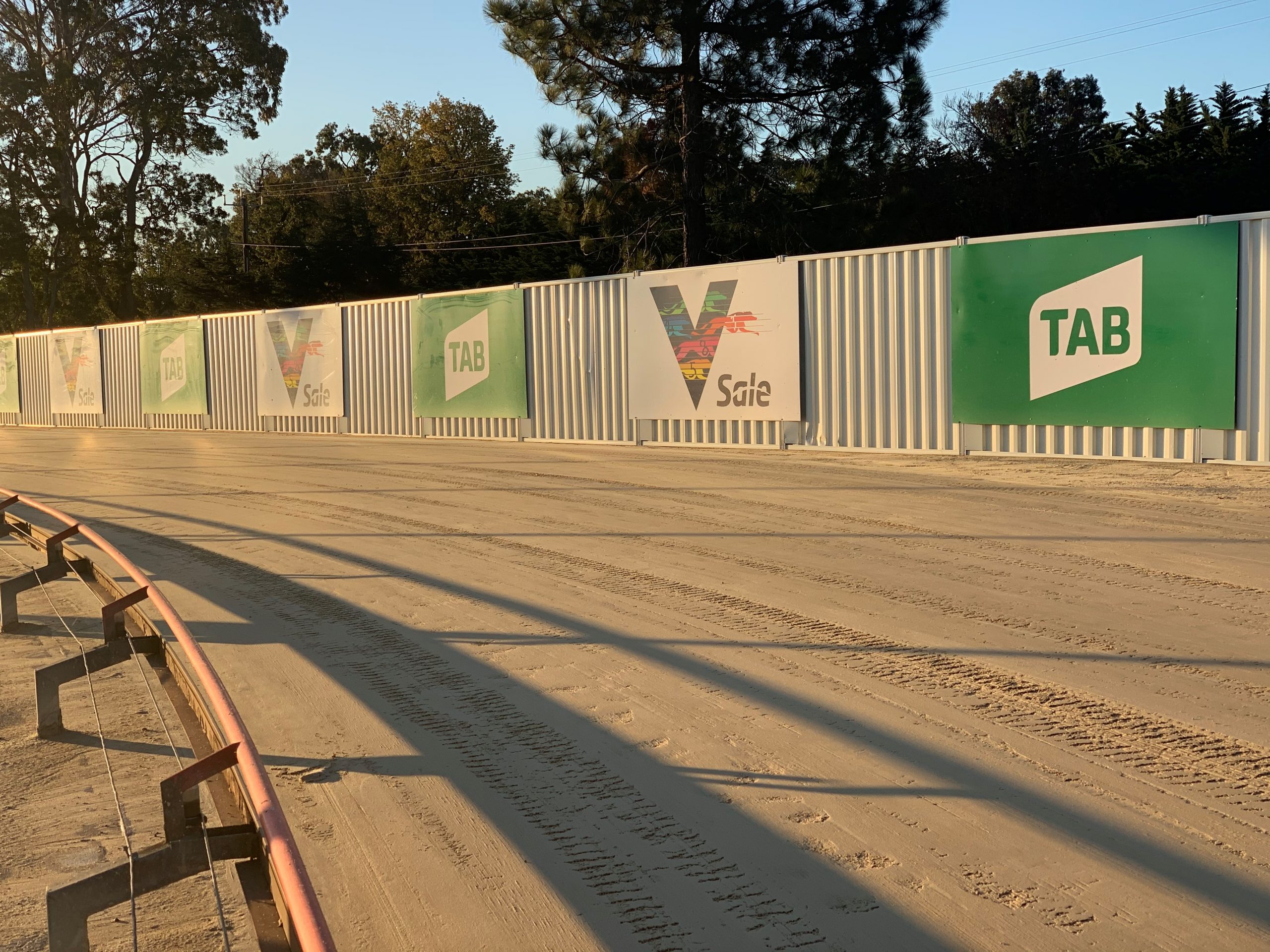 David Braithwaite
WHAT Price Mason won the 440 metre GRV Vic Bred grade five series final at the Sale greyhounds on Friday night.
The dog, trained at Darnum by Garry Allen, collected the $3300 first prize after establishing a five-length lead by the turn before winning by three in 25.12 seconds.
In second placed was Leo Rose, trained by Sharon-Lee Chignell at Rosedale, with Tippa third for Maffra trainer Des Douch.
Aussie Swan, trained by Donald Hay at Maffra, collected a second victory from three starts, winning race two, a 440m grade seven, by five lengths in 25.1s. Diamond Lady, trained by Susan Northway at Heyfield, finished third.
Race five, a 520m mixed grade six and seven, was taken out by Even Keats (29.98s), a second win from 14 starts for Ray Floyd at Cobains. Flying Flash took Jayville Tahlia out of contention at the top of the straight, allowing Even Keats to win by four lengths.
Locked In (29.97s), trained at Kilmany by Yvonne Andrews, won race eight, a 520m mixed grade four and five, by five lengths.
Ripplebrook Snip, trained by Glynn Wood at Warragul, won the race one 440m maiden in 25.53s, while Zipping Django, trained by Steven Collins at Pearcedale, won race three, a 440m restricted win event, in 25.28s.
In race four, another 440m restricted win race, Hayley Hook, trained by Charlie Galea at Hazelwood North, was one of the last out of the boxes, but recovered to lead by the turn and win in 25.67s. In third place was $49.90 outsider Crouching Tiger, prepared by Corey Fulford at Maffra.
Just 0.57s separated the first three dogs in race seven, a 440m grade five, with Zambora Bear (25.43s) winning for Lee Rowe at Inverloch.
McLinden, trained by Doris Toner at Bunyip, won the race nine restricted win event over 440m in 25.99s. Patience Pays, trained by Adrian Smit at Longford, finished third.
Valhalla Girl claimed back-to-back victories at Sale for Devon Meadows trainer Steven Van Oirschot in winning race 10, a 440m mixed grade three and four, in 25.21s. In third place was Shot Gun Pistol, trained by Lyn Smith at Nambrok.
SUNDAY'S meeting at Sale included heats of the GRV Vic Bred maiden series over 440m.
Lakeview Cruiser, trained by Harley Whelan at Metung, booked the first spot in this Sunday's final by winning the opening heat in 25.39s. Pearl's Entity, trained by Smith, finished second and will be a reserve for the final.
Jet Lee Rose, trained by Jeff Chignell at Rosedale, held on to win the second heat in 25.34s.
The fastest winner came in heat three, Liquid Fire, who ran 25.16s for Pearcedale trainer John Paraskevas.
In the fourth heat, 0.9s separated the first four, with Somerton Rose (25.73s) winning for Michael Delaney at Cobains, a neck ahead of a fast-finishing Shell Star Keats, trained by Wayne Boreland at Seaspray. Shell Star Keats will be a reserve for the final.
The final heat was won by Crumlin, trained by Graeme Jose at Catani, in 24.9s.
Sweet Demi (24.7s) never looked beaten in winning race eight, the 440m free for all, for Darriman trainer Bill McMahon, Darriman. William Rose, trained by Sharon-Lee Chignell, finished third.
In race 10, a 440m grade seven, California Blond, trained by Northway, raced away to win in 25.2s, four lengths ahead of McMahon's Dr Lynch. Kobe, trained at Darriman by Jenny Gill, finished third.
Foxzami (25.49s) won race 12, a 440m grade five, for Andrews.
Race five, a 440m restricted win event, was won by Freddy Reiko, trained by Deborah Coleman at Lara, in 25.52s. Northway's Prize Diamond finished second, with Camila third for Gill.
Papi Go Fast, trained by Robert Camilleri at Lara, notched an eight consecutive win in race six, a 440m mixed grade four and five. The dog won in 25.18s, five lengths clear of Inuka, trained by McMahon.
Race seven, a 440m grade five, was won by Chasing Red (25.2s) for Dennis Langley at Tooradin, while Luxury Rocks (25.56s) won the race 11 440m restricted win event for Mark Giddings at Myrniong.
GREYHOUND racing will continue at Sale on Friday night.