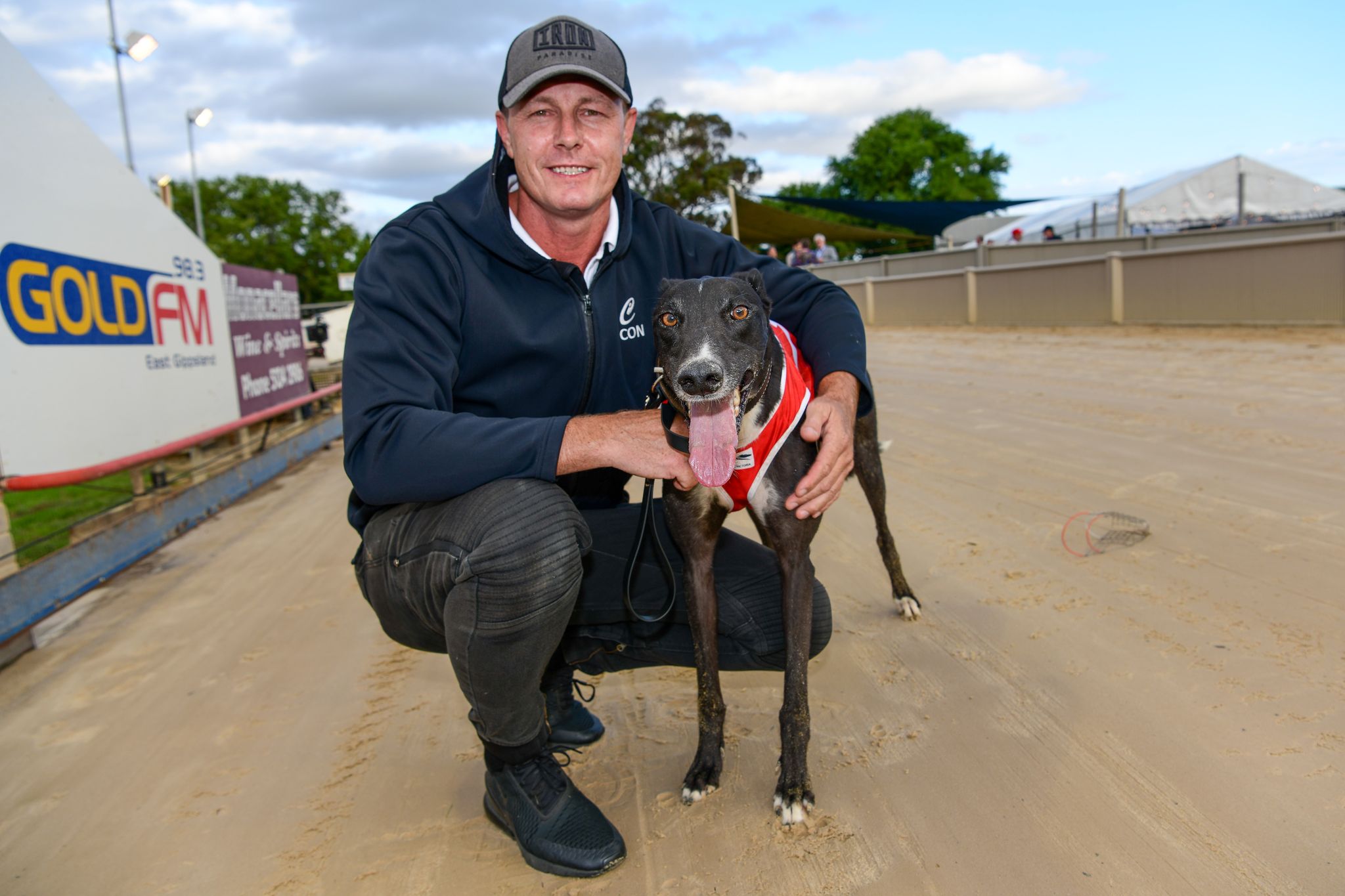 Peter Quilty and David Braithwaite
IT was no illusion … the great Houdini Boy easily unlocked the shackles in Sunday night's heats of the group one greyhound Sale Cup.
Known as a last-to-first 'escape artist' earlier in his career, Houdini Boy handcuffed his rivals with a magical display in heat one.
Trained by Kelvyn Greenough at Pearcedale, Houdini Boy clocked a sensational 36.78 seconds – around two lengths off the 36.67s track record for 650 metres.
Houdini Boy notched his 12th win from 23 starts defeating Arizona Boy by a massive 7.8 lengths. It was his eighth win from his past 12 starts.
Houdini Boy has firmed from a $3 favourite prior to the heats into the $1.80 top pick.
In the second heat, highly-underrated I'm Easy Boys toppled Mr Versatile and group one Hume Cup winner Last Hurrah.
Prepared by Ray Henness at Heathcote, I'm Easy Boys improved considerably time wise on his previous two Sale 650m runs in recording 37.06s. It was his 18th win from 71 starts.
In heat three, Bobby The Brute stormed home to defeat Weblec Ace by less than half a length in 37.13s.
Trained by Brendan Pursell at Lara, Bobby The Brute registered his ninth win from 38 starts. But his race stats belie his true ability, given he was runner-up to champion sprinter Simon Told Helen in the group two Geelong Gold Cup in October.
Powerhouse Christo Bale got up in the last stride to defeat Western Australia star Zack Monelli in heat four. He scored by half a length in a flying 36.92s, notching his 19th win from 45 starts.
Prepared by Mark Delbridge at Balliang, Christo Bale is undefeated from three starts over 650m at Sale – including last week's Sale Distance Championship.
It was a grand opening to the Gippsland Festival of Racing, which will continue with Sale Cup final night this Saturday night. The winner of the Sale Cup will receive $75,000, making it the richest greyhound race in country Victoria.
Five locals advanced to the final of the 440m Rising Star, a series restricted to dogs with one to four wins.
Ha Ha MacGyver, trained by Des Douch at Maffra, won the second heat in 24.64s, with Jet Lee Chignell second for Jeff Chignell at Rosedale. Prime Time, trained by Corey Fulford at Maffra, held on for third place and a spot in the final.
The third heat was taken out by Maxwell in 25.07s for Bill McMahon at Darriman, ahead of Kismet Storm, trained by Matt Clark at Briagolong.
The eye-catching run came in the first heat, with Louie Lou winning by seven lengths in 24.5s. The dog, trained by Jason Thompson at Pearcedale, now has four wins from five starts.
Autumn Lynx, trained by Wayne Boreland at Seaspray, began the program by winning the 440m maiden.
JASON Thompson left Sale on Friday night with three winners.
In the race one 440m maiden, Freddie Cruiser, trained by Lyn Smith at Nambrok, led much of the race, but was chased down by Thompson's Zambora Richie.
Thompson's second win came in the opening heat of the 520m Summer Cup.
Taken showed a very particular set of skills to chase down early leader Shantelle Rose, trained by Sharon-Lee Chignell at Rosedale, and win by two lengths in 29.31s. Shantelle Rose will join Taken in the Boxing Day final with her second-placed finish.
The second heat was taken out by Ballymac Vicar, trained by Des McPhie at Kilmany, who took the lead in the home straight on his way to winning in 29.41s, finishing a length ahead of Kingfisher Rose, trained by Jeff Chignell. Another Rosedale-trained dog, Madalia Champ for John Connor, finished quickly to place third to join the first two in the final.
Three heats of the Gippsland Festival Sprint over 440m were also held, with the final also on Boxing Day.
The quickest winner came in the final heat, with Daniel Avocado, winning for Jason Sharp at Avalon in 24.63s. Coming off four consecutive wins at Healesville, Midnight Monarch, trained by Chris Tilley at Sale, finished second and will race in the final.
Shared Colour, trained by James Reynolds at Pearcedale, won the first heat in 25.07s. In his previous six runs, Shared Colour has finished in the first three, including three of four career wins.
Thompson's Zambora Smokey won heat two in 24.81s.
The GRV Vic Bred 440m maiden final was won by Masked Avenger, trained by Joe Borg at Maryborough.
The favourite, entering the race with wins in each of his three starts, broke away approaching the turn, and cleared to a four-length win. Formidable finished second for Matt Clark.
The final race of the night, a 440m grade five, was won by $19 chance Splinter, trained by Fulford, ahead of Airly Blueboy, who came home strongly for Gayle Elston at Sale.