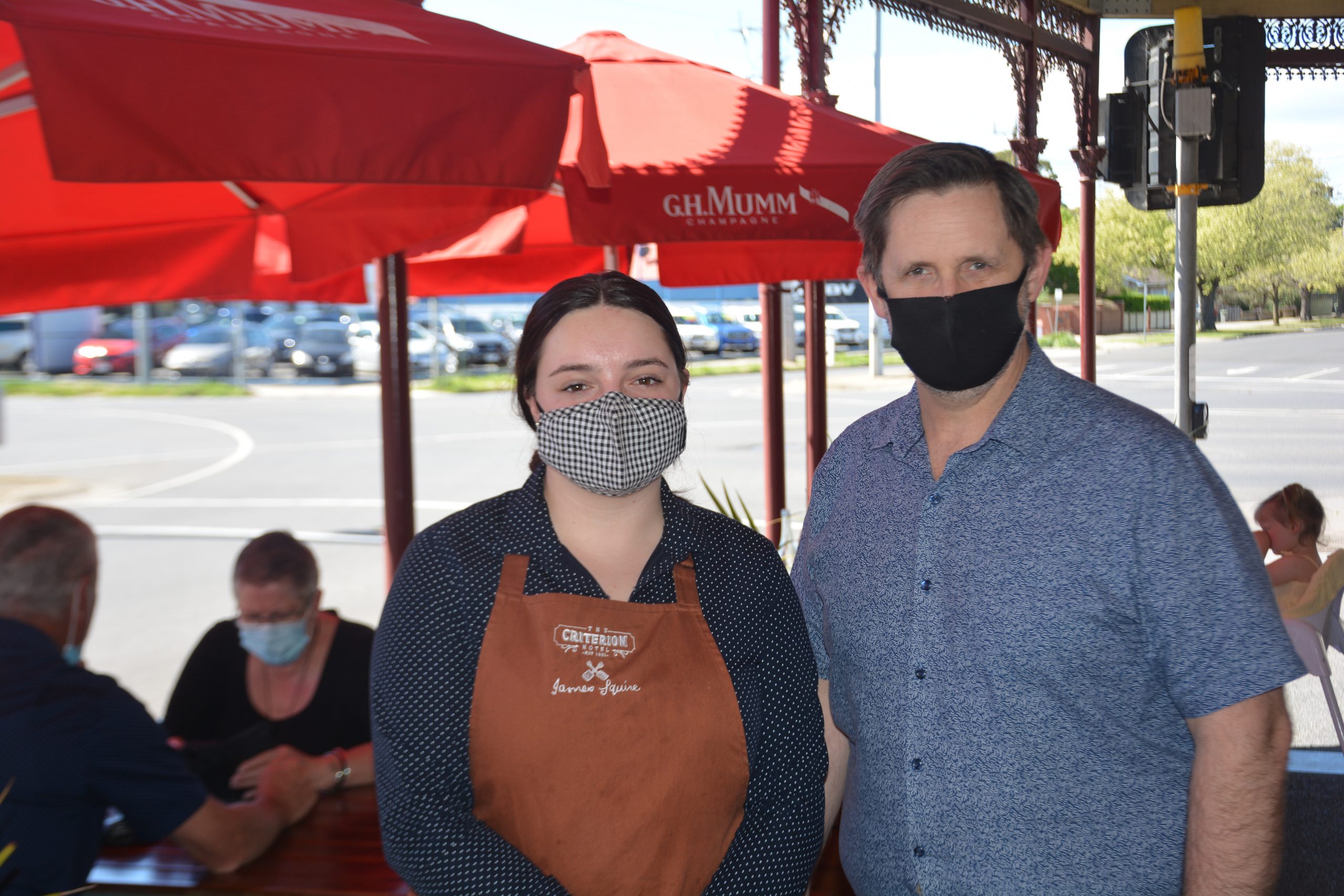 Liam Durkin
Hospitality still suffers under third step
HOSPITALITY owners have had some reason to celebrate, after the easing of restrictions in regional Victoria last week.
Most have wasted no time resurrecting their outdoor dining settings, and patrons have been quick to book tables at their local establishments.
In Sale, publicans got together last Wednesday to dissect the news, discussing ways to enhance the dining-in experience while still under the COVID cloud.
The past week has been a whirlwind for those in the hospitality sector, who would have felt conflicting emotions between the state government's 'roadmap' announcement and the lifting of restrictions.
Sale's Star Hotel manager Jeremy Green said he and his colleagues were well prepared to welcome patrons back indoors.

"We're ready as venues to do things safely, we've been operating in Victoria which is one of the most highly regulated states for liquor and gaming for decades," he said.
"We're used to many, many rules to deal with all the time and we're always double checking and triple checking so we can deal with the restrictions.
"This is a step in the right direction, but I think everyone in hospitality believes that there could be a larger step to be taken."
The limits on patron numbers mean a maximum of 70 people can be seated at a venue at one time, with 20 inside (10 per indoor space with a maximum of two indoor spaces) and 50 outside.

"There'll be someone who greets them at the door, they will need to sign in and have a mask on," Mr Green said.
"They'll then be seated in an area.

"They need to keep their mask on while standing.
"Once they sit down they can take their mask off – if they get up to use the facilities or pay their bill, the mask needs to come straight back on.
"We'll be quite strict on making sure people remain in their areas, because it's important that we do so – the restrictions say so.
"Our ability to trade under these step three restrictions is reliant on our ability to manage that."
Venues are being encouraged to get creative with expanding their outdoor dining options – something Sale's Graze Bistro has taken to heart.
Opening on Monday, the restaurant has added a marquee to extend its outdoor eating area to be suitable to host 50 diners outside, as well as 20 in two separate indoor areas.
There is also more freedom for those wishing to simply have a few quiet ones n the bar.
They will be able to do so without having to order a meal, as was the previous requirement.
Although there is no indication yet if people can sit at the bar, given the bar is considered a table, stools could be set up 1.5 metres away to maintain social distancing.
Patrons simply placing a bet or picking up takeaway will not count toward the number of patrons considered to be 'dining in'.
Customers who plan to stay a little longer have been encouraged to book in for a maximum of two hours, under what is dubbed 'dwell time' – although this will be assessed on a case-by-case basis.
"We'll be managing that actively as we can – it's not a mandatory requirement," Mr Green said.
"For example if you have a customer who wants to come in and watch a full game of footy and book in for the three hours that the game takes – then we'll be happy to do that, as we don't think that's breaching the spirit of the regulations.

"We don't want to be asking customers to leave halfway through a footy game when the two hours is up."
In terms of supply, Mr Green said most beers would be avialble.
"There might be a couple of on-tap products that we can't get a hold of just because they won't be able to get them down as fast, but all your mainstayers should be right,' he said.
"All the packaged beer should be fine.

"As far as food goes, I think our food suppliers will be fine.
"They've been maintaining us during the takeaway period and there has been no hiccups with them the whole way through."
TAB agencies and TAB outlets in pubs and clubs in regional areas reopened last week, with customers required to wear masks or face coverings while inside.
Mandated limits to the number of people allowed inside outlets or agencies at any one time will apply and be enforced.
For accommodation providers, the easing of regional travel restrictions will hopefully lead to more bookings.
Sale's Matador Motel manager Craig Frith reported new bookings in the days following the announcement.
"We've had new bookings which are travellers or people who can travel regionally, which is good," he said.
"The tourism part of it will be good for everybody.

"Hopefully during the school holidays we'll get a little bit, but we'll see how we go.
"In the next four to six weeks I think we'll have a lift – a very big lift."
The period from Boxing Day to New Year's Day is typically the busiest time for local accommodation providers, as people from metropolitan Melbourne descend on country regions.
With this in mind, accommodation providers will be keeping a close eye on what is happening in Melbourne as the holiday season approaches.