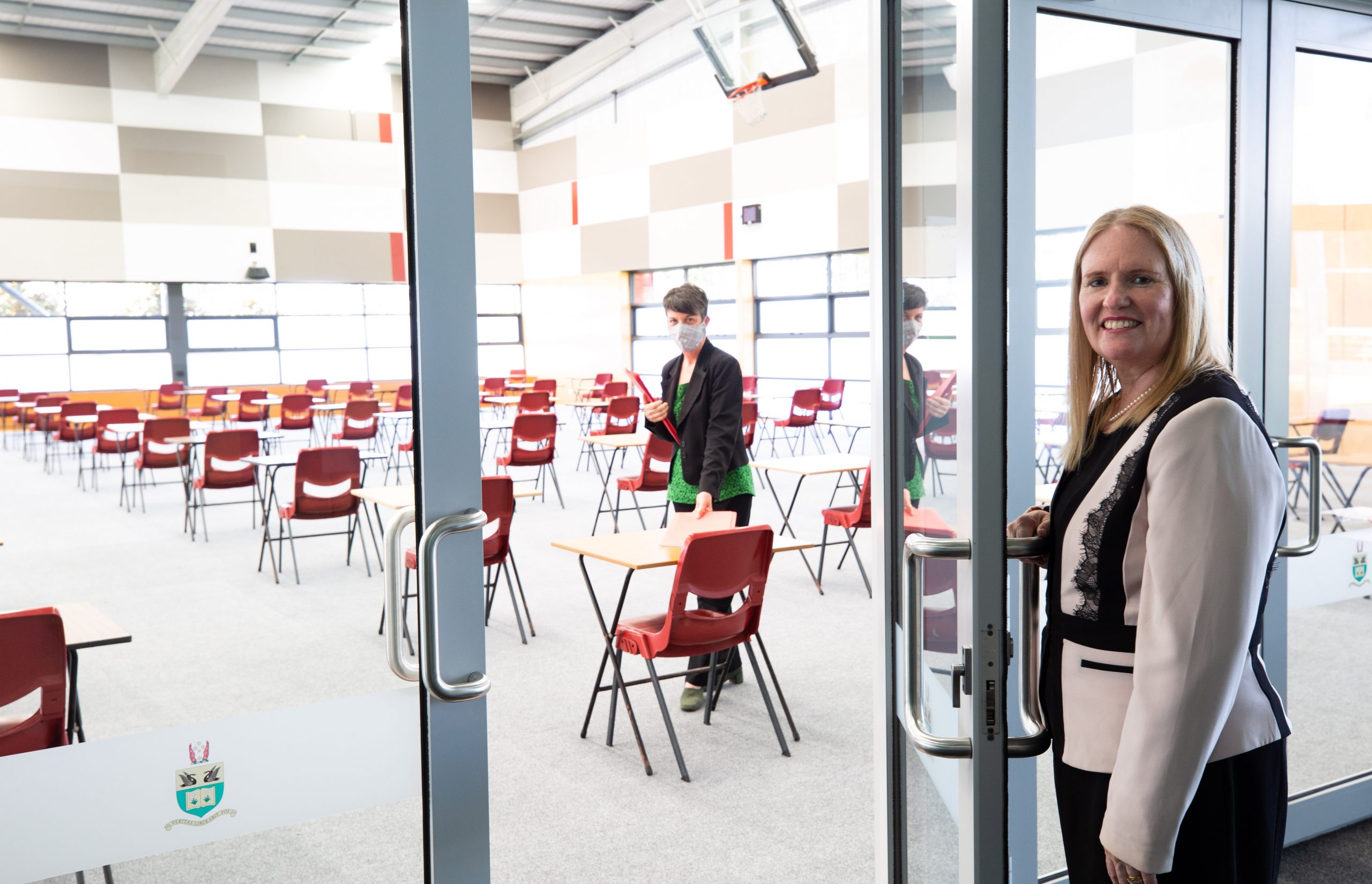 Liam Durkin
STUDENTS across the state have begun the return to the classroom, for take-two of face-to-face learning.

Term four officially began on Monday and will run until Friday, December 18. Schools reopened in late May, but were again forced to shut when the second COVID-19 wave hit.
For those completing Year 12 exams, the return to the classroom has presented a mad dash to the finish line, with Victorian Certificate of Education exams scheduled virtually straight after the General Achievement Test (GAT), to be held on Wednesday.
The GAT is usually held in the middle of the year, meaning the 2020 cohort is well and truly in a class of its own.
Gippsland Grammar will welcome more than 150 VCE students back to its Garnsey Campus to complete the GAT, before a staggered return to onsite learning from Thursday.
All of the school's 1100 students across its three campuses will be learning onsite from next Monday, October 12.
Gippsland Grammar principal Leisa Harper praised Year 12 students for their ongoing commitment and resilience in a year that had been anything but normal.
"I am so proud of them all," she said.
"The students have been well supported through a successful learn at home program and it will be a highlight to have the students back on campus.
"With COVID-19 there has been so many challenges for the government and schools to implement fairness across all of the students results for this year, so the decision was made earlier this year to cancel the GAT and to move it to this point in time.
"Obviously it's different – everything has been different this year – so we're very comfortable with that and we've done some additional work with our students.
"I think it's like a great athlete, when you are in training as our Year 12s have been since really the beginning of Year 11, they've been working towards assessments – so they're fit."
Students sitting the GAT will be temperature checked upon arrival and will have to wear masks while they sit the exam.
Single desks have been spaced out with appropriate distancing inside the school's basketball stadium, and multiple entry points have also been established.
Despite the uncertainly of the past few months, Mrs Harper said there have been a few positives.
"Many of our students haven't had to travel, so they've had an extra two hours in their school day to put into some of their school work as well as relaxation," she said.
Gippsland Grammar Year 12 student Emma Murphy will be one of many to sit the GAT, and said she couldn't wait to return to onsite learning.
"I am so excited to just get back into some sort of normal, talking to friends in between classes and lunchtime – it will be really fun," she said.
Emma has been making an effort to keep in touch with friends during the lockdown, and said having one eye turned to next year was important.

"It's been such a time of uncertainty, but keeping in mind goals for next year and making sure you keep your aspirations in mind helps to keep you grounded, helps you to focus on your study," she said.
"Having the GAT in the first week is a hit in the face and they will take it more into account this year with our ATARs (Australian Tertiary Admission Rank), so you just have to focus while you are in there."
Naturally, Emma said she was looking forward to the rites of passage for Year 12, including the notorious 'muck up day', but admitted most, if not all, Year 12 students had often thought how different life would have been if they were born just a year later.
"I think everyone has had that thought honestly," she said.
"Even though it has been a completely different year, it is definitely going to be a year that we remember forever and we've been able to learn a lot of new skills which we probably wouldn't have."
Although many students can fall into the trap of being dismissive of the GAT, Gippsland Grammar VCE coordinator Judy Taylor warned students who did not take it seriously did so at their own peril.
"Certainly this year it is going to have some sort of impact on their marks because VCAA (Victorian Curriculum Assessment Authority) have set up a 'Consideration of Educational Disadvantage' across all of Year 12, so teachers are going to be asked to prepare documents for each students in their subject area, and their GAT result will be taken into consideration as well as their marks in the year and their end of year exam," she explained.
"What VCAA wants is an overall picture of each individual student to make sure the marks are fair and reasonable."
While there is speculation university entry rankings will be lowered because of the challenges the class of 2020 has had to deal with, Ms Taylor said she could not see much changing once ATAR results were released.

"My understanding working with our careers teacher who works with VTAC (Victorian Tertiary Admissions Centre) who are responsible for setting up the university places based on the ATAR, they are all working with VCAA to ensure that it's equitable and all students are able to access the same sorts of courses and university and tertiary opportunities that they would have had anyway," she said.