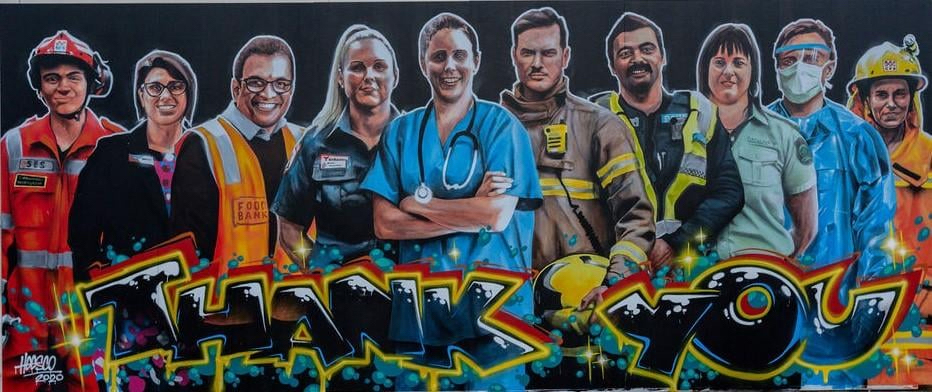 Peter Hill
THE Thank You mural at Government House Victoria, painted by Heesco Khosnaran, will be gifted by the Governor of Victoria to Yarram, as part of the town's Heesco Town project.
During August the Governor, the Honourable Linda Dessau AC and husband Tony Howard, invited Victorian street artist, Heesco, to create an artwork at Government House Victoria, which encapsulated the spirit of gratitude felt by so many Victorians.
The artwork, in the style of Melbourne's vibrant street art, is ultimately to be donated to Yarram as part of the Heesco Town art project.
The combined effects of the devastating summer bushfires and of COVID-19 highlighted the importance of Victoria's emergency services, health workers and the many others in essential roles who do so much to serve the Victorian community, not only in a crisis, but all year round.
The Governor and Mr Howard asked Heesco to create an artwork which encapsulated the spirit of gratitude felt by so many Victorians, to say 'Thank You'.
The completed artwork features images of frontline workers, representatives of some of the many organisations involved in fighting bushfires and the recovery effort, and in caring for the community's health and other needs during the global pandemic.
The Governor and Mr Howard had the pleasure of speaking with Heesco about the finished artwork, about his fascinating journey from his birth in Ulaanbaatar, Mongolia to his career today as a Melbourne street artist, and the way the Victorian regional town of Yarram has embraced him through the Heesco Town project.
The mural will be displayed at Government House, where it will form the backdrop to a range of 'Thank You' events.
After it has been on public display for a period of time at Government House, the mural will be donated to Yarram at the request of the artist.
There, it will be installed in a public space as part of the Heesco Town project, so that visitors have the opportunity of seeing the artwork as part of the larger, permanent and growing exhibition of Heesco's work.
The permanent location of the artwork will be officially unveiled early next year, and it is hoped that the Governor and Mr Howard will have the opportunity to visit Yarram to officially present the mural to the town.
The small incorporated body, The Friends of Heesco Town, is in negotiations with Wellington Shire Council to determine an appropriate location, and have trademarked the name Heesco Town, to ensure Yarram retains the benefits of the murals painted around the town.