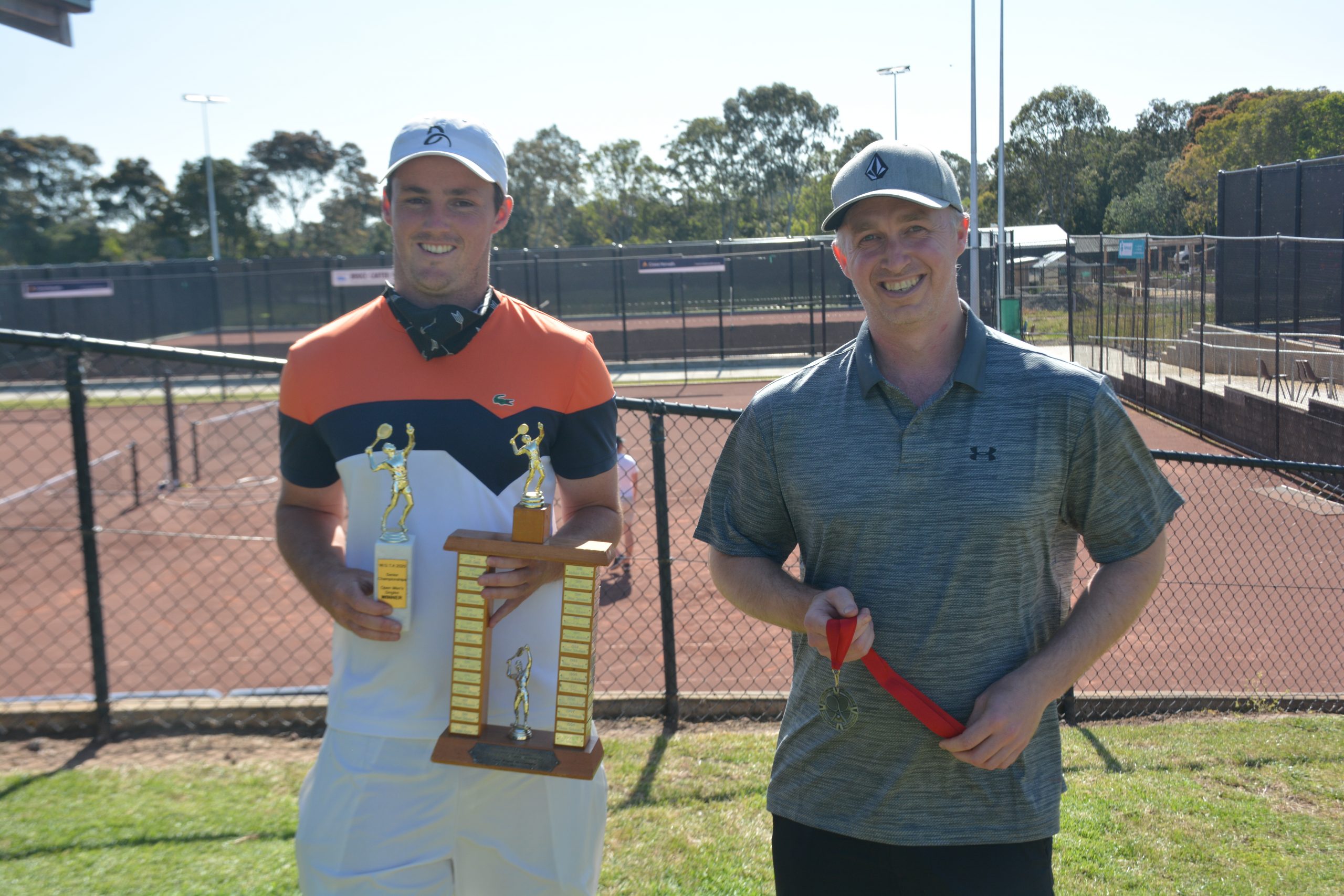 THE 2020 Wellington Gippsland Tennis Association Championships were played on Sunday, with a field of more than 70 junior and senior players competing in ideal conditions at Sale Tennis Club.
Organisers were impressed with the strong turn-out, marking a continuation of the revival of the WGTA Championships, restoring it as the prestigious event that it was for so many years.

Almost every club in the association had players competing, including Bairnsdale, which was well-represented for the first time.
The highlight of the morning's junior events was the 12 and under boys' singles, with Dylan Board and Josiah Levchenco playing another epic match, with Josiah finally coming out the winner, 7-6. This was a reversal of their 2019 10 and under singles, when Dylan was victorious.
In the 10 and under boys', Judah Levchenko won an entertaining match against Andre Wasserman.
Mia Goold was a stand-out in the 12 and under girls' singles, where she was successful over Tanika Krambehr. Mia then backed up in the 14 and under doubles with Emma Best to defeat Leo Callaghan and Charlie New.
Rachael Page had a good championships, winning the 14 and under girls' over Amira Gunn, then narrowly losing in the 16 and under doubles with Alex Boxall to Aden Best and Taj Threadgold.
Joey Board was successful over Alex Boxall in the 16 and under girls' singles.
The two age-based honour board events had new winners in 2020.
In the 18 and under girls', Amber Archer from Bairnsdale narrowly outlasted 2019 winner Jess Board from Sale, taking the title 3-6 7-5 and 12-10 in the super tiebreaker.
In the 18 and under boys' singles, Eli Sims from Sale comfortably accounted for Josh Glanville from Longford to take his first title in the district.
In the senior events, Maffra's Mitchell Allman defended his open men's singles title from 2019 with a convincing performance in the final against Sale's Stuart Jones. Allman has now won the past four open men's championships.
In the open women's singles, Jess Board was looking to defend her 2019 title against Stephanie Barnett from Bairnsdale. In two high quality sets, Barnett managed to overcome Board to win the 2020 title.
In a highly-entertaining final match for the day, Allman and partner Sarah Luke just managed to ease past Tim Dunnett and Jo Rule to claim the open mixed title by the skin of their teeth, 9-7, in front of the late afternoon crowd.
Finals results:
Women's open singles: Stephanie Barnett d Jess Board.
Men's open singles: Mitch Allman d Stuart Jones
Women's doubles: Stephanie Barnett and Jodi Krambehr d Caz MacLachlan and Lisa Harrison.
Men's doubles: Nick Board and Aaron Kennedy d Tim Dunnett and Cal Board.
Graded women's singles: Kristie Harry d Jodie Krambehr.
Mixed doubles: Sarah Luke and Mitch Allman d Jo Rule and Tim Dunnett.
Graded mixed doubles: Nok Pate and Damian Theobald d Jenny Luke and Terry Flynn.
Family doubles: Dylan Board and Nick Board d Harry Conway and Ned Conway.
18 and under girls' singles: Amber Archer d Jess Board.
18 and under boys singles: Eli Sims d Josh Glanville.
16 and under girls singles: Joey Board d Alex Boxall.
16 and under boys singles: Zac Gunn d Aden Best.
16 and under doubles: Taj Threadgold and Aden Best d Alex Boxall and Rachael Page.
14 and under girls singles: Rachael Page d Amira Gunn.
14 and under boys singles: Sam Bertino d Cooper Clutterbuck.
14 and under doubles: Emma Best and Mia Goold d Leo Callaghan and Charlie New.
12 and under girls singles: Mia Goold d Tanika Krambehr.
12 and under boys singles: Josiah Levchenko d Dylan Board.
12 and under doubles: Louis Lazzaro and Dylan Board d Riley Nicholas and Josiah Levchenko.
10 and under girls singles: Tara Lambert d Milla Lazzaro.
10 and under boys singles: Judah Levchenko d Andre Wasserman.
10 and under doubles: Roger Sears and Sam Crouch d Ted Crouch and Fletcher Fyfe.