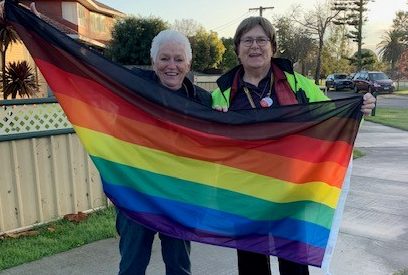 Sarah Luke
MARKING a special day on the LGBTIQA+ community calendar on Monday, Wellington Shire hoisted the rainbow colours high to celebrate IDAHOBIT (International Day Against Homophobia, Biphobia, Intersexism and Transphobia) Day.
The day celebrates lesbian, gay, bisexual, transgender and gender diverse, intersex, queer and asexual people, and raises awareness for the work still needed to combat discrimination.
Wellington Shire joined cities and towns in more than 132 countries across the globe in raising a rainbow flag on Sale's York and Raglan St roundabout at the town's entrance, and another at Yarram Memorial Park.
Joining Wellington Shire councillor Jill Wood in hoisting Sale's flag was resident Kathy Mansfield, who recently championed diversity during her campaign to become a councillor.
Ms Mansfield is also involved with Central Gippsland Health as a LGBTIQA+ community reference group leader, with Wellington Primary Care Partnership in gender equality and violence prevention and will soon be an ambassador for elder rights advocacy in the region.
By flying the rainbow flag, council says it aims to acknowledge and celebrate LGBTIQA+ people as an integral part of the local community, acknowledge homophobia, biphobia and transphobia still exist and have a devastating effect on the whole community, publicly stand up against homophobia, biphobia and transphobia and encourage people to seek support if they experience discrimination.
Hoping the rainbow flag would fly permanently in Wellington Shire, Cr Wood said by running for council, she hoped to give everyone a voice, but didn't think the rainbow community had had a voice.
"When I put it to my fellow councillors, they were all unanimous that the flag should fly," Cr Wood said.
"I'm very, very proud that today it's flying up there looking fantastic.
"It's a flag that's a happy flag, and I think that's what we want everyone to be in the community. "We're part of your community, and it's very, very important that we're acknowledged – same as anyone else in the community."
Ms Mansfield agreed.
"I'm so proud that Wellington Shire cares enough about people living in the shire to think about including our flag as part of the entrance," she said.
"My hope for the young people today is that there are signs of change that are real in the community – that acceptance is possible.
"To the young people of Sale and Wellington, I say, you are enough."
Thirty-one years ago – on May 17, 1990 – the World Health Organization removed homosexuality from the classification of diseases and related health problems.
Seventy-five per cent of Australian LGBTQIA+ youth have reported experiencing some form of discrimination, while 77 per cent of trans and gender diverse people reported being discriminated against in the past 12 months.
Rates of depression and anxiety in the Australian LGBTQIA+ population are still alarmingly high, with 39 per cent reporting experiencing depression and 33 per cent anxiety in the past 12 months, compared to 6.2 per cent of the general population, according to a Latrobe University study and Beyond Blue figures.
Homophobia, biphobia, interphobia and transphobia can occur online or face-to-face and affect people by making them fear for their safety and feel like they can't be themselves.
Sexuality and gender identity or intersex status aren't always visible, so creating a culture where all people feel safe, even if there aren't any visible LGBTIQA+ people, is important.
The pride flag has been redesigned in recent years to include black and brown stripes – representing marginalised LGBTIQA+ communities of colour – and pink, light blue and white – reflecting the colours of the transgender pride flag.
For more about IDAHOBIT Day, visit www.idahobit.org.au.
There are a range of support services out there available for anyone struggling.

The state-wide support network Switchboard provides peer-driven support services for the LGBTIQA+ people and their families, as well as allies and the broader community, available via www.switchboard.org.au.
Other resources include Lifeline (phone 13 11 14), Kids Helpline (1800 551 800), Suicide Callback Service (1300 659 467), Ask Izzy, Gippsland Youth Commitment, Headspace Sale (5184 5000), HeadtoHelp (1800 595 212) or Gippsland Pride Initiative.
If someone is in immediate danger, phone 000.