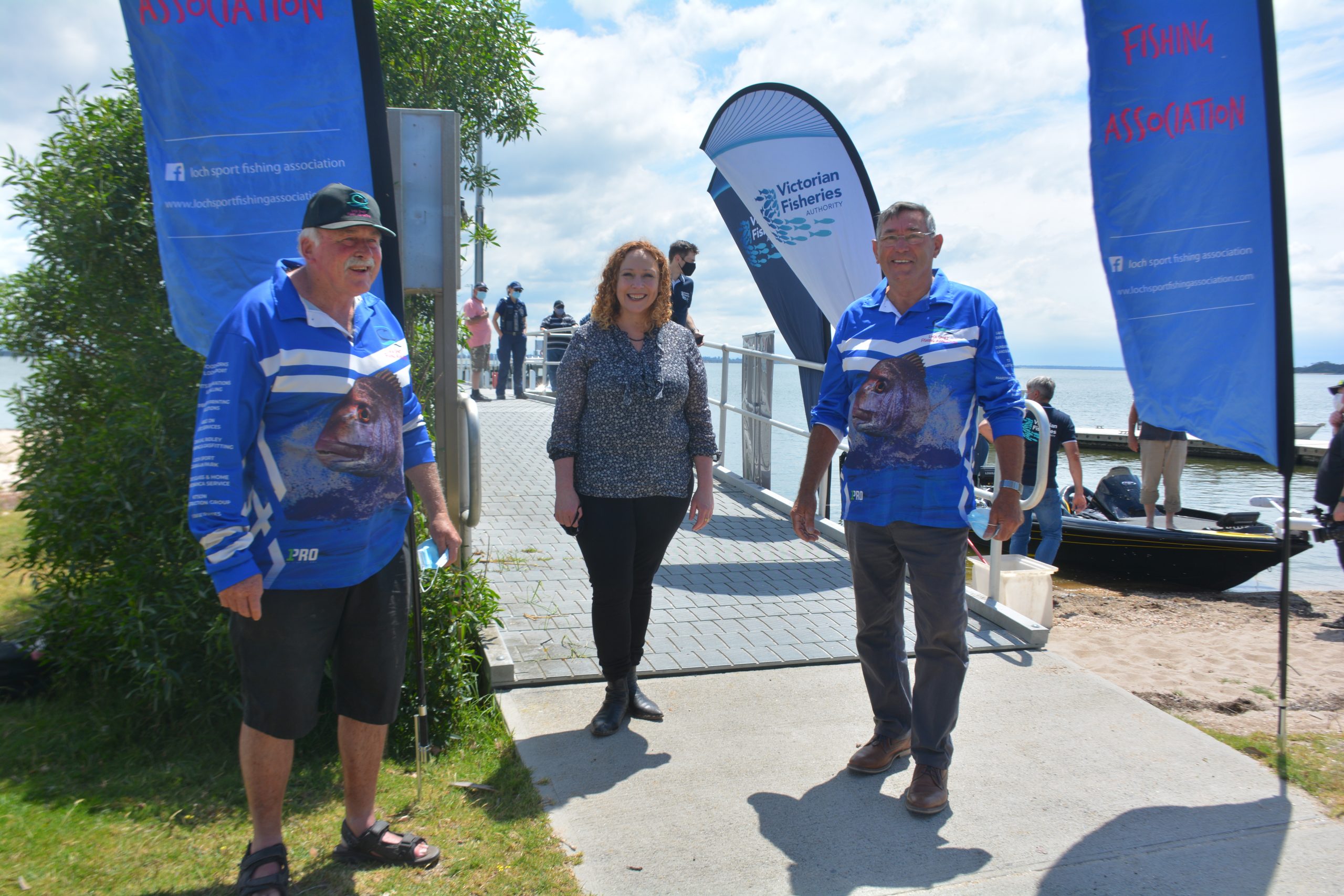 David Braithwaite
REGIONAL communities are set to benefit from an influx of recreational fishers following the removal of the 'ring of steel' between Melbourne and the remainder of Victoria.
The Golden Tag competition, which began earlier this year across east Gippsland and the state's north-east following the summer's bushfires, has resumed after the easing of travel restrictions and been expanded across Victoria.
More than 20 new tagged fish worth $10,000 each will be released around the state, and there will be an extra 50 fish worth $2000 added to waterways.
About 950 fish worth $2000 each have already been released, bringing the statewide total of tagged fish to more than 1000.
The relaunched competition will result in tagged fish released throughout Gippsland into places like Marlo, Tamboon, Lake Tyers, the Gippsland Lakes and Mallacoota, as well as the Alpine regions.
State Fishing and Boating Minister Melissa Horne was in Loch Sport on Friday to release some of the latest lot of tagged fish into the water.
Admitting to feeling "like the Willy Wonka of the fishing industry", Ms Horne said the revamped competition will result in an influx of recreational fishers and their families to regional towns and businesses – filling hotel rooms, cafés and restaurants.
"The resumption of this competition will be a major boost for the regional economy by prompting more people to get out and explore great fishing opportunities around the state," she said.
"The Golden Tag competition will support local businesses and allow families to make lasting memories by catching the fish of a lifetime."
Eastern Victoria MLC Jane Garrett said the competition would be a major boost for Gippsland as communities continued to recover from last summer's bushfires and the pandemic.
"So many local businesses here rely on tourism to drive revenue, so to draw visitors to the area through fishing will be a major boost," she said.
Victorian Recreational Fishing executive officer Michael Burgess said the competition would add to excitement for anglers, who were already keen to get out to their favourite fishing spots.
"We hope to see families enjoying the outdoors, enjoying some good quality time with their family, relaxing and de-stressing, and hopefully catching a gold tag," he said.
"On average, recreational fishers spend about $328 each trip, and even more in areas such as Gippsland.
"We're really pleased that recreational fishing can be used to help communities recover from bushfires and also COVID."
For more information about the Golden Tag competition, visit www.vfa.vic.gov.au/goldentag.