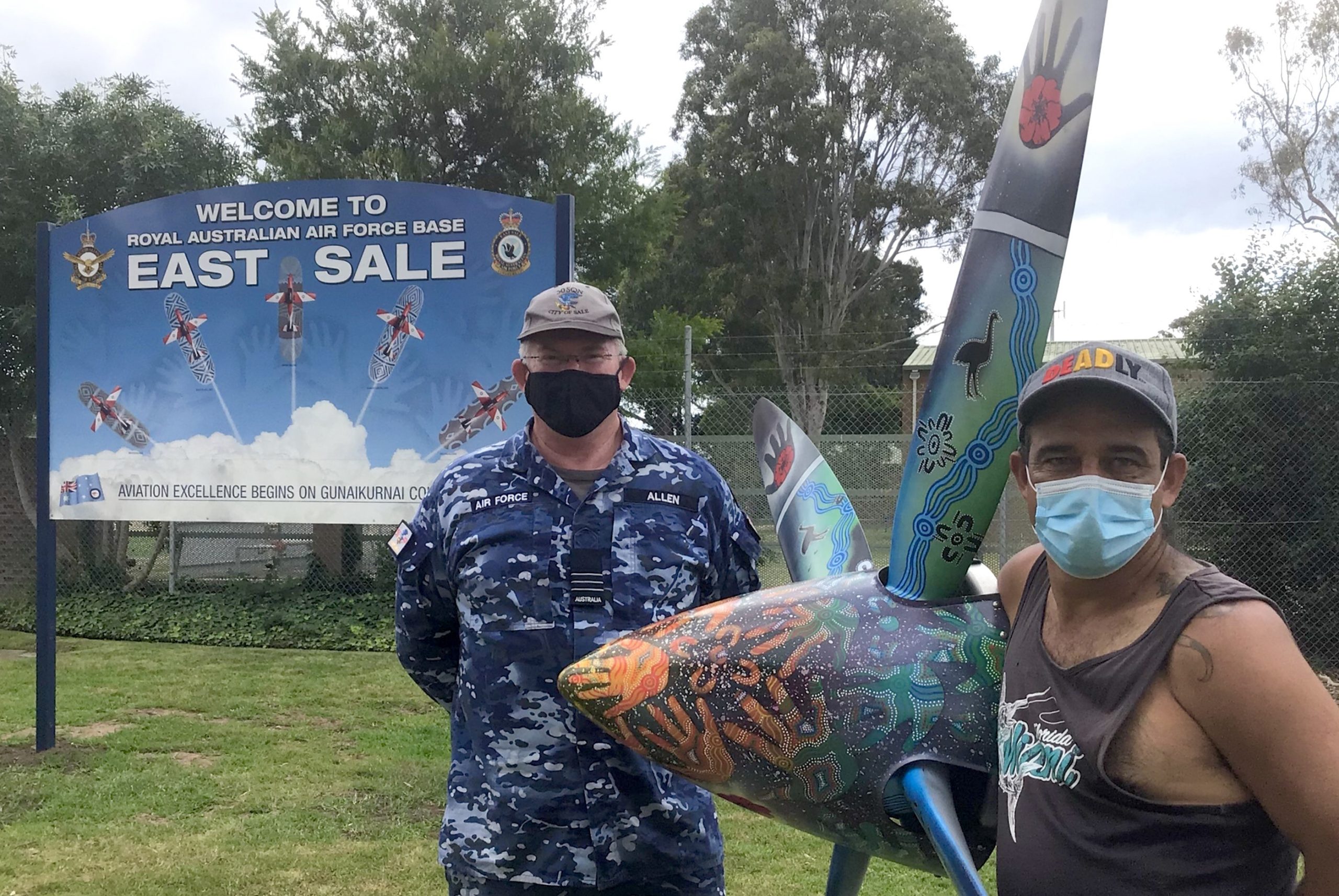 SOARING proudly above the front gate at RAAF Base, East Sale, is a newly-installed PC-9/A propeller painted by Gunaikurnai artist Alfie Hudson.
The propeller was unveiled at its final home during a base NAIDOC Week event last Thursday.
Mr Hudson, a Gunaikurnai-Monaro man who hails from East Gippsland, said he was honoured to paint the PC-9/A propeller for all to enjoy.
"I am full of energy," he said.
"This is a great opportunity and I'm very privileged and excited as it will join the other historic aircraft at the front of base."
The artwork was inspired by a Dreamtime story about the Southern Cross, with the moral of the story being about sacrifice.
"In the Dreamtime story a female emu saves a young boy from drowning, and she unfortunately died saving him," Mr Hudson explained.
"Driven by the sacrifice of the female emu, the boy then goes on to be a protector of the emus.
"This story is about scarifying your life for others, and that is what I see the Defence Force doing and why I choose this artwork."
The artwork on the propeller also features handprints of local East Gippsland veterans and base personnel, with poppies representing the stars of the Southern Cross.
Commanding Officer of Number 30 (City of Sale) Squadron, Wing Commander James Allen said the propeller was originally slated to be completed for National Reconciliation Week earlier this year, however was unfortunately delayed because of COVID-19.
"I am so pleased to see the conclusion of many months of hard work by Alfie Hudson, who has done a stand up job," he said.
"The propeller will be on display at the front of base for all to see, and will be an enduring testament to the strong relationship that exists between RAAF Base, East Sale, and the Gunaikurnai community.
"We hope to continue to deepen our relationship with the Gunaikurnai community, with further projects also being pursued."
The propeller itself has had an eventful career in the Air Force, accumulating 5530 engines hours during its service from August 1990 to October 2018.
It was fitted to 11 different PC-9/A aircraft, which operated out of RAAF Bases Pearce, Williamtown, Edinburgh and East Sale.