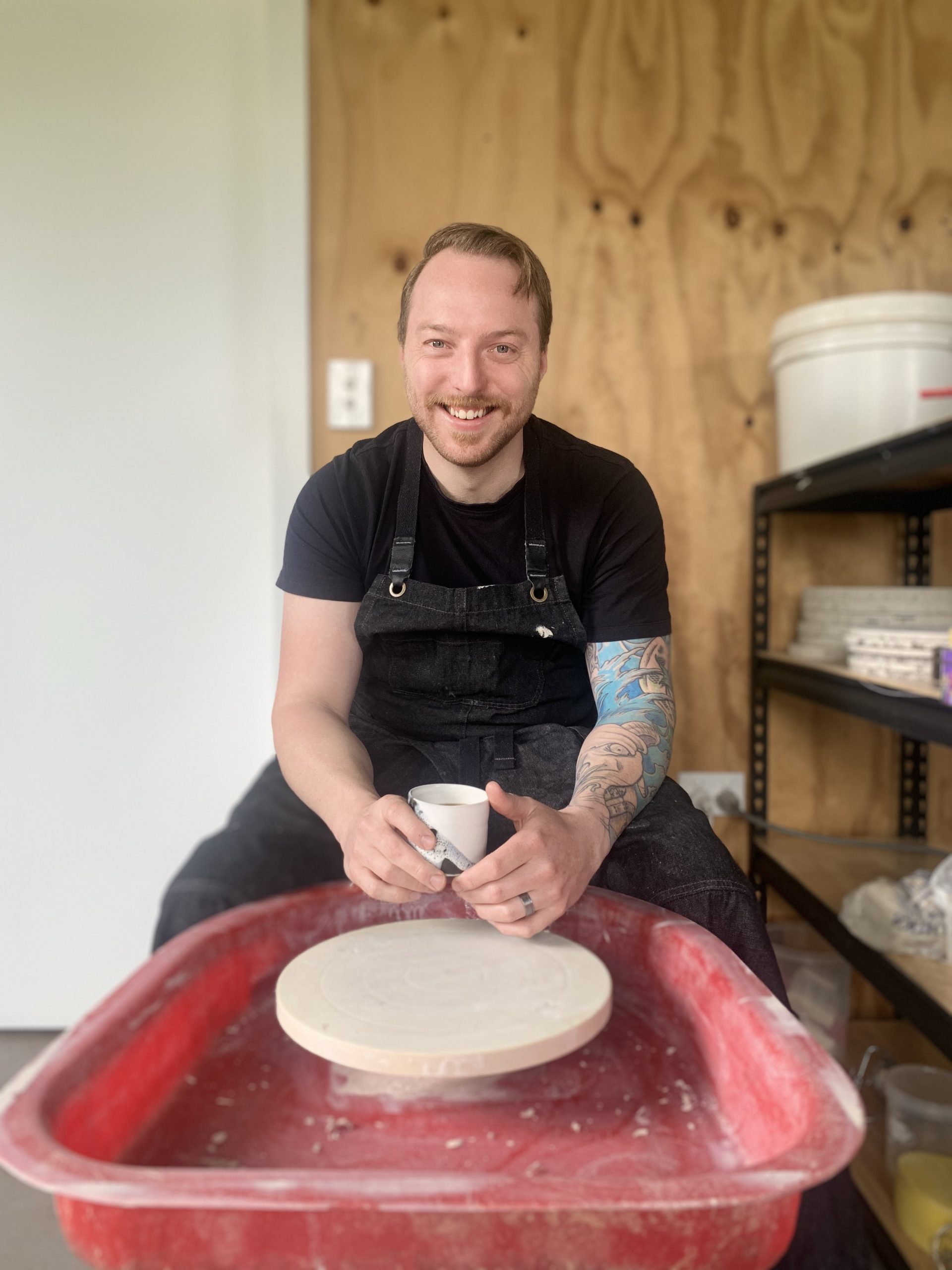 Madeleine Spencer
OUT of thousands of applications, Boisdale potter Bradden Taylor has been shortlisted for Patron's pay it forward grant of $25,000 for an Australian, grassroots craftsperson.

Bradden said the grant presented an amazing opportunity for Australian craftspeople.
"To even be considered by the panel as a top 40 finalists is an amazing nod that I'm going in the right direction," he said.
Creating under the label 'Thrown by BT', Bradden's initial interest in ceramics began with a wedding gift, a handmade Tasmanian dinner set.
"I thought, I just want to make this myself," he said.
"I want to see if I can create dinnerware because it brought so much happiness to me, so I thought maybe I can bring that happiness to other people by creating ceramics."
The experience inspired him to undertake a short eight week course in Eagle Point, and then he got together all the equipment he needed to begin creating ceramics himself.
"I love my craft, for its versatility and personality and the ceramics community that I'm now part of and contribute towards," he said.
Bradden specialises in functional contemporary tableware, and particularly loves making things that can be shared and used to bring people together.
"My favourite [thing to make] has to be the tapas bowls – they're made to be used on cheese platters and stuff where you're sharing with friends – and I love that element of it," he said.
The environment is also a big influence on his work, with Bradden's designs often including elements like the mountains, gumnuts and gum leaves.
"Being in Boisdale, I'm at the foot of the Great Dividing Range and we're surrounded by nature out here, so I find inspiration in my surroundings."
The medium of ceramics also creates a strong connection to the earth.
"Working with clay is such a natural medium, so you automatically feel connected to the land and the environment, just by making with something that gets extracted from the earth," he said.
Bradden's bowls have been used by chef Gordon Ramsay while filming his series Uncharted in Tasmania.
"It's so funny when my wife's uncle called me and said, 'are you happy for me to use the bowls when Gordon Ramsay's around at my house?"
"It's such a strange sentence to have to comprehend," Bradden said.
This year Bradden had hoped to sell his creations at local markets, but because of COVID-19 restrictions, he has only been making commissioned pieces and a stockpile for when he's able to sell more regularly.
He said throughout this year there had not been enough government support for artists and craftspeople, which was why this grant would go a long way to help him.
"I saw it as an opportunity to be able to develop my craftsmanship," he said.
"[The] money would go really far towards improving the equipment I own, offsetting some of the costs and also expanding to different markets, including online."
Bradden said it was amazing to see the support that crafters were getting through this opportunity.
"I love ceramics, just because it's such a beautiful lost art," he said.