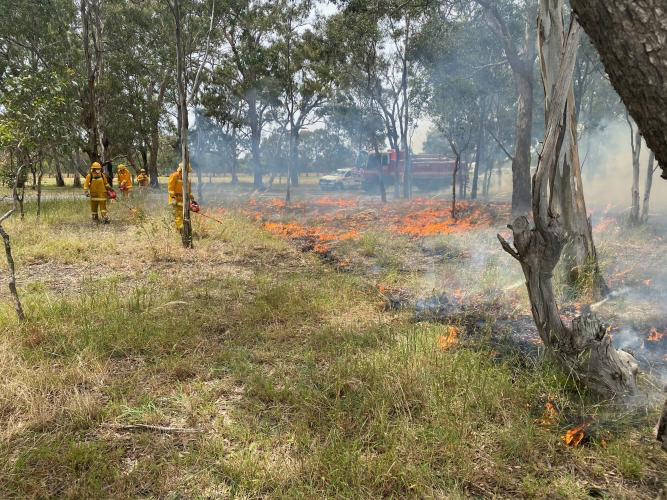 EMERGENCY services are warning Gippslanders to adhere to Fire Danger Period alerts and prepare properties for the hot months ahead to avoid another catastrophic fire season.
During the 2019-2020 bushfire season, which was unprecedented in its ferocity and devastation, bushfires ravaged Gippsland for months, mostly in East Gippsland, but some encroaching perilously into the Wellington Shire.
With Australia's climate now under the influence of La Nina, authorities warn the fire risk for the coming summer is still high, with grass and crop fires the main concern as the significant spring growth dries out in the warmer weather.
Fire restrictions across all Gippsland municipalities will begin 1am on Monday, December 14.
The Fire Danger Period will continue until May 1 unless stated otherwise by the Country Fire Authority and Forest Fire Management Victoria.
CFA south-east assistant chief officer Trevor Owen reminded people that during the declared Fire Danger Period, fires cannot be lit in the open air without a written permit from the CFA or a municipal fire prevention officer.
"Fire Danger Periods are based on local conditions and take into account fuel moisture, fuel loads, grassland curing, weather and rainfall," he said.
"This fire season's outlook and current conditions indicate that this summer has the potential to be a grassfire-dominated season, with average rainfall seeing significant grass growth across many parts of the region.
"This may mean shorter-duration fires in grassed areas and dry forests during hotter and windier days.
"While CFA and our partner agencies Fire Rescue Victoria and Forest Fire Management Victoria are doing everything we can to prepare for the bushfire season, we look to the community to use common sense and take responsibility for preventing fires.
"There is still a short window of opportunity to clean up your property if you haven't already done so, but people need to be aware that if using fire to clean up properties they need to register these through the Fire Permits Victoria website or by calling 1800 668 511."
FFMVic acting deputy chief officer Kelly Rash said despite the rain in past months, forest fuels could still be dry.
"It may not take much of a spark from a burn-off or an unattended campfire to start a bushfire," she said.
"CFA and FFMVic crews had a huge season last summer and we want to do everything we can to minimise the risk of another this summer.
"All fire services are well-prepared to respond to the threat of bushfire with 250 firefighters, new equipment and infrastructure, and an aircraft fleet based at Bairnsdale, Latrobe Valley, Heyfield and Benambra, all ready to go.
"Prepare your property, prepare yourself and prepare your family for fire. Have a fire plan in place and most importantly, practise it."
CFA acting chief officer Alen Slijepcevic said as one of the world's most bushfire-prone areas, even a normal fire season in Victoria presented a high risk to communities.
"We urge all Victorians in high-risk areas to prepare their properties and take particular care while using harvesting and other machinery," he said.
"Grass fires travel faster than you can run, and they jump highways, so you need to activate your fire plan on those high-risk days before a fire starts."
The Australian Seasonal Bushfire Outlook indicated Victoria would have a "normal" fire season in 2020-21, however predicted spring rainfall was likely to have an effect on fire potential in the lead up to and during summer.
With the outlook for summer continuing to indicate above-average rainfall across Victoria because of the influence of La Nia, it is likely this soil moisture will persist in many areas and lead to average fire potential across the state, with the exception of the far north-east.
Bushfire risk in the eastern parts of the state, particularly in already burnt areas, has reduced, lessening the risk of prolonged fires.
Some of Wellington Shire's more fire prone areas have had a good dowsing of rain this year.

Below average rainfall has fallen at Dargo over spring, with 173.1mm falling from September to November, instead of the average of 215.5mm.
However, the former gold rush town of about 100 people had heavy falls in January, February and July, tipping over above average annual rainfall at the end of November, clocking up 727.7mm.
Briagolong has had a welcome 786.5mm fall to the end of November, 137.4mm above average for the year, while an astonishing 1835.6mm has fallen so far at Mt Useful, just west of Licola, nearly doubling its average of 976.4mm.
On January 3 last year, a fire raged through Holey Plains State Park near Rosedale, burning 12,500 hectares over several months.
By February, two houses and three huts were destroyed in Walhalla, after a bushfire, sparked by lightning between Cowwarr and Walhalla, created its own weather pattern and grew from 400 hectares to 8500 hectares in an afternoon.
Another out of control bushfire two kilometres east of Licola and 9km north-west of Valencia Creek burned through more than 80,000 hectares, putting Licola under ember attack and threatening Valencia Creek, before it was declared under control on March 29.
The Mt Darling-Cynthia Range Track fire, about 20 kilometres north-west of Dargo, also eventually burned more than 29,800 hectares.
Early this year, Australia had its worst bushfires on record, with 320,000 hectares of east Gippsland burnt by a fire that raged uncontained for 91 days, threatening multiple communities, destroying houses and sheds, killing two residents, three Forest Fire Management Victoria employees and millions of animals.
To find out more about getting ready for summer bushfires, visit www.cfa.vic.gov.au or phone 1800 226 226.