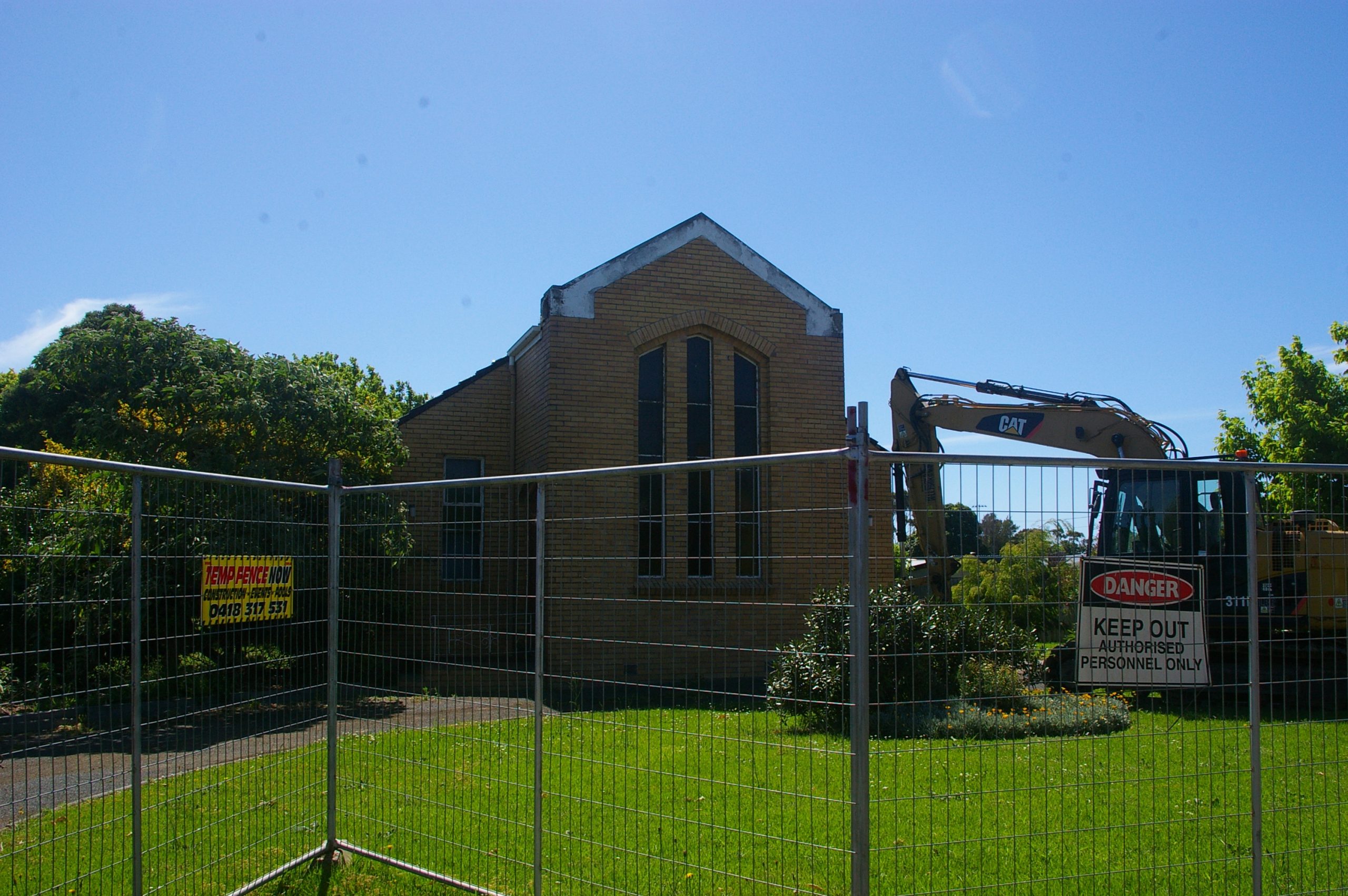 Peter Hill
DEMOLITION of the former Wesley Church on Commercial Rd in Yarram will prepare the site for what the CFA hopes will be the new home of the town's brigade.
The current CFA station on James St is now too small for modern fire tankers with volunteers having little space to don their protective gear beside the trucks.

The station's position opposite the busy Woolworths car park poses problems for firefighters returning and having to reverse into the station, blocking traffic on one of Yarram's busiest streets.
According to a spokesperson from CFA Region 10 headquarters in Sale, the hoped for new station will be built on the large plot of land formerly occupied by the structurally compromised 1960s brick church.
The new site, opposite the police station and adjoining the ambulance station, will enable crews to return to the station without blocking traffic by reversing in, because of its rear access from Grant St.
The church and land was bought off the Uniting Church in late 2016, with the CFA taking possession in January 2017.
"This has been in the works for years," the CFA spokesperson said.
"It's a great site with two roads access, it was too good to pass up.
"The building's structural condition has now deteriorated to a position where we cannot continue to allow it to be occupied, and as it was always planned as the site for a new station, it will be demolished."
The former Methodist church has been home to the Yarram Community Church for a number of years.
It was built by L.S. Jones in cream brick with a tiled roof in 1959 and called Wesley Church.
It was officially opened and dedicated by Reverend D. W. Risstrom on September 27, 1964.
Gippsland South MLA Danny O'Brien has long been advocating for a new home for Yarram's CFA volunteers.
"I've been campaigning for state government capital funding for a new Yarram station for many years now, and was disappointed it was not funded in the recent state budget.
"Yarram is the number one priority for station replacement in District 10 and we have the land ready to go – we just need the state government to provide the necessary funding.
"The old station is too small, outdated and not fit-for-purpose and I was pleased that the Nationals and I committed to replace it had we been elected to government in 2018.
"It's time this outdated station was replaced and our volunteers' needs considered. I will continue to push to see a new station fully funded."
Eastern Victoria MLC Jane Garret was approached for comment, but did not respond.