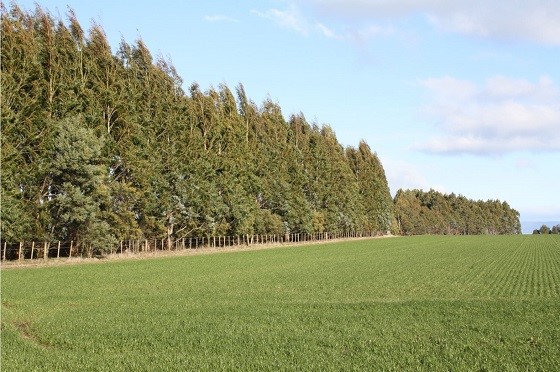 Philip Hopkins
ENCOURAGING farmers to grow trees on their land will be a key focus of the new Gippsland Forestry Hub in its 30-year strategic plan for the future of Gippsland's forestry industry.
Group chairman Simon Gatt said farmers would be important stakeholders in this process.
"We will be reaching out to the farmers in the community to understand how they can contribute to increasing the plantation estate in Gippsland," he said, speaking this month before the group's first meeting in Traralgon.
The role of forestry products in storing carbon will also be a strong theme in the plan.
Gippsland is one of 12 forestry hubs in key forestry regions throughout Australia established as part of the federal government's 2018 forest policy commitments.
The Gippsland hub is jointly funded by the federal and state governments.
Gippsland, which stretches from the shores of Western Port in Bass Shire to the New South Wales border, now has 1.43 million hectares of productive forests, mainly native forest and including 90,000 hectares of plantations.
"It's about ensuring fibre supply – getting more trees in the ground – as part of the federal government's plan to plant one billion new trees over a 30-year period," Mr Gatt, who has worked in forestry for the past three decades, having begun his forestry career at Orbost, said.
Apart from the strategic plan, the hub's other key focus will be innovation and regional research, consultation with local education institutions on future skill needs, and determining the technical issues, needs and opportunities for the development of the region's timber industry.
Mr Gatt said the hub's membership was diverse, ranging from forest growers, forestry suppliers, contractors and processors to VicForests, representing the native forest industry and its future role in plantations through the nursery at Nowa Nowa.
Deputy chairman of the executive committee is former Latrobe City councillor Sandy Kam, from National Timber Councils Australia.
The secretary is Megan Para from Australian Sustainable Hardwoods in Heyfield.
General members include Latrobe City Council co-ordinator of economic development Shannan Little and Radial Timbers, Yarram, mill manager Tony Britton.
The education sub-committee includes Gippsland Technical School manager Paul Boys and Yarram Secondary College principal Brett Pedlow.
Lesia Clark from Hancock Victorian Plantations has been appointed general manager of the Gippsland Forestry Hub. She has more than two decades experience in forestry, with an emphasis on education and training, client relationship management and stakeholder engagement.
Mr Gatt, currently HVP operations manager in Gippsland, has just been appointed to a position at AKD Softwoods in Colac, but hopes to stay on as chairman of the Gippsland hub.
Mr Gatt said the hub had funding for 12 months and depending on reaching milestones, would be funded until 2022.
A key step was the strategic plan, which should be completed early next year.
This would be led by consultant Pat Groenhout from Greenwood Strategy, backed by Braden Jenkins from Sylvia Systems, based in Warragul, and Craig Taylor from Fifth Estate.
Different stakeholders would be consulted, Mr Gatt said, ranging from the hardwood and softwood sectors, regulators, politicians, local councils, the state government, processors, education providers and scientists who specialise in climate change.
"It's really great to have so many stakeholders focussed on understanding how we will improve the industry moving forward," he said.
Mr Gatt expected the state government's 30-year forestry plan would be integrated into the hub's strategy.
Mr Gatt acknowledged the challenges faced by plantations in Gippsland, where land tended to be expensive and well suited to agriculture.
"That's exactly why we are putting so much emphasis on farmers," he said.
"The industry itself can't do this on its own through massive greenfield investments.
"But we'll see; we will workshop it, put some good thinking around a strategy having the farming community on board, talking to them about the advantages of trees on farms – not just income, but the advantages of shelter and alternative incomes, even carbon."
Mr Gatt said the role of wood products in storing carbon was an idea whose time was coming.
"Trees on the ground absorb carbon as they grow through their life cycle and then those trees are processed," he said.
"That carbon is stored in the forest products – tables and chairs, paper, buildings.
"That is definitely an area that will gain momentum as the bio-economy grows and becomes more a feature of the general economy."
Mr Gatt said Australian Paper was not a member of the Gippsland Forestry Hub.
"But we are keen to have AP on board. We will continue discussions with them. I'm sure they will join eventually," he said.
"Fibre security is important for Australian Paper."