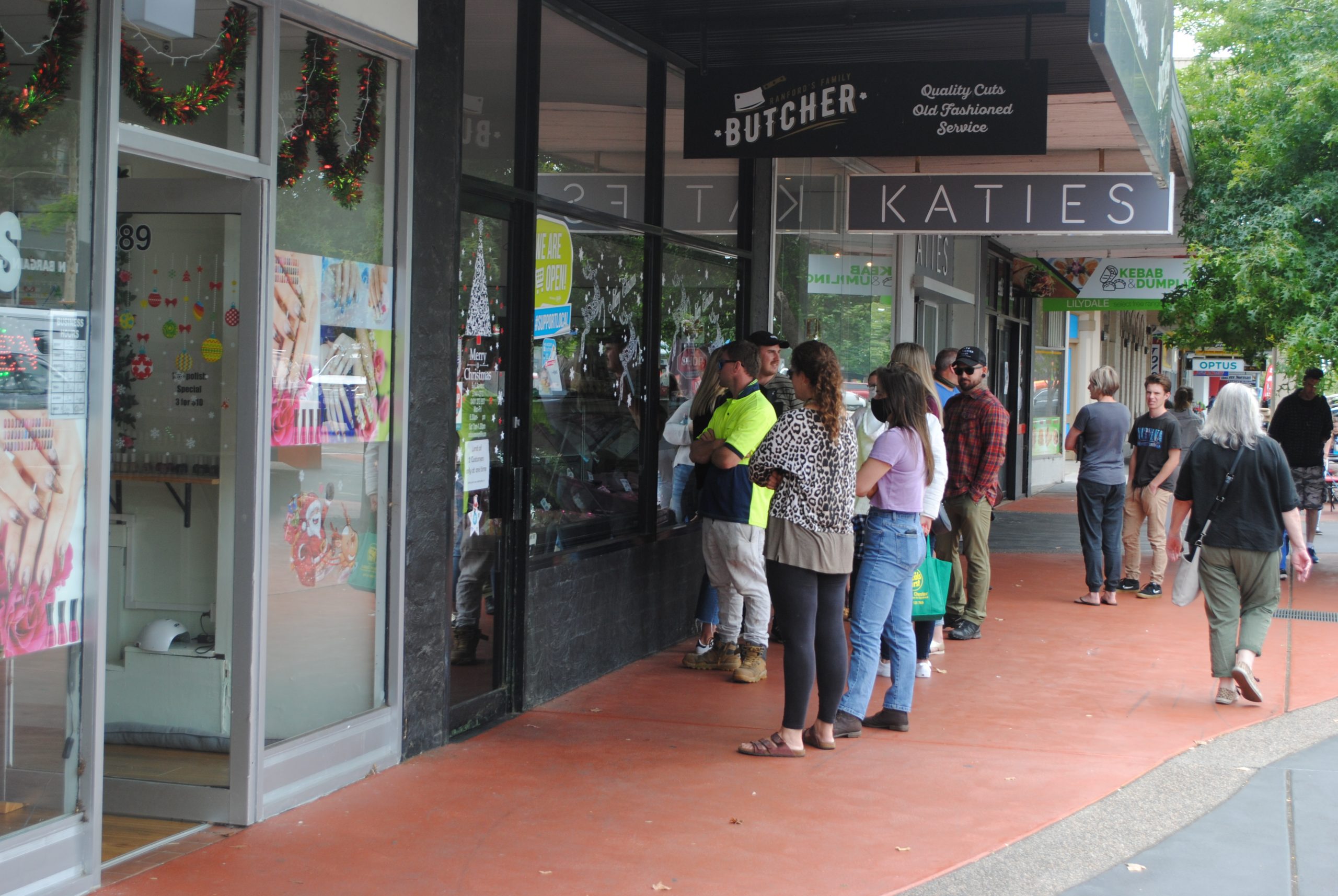 Liz Bell with Liam Durkin and Julianne Langshaw
CONSUMERS who embraced the 'shop local' message this Christmas have helped traders enjoy a bumper December after a year of disaster.
Many Wellington Shire retailers have reported record sales during the past few weeks, with most far exceeding expectations.
Sale Business and Tourism Association president, Julian McIvor, said the weeks leading up to Christmas had been "buoyant", and the overall feedback from traders was positive.
"We really pushed the 'shop local' message, but to be honest I think the community had already banded together after COVID and people were determined to shop locally," he said.
Mr McIvor said sales began to pick up after lockdown as soon as the 'ring of steel' out of Melbourne was lifted, and gradually increased right up until Christmas.
"In the past few weeks we have felt the vibe in town – the streets have been busy and the cafés have been busy, and I think more people coming through Gippsland have stopped off in Sale than in previous years," he said.
After years of trying to push the 'shop local' message at a corporate level, Mr McIvor said some of the region's bigger buyers such as Esso, Central Gippsland Health and the Fulham Correctional Centre enthusiastically came on board this year, to the delight of local traders.
"It's great to see that community loyalty and support," he said.
Record voucher sales are testament to the success of the shop local campaign, with the SBTA selling almost $50,000 in vouchers in the lead up to Christmas.
And it's not just Sale that has welcomed the resurgence of street shopping.
Stratford retailers Brenda and Ray Wathall said the Christmas period had been "hectic" and their best ever in years of trading, with sales up close to 500 per cent on last year.
"Around the second week of December it really started jumping, but it's been pretty constant," Mr Wathall said.
While online orders from as far as Queensland have also added to the promising sales figures, Ray and Brenda feel the messages to buy local have been heard.
Retailers in Maffra are smiling too, after steady pre-Christmas sales.
Maffra Business and Tourism Association president, Marcus Stobie, said feedback confirmed shoppers were less inclined to travel to Melbourne to shop this year, and many had shunned online sales sites in favour of spending locally and buying gift vouchers.
"I think everyone around here in a core retail business has had a better year than they first expected – there are shoppers out there with more money in their pockets after not being able to spend much this year, people are staying home instead of going away, and I think the success of the farming community this year has had a flow-on affect to the community, so it's pretty positive," he said.
"I don't know what things will be like once things get back to 'normal' in March, but fingers crossed."
A steady stream of foot traffic entered Collins Booksellers, Sale, on Christmas Eve.
It was all hands on deck as shoppers rushed in to grab last minute gifts and stocking fillers.
Proprietor Natasha Hunt reported solid business in the three or so weeks leading into Christmas, saying books had stood the test of time as tangible gifts.
Hardbacks were again a popular choice, with the autobiography of recently-retired AFL superstar Gary Ablett Junior disappearing off the shelf.
Nancy Morgan, who this year again sold Christmas trees and stands from her former Raglan Gardens Nursery premises in Sale, was hoping people would want to bring lots of Christmas cheer into a difficult year – and she was right.
She sold more trees than usual and ran out of Christmas tree stands, with people from as far afield as Melbourne, the Latrobe Valley and Dargo dropping in to buy.
"It has been great," she said.
"The folks have all been so happy and positive.
"It definitely has not been like working – it was more like a four-week party.
"One little toddler brought his plastic chainsaw and 'pruned' the trees – a photo I will always keep."