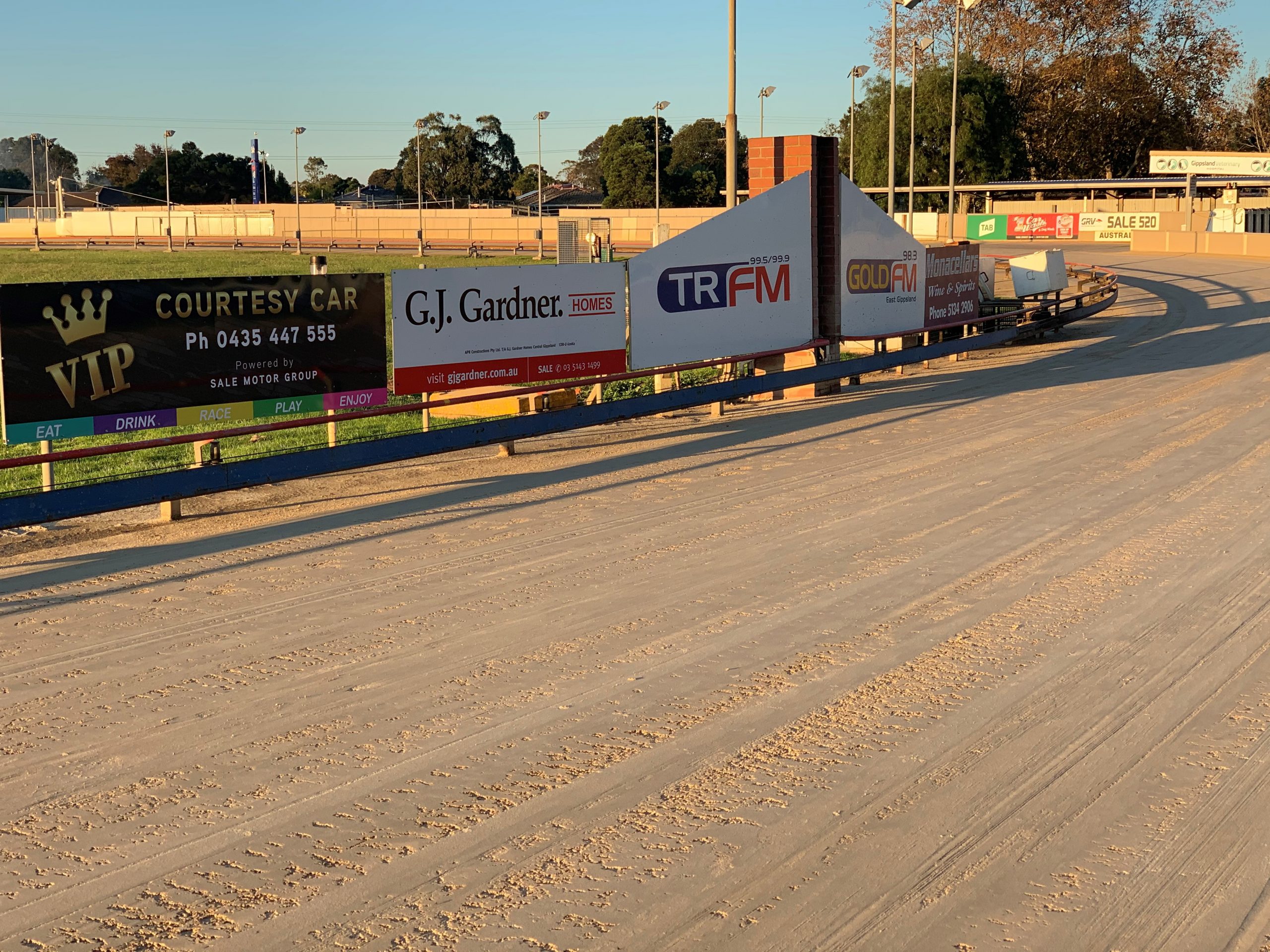 David Braithwaite
LOCAL greyhound trainers ended 2020 on a positive note, claiming victories during Thursday night's New Year's Eve meeting at Sale.

Rose's Honey, trained by Carolyn Jones at Rosedale, finished well in the home straight to win race five, the 440 metre mixed grade six and seven, by a length.
West Of Westeros, trained by Dawn Johnston at Boisdale, justified her favouritism in the race six 440m grade five, making up for a slow start to win by six lengths from Bomber's Wonder, trained at Woodside by Geoff Green.
Race eight, the 440m free for all, was won by Marshall's King for Des Douch at Maffra.
Slick Paws, trained by Susan Northway at Heyfield, won the race 12 440m grade five.
Destini Trucker, trained by Ron Winter at Denison, led into the home straight, but Slick Paws came along the fence to win by just over two lengths. Roulette finished third for Corey Fulford at Maffra.
In the first of five heats of the 440m maiden series, Golden Skyrocket won in 25.08 seconds for Gavin Clifton at Tynong North. Marco, trained by Jenny Gill at Darriman, finished second and also advanced to this Sunday's final.
The second heat was taken out by Dale From Sale, trained by Adrian Nuttall at Woodside. Dale From Sale started quickly, and was never headed, winning in 25.11s, eight lengths clear of Barwidgi, trained by Gill, who will be a reserve for the final.
Dr Macie won the third heat for Kim McMahon at Darriman in 25.29s.
The fourth heat was taken out by Zachary, trained by Bill McMahon at Darriman, in 24.73s. Zachary cleared away to win by four lengths from final-bound Nathan Ryder, trained at Cobains by Micheal Delaney.
Aston Resort, trained by Graeme Jose at Catani, won heat five in 24.92s. Second-placed Elswyk Storm, trained by Racheal Busuttil at Kilmany, will be a reserve for the final.
Jose's Crumlin won race 10, a 650m event restricted to dogs with zero to four wins, by a length from Madalia Daisy, trained by John Connor at Rosedale.
Frankie Fever, trained by Justin Bowman at Toorloo Arm, held on to win the race seven 440m grade five by a nose from Sandy Gem, trained by Connor.
Race 11, over 440m for dogs with one to three wins, was won by Yazid Bale, trained by Luke Harris at Somerville, with Madalia Pixie second for Kathleen Fogarty at Heyfield, and Walk With Grace, trained by Lindsay Fulford at Maffra, third.
A 12-race program will be held at Sale on Tuesday night, beginning at 6.45pm.

MADALIA Champ, trained by Connor, won the 525 metre grade five at The Meadows on Saturday night.
The greyhound had been in good form, coming off two thirds and a second in recent runs at Sale.

William Rose finished third for another Rosedale trainer, Sharon-Lee Chignell.
The same night, Lakeview Walter, trained at Metung by Monique Whelan, won the state's first group one race, the 525m Silver Chief final. Earn The Answers, trained by Lyn Smith at Nambrok, finish seventh.
Midnight Monarch, trained by Chris Tilley at Sale, returned to the winners' list at Warragul on Sunday night, taking out the 460m free for all by four lengths. After winning four consecutive races, the dog finish second and third in his previous two runs.
Miss Somerton won a 400m grade seven for Delaney, Victory Chase, trained by Matt Clark at Briagolong, won 400m mixed grade four and five, while Just Burning took out a 400m grade five for Yvonne Andrews at Kilmany.