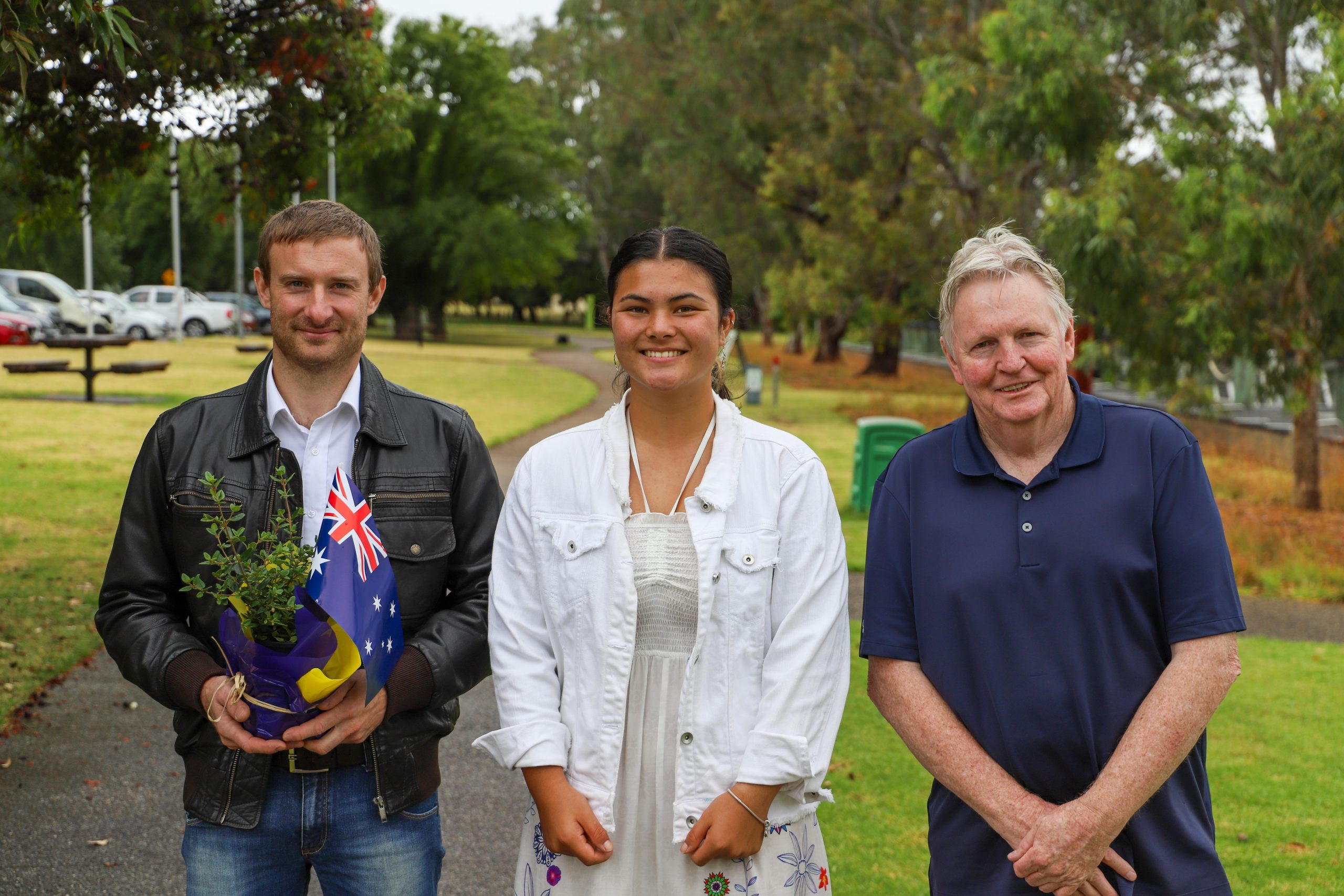 Sarah Luke
WELLINGTON Shire has welcomed three more citizens to its ranks.
Following a drizzly ceremony at the Port of Sale on Tuesday morning, three of our long-time residents made the official leap to become Australian citizens.
Enrico Tugnolo, who moved here from Italy in September 2012, spent some months travelling between Sydney and Melbourne, but settled in Maffra when he and a friend found employment.
Mr Tugnolo has recently opened an auto-repair workshop in Sale.
He said he loved the countryside, with the paddocks and nature, but it was also the people and the lifestyle that drew him to Australia.
"Mainly all Australians are very nice people – more than what I can find in my country, on average," he laughed.
"I'm very in tune with the lifestyle, whenever I found myself with a friend, they say 'oh you look like an Australian, you act like an Australian', so I've found my place probably."
Mr Tugnolo said the first thing he would do as an Australian citizen was "probably have a beer with some mates".
Lemoni Japhary was born in Amsterdam in the Netherlands, but has been here some 14 years, moving with her family in September 2006.

Initially based in Orbost, Miss Japhary moved to Wellington Shire in 2015 to go to secondary school, and has found her people at Sale United Football Club.
"I particularly love Victoria – just the climate of it, which I don't think a lot of people would say – but I do," she laughed.
"I also love the mindset of Australian people, how laid back it is – that's always great.
"The nature is always beautiful as well."
In her first move as an Australian citizen, Miss Japhary was excited to retry Vegemite – which she has not been able to stomach to date – after being gifted a jar by a mate.
"Maybe the transition to Australian citizen will change things," she laughed.
It only took 60 years, but Maffra's Douglas McMinimee, originally from Scotland, is the last in his family to make the leap.
"I came out when I was seven, and I just grew up feeling Australian, so it wasn't something that I worried too much about … this just makes it official now," he said.
"I was here [in Wellington Shire] once before when my kids were young.

"Then work sent me back to Melbourne for a while, but I always knew I'd come back here – I just love this lifestyle."
The former sheet metal worker's favourite aspects of Australia are perhaps some things most Australians take for granted.
"It's just a really safe place," he said.
"It was a fantastic place to grow up as a kid – the areas I grew up in down in Melbourne were multicultural – there were kids from everywhere.
"I've never been out of a job in this country.

"When I look back at my father's history coming from Glasgow in Scotland, and being unemployed and struggling.
"Telling me the things he went through, I've never had to go through that out here.

"It's been good to me."
Mr McMinimee's immediate plans were to catch up with family back in Maffra to "have a drink".