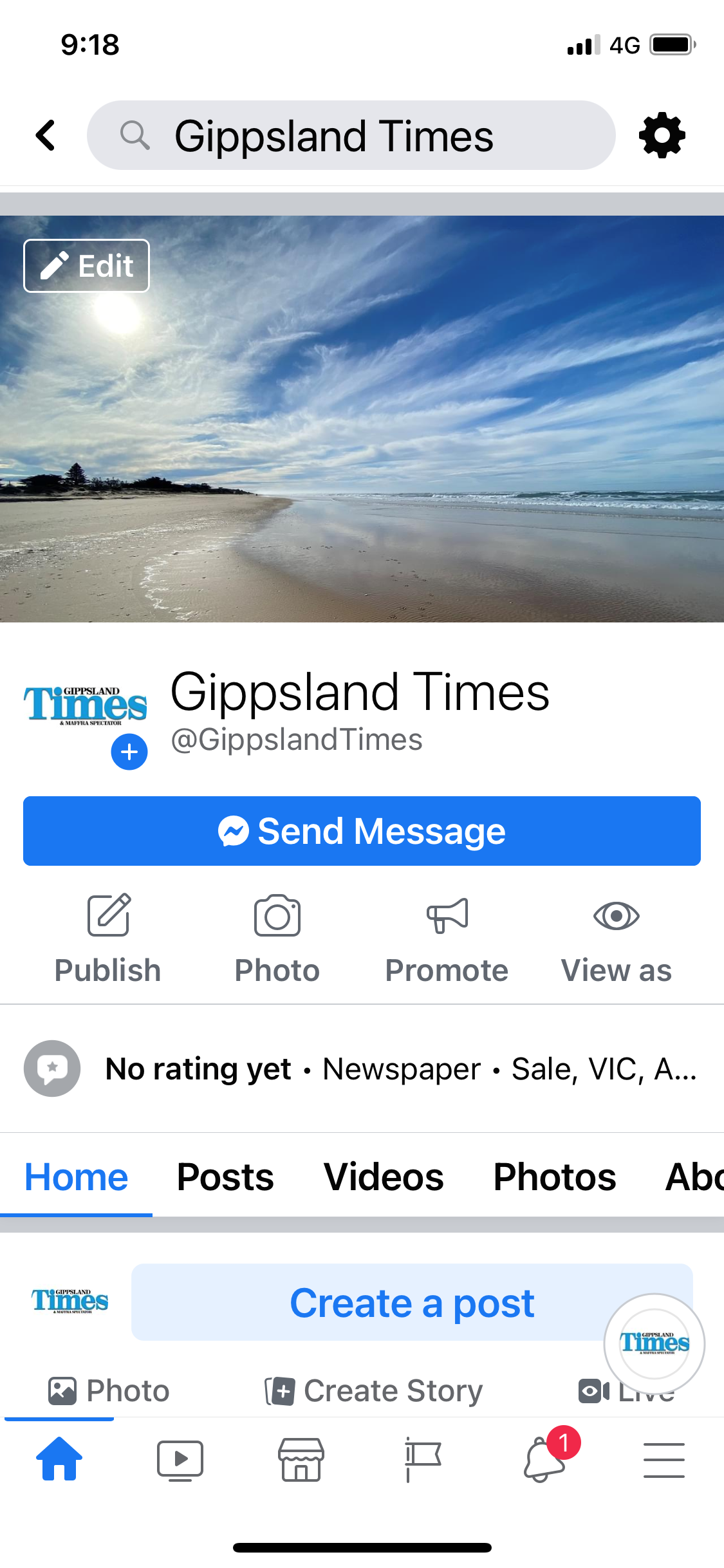 SOCIAL media giant Facebook has followed through on its threat to ban publishers and people in Australia from sharing or viewing Australian and international news content.
As of Thursday morning, the Gippsland Times' Facebook page was still operating in a limited capacity.
Links to the Gippsland Times website did not appear, and not all content on the page was shareable between friends.
ABC Gippsland, and the ABC across the board, were shut down completely, as were other large players like The Age and Herald-Sun.
On Thursday morning WIN News Gippsland appeared unaffected, while the Nine News Gippsland Facebook page was shut down.
The TRFM radio Facebook page was also shut down.
But Facebook seems to have misfired with some of the pages it targeted.
The official Facebook page of Gippsland South MLA Danny O'Brien was also shut down morning, yet the pages of Gippsland East MLA Tim Bull and Gippsland MHR Darren Chester were still operating.
And inexplicably, Wellington Shire Council's Aqua Energy page was shut down, while the council's main Facebook page remained unaffected
The Bureau of Meteorology page was also shut down, as were health department pages in South Australia and the ACT, and the Royal Children's Hospital.
Some small businesses have also been affected.
Mr O'Brien said although he occasionally shared news stories on his Facebook page, he had no idea why his page has been shut down, while other MPs' pages were not.
"Facebook's actions are calculated to pressure a sovereign government, and I believe will actually backfire with its users if it persists," he said.
"Credible journalism is a crucial part of our democracy, and it would be a sad day indeed if Facebook blocked reputable news sources, including in regional areas like Gippsland, and allowed conspiracy theorists and whackos to perpetuate misinformation."
Gippsland Times general manager Bruce Ellen said Facebook was abusing its global monopolistic powers in an attempt to bully Australian news outlets.
"We support the ACCC and the Commonwealth government's efforts to rein them in," he said.
"This is a very powerful reminder of the importance of local newspapers as a trusted and independent source of local news.
"The Gippsland Times is proudly committed to printing local news and being an independent voice for the local community.
"We're happy for Facebook to be a platform for crazy cat videos, photos of food and fake unregulated news.
"The Gippsland Times remains committed to local journalism and is more relevant than ever before as the true source of local news and information."
Mr Ellen encouraged people to source their local news by buying newspapers and visiting the Gippsland Times website.
The extraordinary decision by Facebook to ban Australian news content on its platform is in response to Australia's proposed new Media Bargaining law, which intends to fairly remunerate news media for the content it generates and helping to sustain public interest journalism in Australia.
The move to pull Australian news on Thursday has stunned domestic news corporations, the federal government and the general public, as it has removed a main method of information dissemination while the country is in the middle of a pandemic.
Facebook Australia and New Zealand managing director William Easton said the law "fundamentally misunderstands the relationship between our platform and publishers who use it to share news content".
Mr Easton said the reason why Facebook had responded differently in response to the proposed law to Google, which has paid $30 million to Nine Entertainment Co annually for five years for use of its news content, is because the platforms have "fundamentally different relationships with news".
"Google Search is inextricably intertwined with news, and publishers do not voluntarily provide their content," he said.
"On the other hand, publishers willingly choose to post news on Facebook, as it allows them to sell more subscriptions, grow their audiences and increase advertising revenue.
"We will now prioritise investments to other countries, as part of our plans to invest in new licensing news programs and experiences."
International news media can continue to publish news content on Facebook, but links and posts can't be viewed or shared by Australian audiences, and international audiences can no longer view or share Australian news content on Facebook.
Facebook's decision to pull news from its Australian users reveals just how little the platform cares about stopping misinformation, according to Reset Australia, part of a global initiative "working to counter digital threats to democracy".
"Facebook blocking news in the middle of a pandemic, when accurate information is a key plank of the public health response really tells you all you need know about how much Zuckerberg cares about Australian society and cohesion," Reset Australia executive director Chris Cooper said.
"Throughout the News Media Bargaining Code process, Big Tech has dismissed 'news' as nothing more than a line item on a balance sheet.
"Facebook is telling Australians that rather than participate meaningfully in regulatory efforts, it would prefer to operate a platform in which real news has been abandoned or de-prioritised, leaving misinformation to fill the void.
"The difference between information and misinformation and the value of the news to the functioning of democracy doesn't matter to Facebook.
"Regulation is an inconvenient impost on their immediate profits – and the hostility of their response overwhelmingly confirms regulation is needed."
Mr Cooper said Facebook was a not neutral platform or democratic public square, but a curated space where algorithms supercharged sensational and conspiratorial content to keep audiences engaged for longer.
"Social media has supercharged conspiracy theories and misinformation, pushing some people into echo chambers where false information is all they see," he said.
"We don't have oversight on how these algorithms operate, only that they amplify the most sensationalist content to keep us online and keep Facebook making mega bucks from our engagement.
"The absence of news on the platform will only compound the echo chamber effect.
"Regardless of how we use social media, or whether we use it at all – we are all affected by the current lack of accountability."
Gippsland Times editor Julianne Langshaw said the newspaper, established 160 years ago, had been an important part of the fabric of local communities during that time.
"We have also played a pivotal role in documenting local history and have been a go-to source for local historians.
"The sort of news you get from local news services can't be sourced anywhere else," she said.
"Local media outlets give a voice to local people – they are so important."
Gippsland Times news is also available on the website www.gippslandtimes.com.au.
The site also includes a flip-style digital version of Tuesday issues.
Simply click on the 'digital editions' tab at the top.