Sarah Luke
FARMERS, Landcare members, CFA volunteers and concerned city and country citizens voiced their concerns about the state government's new laws for camping on river frontages on the steps of Parliament House on Tuesday.
The regulations will allow people to camp for up to 28 days as close as 100 metres to homes from September this year. They also allow campers to collect half a cubic metre of firewood per day, despite farmers not being able to collect firewood themselves on land they licence for grazing.
Rosedale farmer Richard Crooke said the rally was well attended but peaceful, with "300-odd deeply concerned" people there, including other local representation.
Mr Crooke said the contingent was unable to convince any Labor members of parliament to speak with it, and held concerns over the lack of farmer representation in the Shooters, Fishers and Farmers Party, which voted in favour of the new legislation.
Mr Crooke said he had previously had trouble with people using the Latrobe River, which runs through his Holey Plain estate, even before the legislation comes into effect on September 1. He has previously been confronted by an aggressive man carrying a shotgun along his waterfront who warned Mr Crooke to leave, which he described as "really frightening".
He said others at the rally recalled finding people playing on their children's swing set, as their home was near the riverfront. "It affects all of us," he said.
"They can stay 28 days without leaving.
"We keep the weeds sprayed, we keep the waterfronts clean – now people can come and leave rubbish everywhere.
"It's a biosecurity risk, and we can lose our accrediation if an auditor comes along and finds mess from campers everywhere.
"Who cleans up their rubbish?
"Are we expected to cover these people with our insurance? Who is liable?"
Mr Crooke is concerned for his livestock, saying cows were a fright animal that could abandon new-born calves if spooked by campers, which could lead to stock losses. He was also worried about the lack of permission and knowledge of who and where people were on his farm.
"We have no control over these people," he said.
"There is the potential there for things to get really ugly. "It's just unbelievable."
On Tuesday, Victoria Farmers Federation president Emma Germano told the rally the VFF was seeking a 12-month stay on the implementation of the regulations.
"Our riparian land is important for farming, important for the environment and important culturally," she said.
"We know that after the persistent advocacy of all of you here today, the government is beginning to listen.
"We want a 12-month stay on implementation to allow proper consultation and the identification of appropriate, high-use sites for a pilot program.
"Today is another show of strength and resolve and the ball is now in the government's court.
"Now they need to show that they care about the rivers, the environment and the farmers."
Gippsland South MLA Danny O'Brien, who also attended the rally, said the regulations failed to consider the larger implications of allowing the public to camp on land used for farming.
"These regulations show no regard for the rights of the landholders. They are asking farmers to allow the public open slather to their workplace," Mr O'Brien said.
"I am getting more and more contact from Gippsland farmers with riverside licences who are aghast at what is proposed in the draft regulations."
Mr O'Brien said the Nationals, if elected to government, would amend the legislation to allow landholders to opt-in to allowing camping on licenced crown water frontages.
"There are many responsible campers and in some areas local farmers are happy to allow camping now, but unfortunately there are some who spoil it for the rest," he said.
"Local farmers have raised concerns with me about rubbish and human waste being left behind, the risk of fire from abandoned campfires, interference with stock, including from dogs, and the safety of campers around farm animals.
"Despite assurances we have received from the government about enforcement, we all know that police or authorised officers simply won't be likely to respond to an incident in the wee hours at a remote location."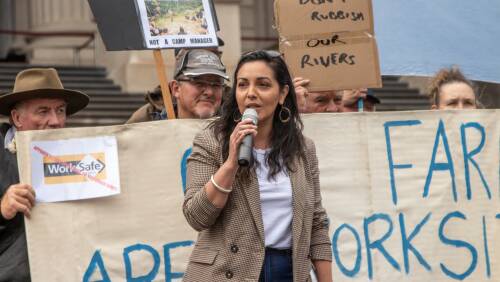 Gippsland East MLA Tim Bull said many amendments were attempted in the hope of protecting farmers' rights, but all were defeated when the Shooters, Fishers and Farmers Party sided with the state government.
"It is a classic case of a thought bubble policy with no thought given to how it will play out on the ground," Mr Bull said.
"The Labor government is saying it will have these areas displayed on an app, so camping groups can just turn up, but the additional problem is, many of these areas are remote and have no reception, so the app will be hard to access – meaning they may not arrive in the right spot.
"The government says it will have regulations around campfires, rubbish and biosecurity, but we all know what happens.
"These areas are poorly policed now and the government has confirmed not one additional enforcement officer will be provided to oversee this.
"Every year we have Parks put out media releases saying how disappointed they are so many campfires have been left unattended – so what is the answer? – we will now let this happen on farms and we are providing no more enforcement officers.
"I have always been a strong advocate for the outdoors, camping and family time, but it has to be fair – and this is just not fair."
Mr Bull said he had also been contacted by caravan park owners near riversides who were concerned about their ongoing viability if all these additional areas nearby were opened up to free camping. One said it could put him to the wall.
"We believe farmers should have an 'opt in' and opt out' option as to whether they are happy to be part of this," Mr Bull said.
"The biosecurity concerns for a start are very real, and you just cannot be relying on people to close gates and not spread weeds.
"For many it will impact on their right to farm, and they will inevitably have to pick up rubbish, excrement and check on camp fires."
The new laws implement part of the Victorian government's 2018 'Fishing and Boating' election commitment to "encourage families and friends to spend time together in the outdoors".
People can already camp on unlicensed Crown land water frontages and the state government says the changes will mean that there is a consistent approach to camping on both licensed and unlicensed water frontages.