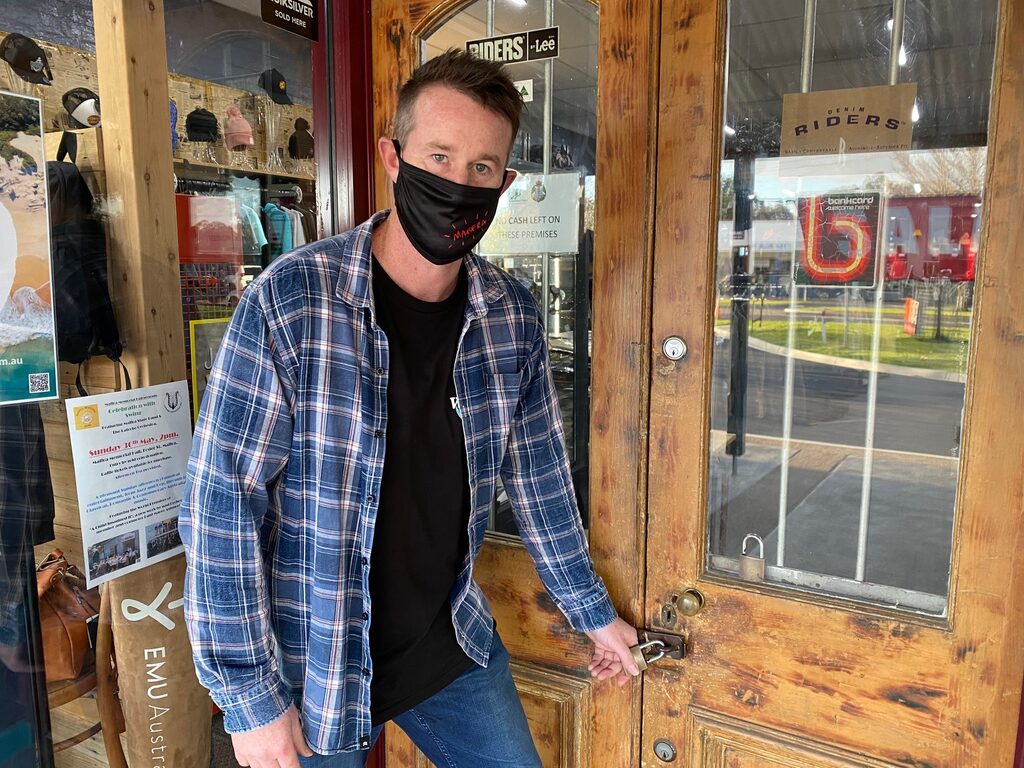 Sarah Luke
THE local business community is hoping for restrictions to be eased this Friday, provided regional Victoria continues to record zero COVID-19 cases.
With no JobKeeper safety net available for Victoria's fourth lockdown, blanket restrictions across the state have forced businesses more than 200 kilometres away from the nearest recorded case to close.
The state government maintains the current statewide restrictions, which are in place until 11.59pm on Thursday, are aimed at reducing the number of people leaving their homes and moving around Victoria, but some local residents have questioned the sensibility of placing the entire state into quarantine.
Sale Business and Tourism Association president Julian McIvor said he had been having frustrated conversations with local business owners.
"Businesses are already doing it tough," he said.
"Every business in town will have their own story of how this is affecting them, their staff and their families.
"There is widespread frustration and uncertainty among the business community.
"Once again, Sale is suffering the same lockdown measures as Melbourne, without recording any COVID cases in the area.
"The business people I have spoken to want to do the right thing and be safe, but they also believe that blanket, state-wide lockdowns every time there are new cases in Melbourne is unsustainable, unfair and create a great deal of uncertainty."
Mr McIvor said local businesses had been extremely resourceful over the past 12 months.
"They have done an amazing job at adapting in order to stay viable," he said.
"Many business owners moved quickly following the snap decision on Thursday to go into lockdown and moved to online, click and collect, contactless delivery and takeaway options.
"One positive out of this is that we have seen people truly get behind local businesses and there is a great deal of community spirit that can be felt during these difficult times.
"We have proven to be a unique, resilient and close-knit community."
Mr McIvor said while continuing to support local was important "more than ever", in order to recover and rebuild the community needed more than the shop local message.
"I would personally like to see our political leaders fight for a better deal than local lockdowns based purely on what is happening 200 kilometres away in Melbourne," he said.
"We cannot continue to suffer every time Melbourne records new cases."
Maffra Business and Tourism Association president Marcus Stobie was forced to close the doors of the surf apparel store he owns with his brother Ben last week.
He said the lockdown was sudden but not unexpected, after Victorians observed similar lockdowns in Western Australia and Queensland as a result of COVID-19 cases in returned travellers.
"Although we have been through a similar circuit breaker earlier in the year, this has caught a lot of local businesses off guard," he said
"The announcement was made last Thursday and it was doors closed on Friday, so as far as planning and being able to have dialogue with the business community, it has been very difficult.
"Fortunately, the vast majority of income earners in Maffra are still able to carry on with business as usual as they are deemed essential services, but there has been a small number of businesses forced to close.
"Core retail has been dealt a significant blow and local pubs are back to takeaway — the list goes on."
Mr Stobie said even those that remained open would be taking a hit over this week.
"Being a seven-day lockdown, I think the majority of businesses are sitting tight and praying they can re-open to something that resembles normal this Friday," he said.
"It's hard to look beyond that point at this stage … if the lockdown continues regionally beyond seven days it will be a body blow for a lot of people, particularly if there are no COVID cases at a local level.
"It's a logistical nightmare but if the regions are clear then hopefully the authorities have a model that can allow businesses to resume trading.
"That said you have to feel for Melbourne businesses, who must be looking at the glass as half empty."
Mr Stobie hoped the government's wage subsidy grants, available to businesses forced to closed, would offer some relief, but there were actions people in the community could take to help.
"When business finally resumes for our local towns, it is paramount the community support local," he said.
"Last year, we learnt valuable lessons in the importance of supporting local and Wellington as a whole rallied and came out the other side.
"We must continue to adopt these values not only now but well into the future if we want our communities to remain vibrant and well serviced."
Mr Stobie said it was hard, but business owners should try to put things in perspective.
"It is only a week and we have been through this before," he said.
"True, this will no doubt be causing stress amongst the business community and also the wider community, but I'm sure we will look back and view this period as just another little speed bump in the fight against COVID.
"Although motivation may not be at an all time high, try to remain connected to your customers through social media platforms."
Mr Stobie also encouraged business owners to seek out clear advice on how to legally operate during this round of restrictions, recommending Gippsland East MLA Tim Bull's locally-relevant updates as a source of information, available via his mailing list.
Last week, the National Retail Association said plunging the entire state into another seven day lockdown meant Victoria's retail businesses continued to endure a period of immense challenge.
The association's chief executive Dominique Lamb said JobKeeper was no longer in place to ensure Victorian retailers would not shed staff, but even a brief lockdown could devastate a business's bottom-line.
"There will be no revenue coming in the door, fresh produce will become spoiled, and permanent staff will still need to be paid," Ms Lamb said.
"Not only are retailers hurt during the actual lockdown period, but even when restrictions are eased we don't see economic activity return to normal like flicking a switch.
"We urge both the federal and Victorian governments to work together and consider support measures for affected businesses across Victoria."
In announcing the lockdown, Acting Premier James Merlino said the spread of exposure sites in areas — including in Cohuna and Bendigo — meant the measures needed to be all-encompassing.
"There's also the risk of people in metropolitan Melbourne moving to regional Victoria, moving and spreading the virus," he said.
"The clear advice from public health is this needs to be a statewide lockdown."
The state government has announced a $250 million Circuit Breaker Business Support Package to assist small to medium businesses and sole traders.
For more information visit business.vic.gov.au.
At the time the Gippsland Times went to print yesterday morning, there were 54 recorded active cases across metropolitan Victoria, with five new cases overnight.
More than 4000 primary close contacts were identified, with 70 per cent returning a negative result as of Sunday morning.
There are still only five reasons to leave home — shopping for necessary goods and services, care and caregiving (including medical care or to get a COVID-19 test), exercise (for two hours a day, within five kilometres of home), for authorised work and permitted study and to get a COVID-19 vaccination.
People must wear face masks indoors and outdoors, other than when inside their own home.
Visitors are generally not permitted, however people can leave home to visit their intimate partner, their single social bubble buddy, or in an emergency – including those at risk of family violence.
There are more than 100 exposure sites published at www.coronavirus.vic.gov.au/exposure-sites and authorities encourage people to check the site daily as more are added.