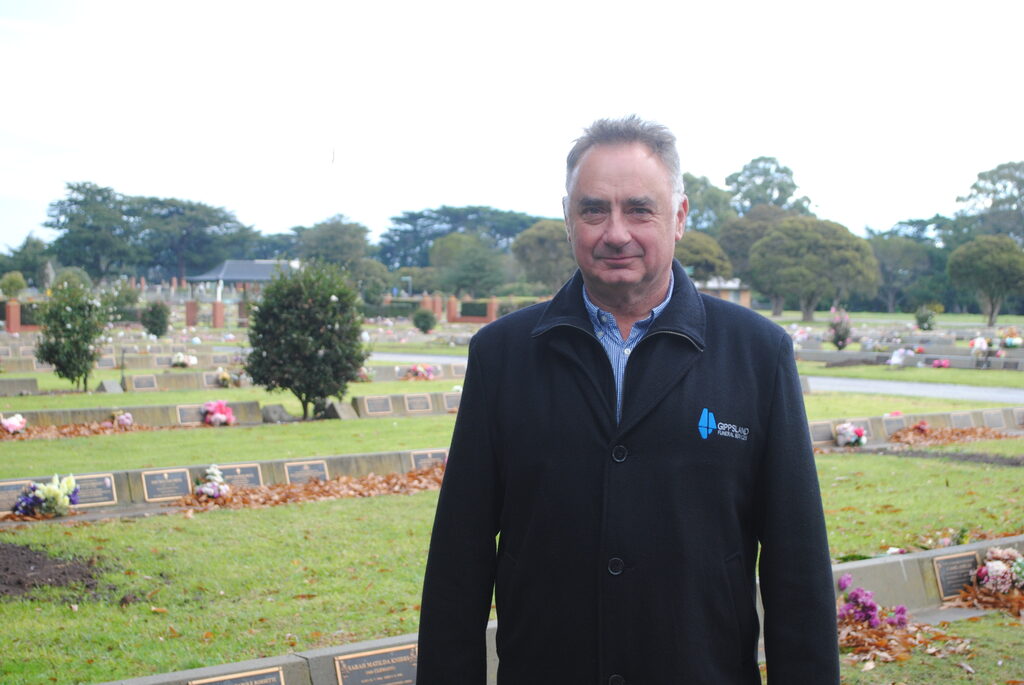 With the deadline for authorised workers to be first dose COVID-19 vaccinated by this Friday, there is trepidation in the local business community as to what it will all mean for employers and employees.
The Victorian government says all workers across Victoria whose occupation is listed on the authorised worker list must have their first COVID-19 vaccine dose by this Friday, in order to continue working on site — and they will need to be fully vaccinated by November 26.
The list of authorised workers is extensive, covering a wide range of jobs including volunteer and paid emergency workers, MPs, journalists and media services, judges and magistrates, and many more.
But business owners say it's not so simple, and the mandate will present difficulties for employers having to police it.
Wellington Shire councillor Scott Rossetti, who also owns Gippsland Funeral Services, said the impact of the employment mandate on employers hadn't been spoken about, but was "significant".
"There are typically substantial resources put into recruiting and training new employees that are lost," he said.
"This whack to employers cannot come at a worse time for many who are trying to survive, and this impost is another that they have no control over.
"So many business owners are having to deal with this and are losing good employees — they are the innocent party in this.
"This policy will likely also polarise those who have chosen not to be jabbed, rather than encouraging them to be jabbed.
"Those that I have spoken with are even more likely to not partake.
"I am not sure how this mandate will go, but expect there will be a lot more pain all round and likely not much improvement in getting the anti-vaxxers on board."
Sale Business and Tourism Association president Julian McIvor praised the local business response to the pandemic, describing the way local businesses had navigated the past 18 months as "incredible".
"There is not a business owner in Sale who is not eager to open up and begin trading at full capacity again," he said.
"They have been creative, diversified and adapted to keep up with the mandates and create COVID-safe spaces while trying to stay afloat.
"However, there is a feeling of uncertainty around vaccine mandates and passports.
"The reality for business owners is that this will mean not only losing staff, but turning away customers when they are desperate to rebuild, coming into what should be the busiest time of the year," he said.
"Over these 18 months, our community has shown amazing support for local businesses, coming together, supporting fundraising efforts and shopping locally in ways they haven't before.
"The generosity I've seen has been inspiring.
"We don't want to lose that community spirit to the potential division that can arise through mandates and passports.
"A great way to support local businesses now is to start lay-buying and ordering now for Christmas, to make sure local stores can get what you need in time."
But the Victorian Chamber of Commerce and Industry welcomed the move to mandate vaccination for authorised workers, saying a recent Victorian Chamber survey found an overwhelming 84 per cent of its members wanted the state government to make Public Health Orders requiring vaccination, to alleviate pressure on individual businesses to determine vaccine requirements.
The chamber's chief executive, Paul Guerra, said he had been in discussions with the state government for months about the crucial need for it to use Public Health Orders to mandate vaccination across authorised industries to help business open, just as they have been used to keep businesses shut.
"This is a fantastic announcement that provides businesses with the certainty, guidance and protections they have been calling for, and the Victorian chamber is pleased to see this leadership from the state government," Mr Guerra said.
"Questions now remain around how employers will check vaccination status; if they are permitted to record and disclose vaccination status of employees; what is defined as a reasonable exemption; and how an employer should deal with exemptions."
Friday's deadline will not apply to workers who already have existing requirements under Chief Health Officer directions – groups like construction, freight, healthcare, aged care and education still have to comply with previous advice.
In mandating the vaccine for authorised workers, the state government said authorised workers were responsible for the most movement across the state.
Premier Daniel Andrews said as the state moved through the 'roadmap', there would be more and more pressure on the health system, and it was critical to ensure it wasn't overwhelmed.
"All of our health workers are working their guts out to be there for us and they need us all to do our bit and get vaccinated, so we can continue on our pathway to opening."
To book a vaccination through state-run centres – or to see links for how to book at your local GP or pharmacy – visit www.coronavirus.vic.gov.au/vaccine
The full authorised worker list is available at www.coronavirus.vic.gov.au/authorised-provider-and-authorised-worker-list