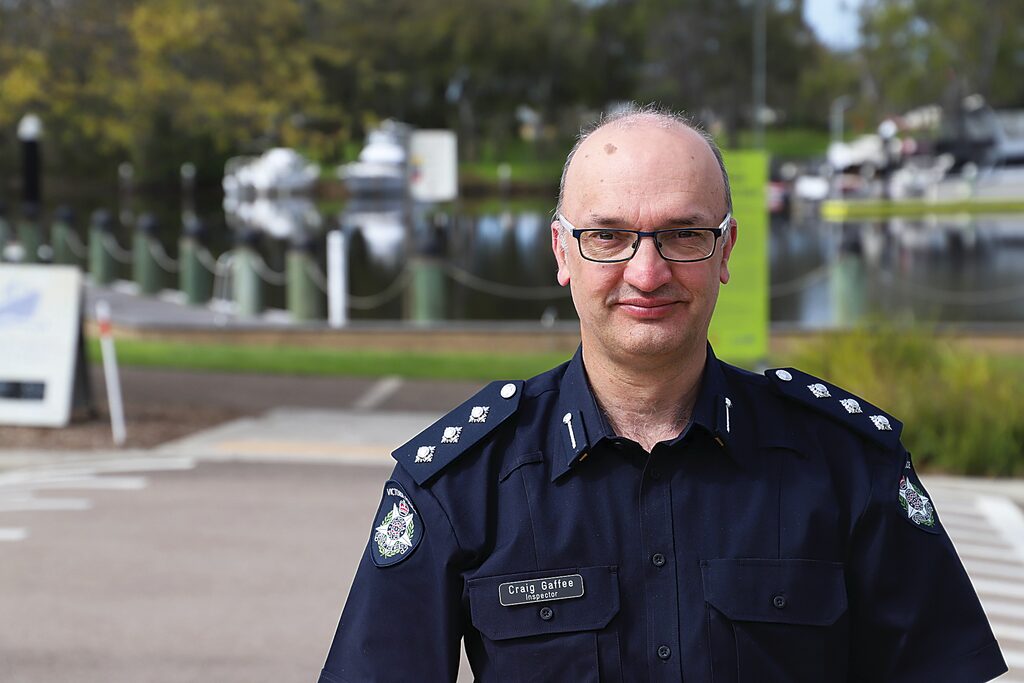 Sarah Luke
Wellington Shire's latest crime statistics showed fewer victims and criminal incidents, and more offences — indicating that local perpetrators are offending less, but being charged more.
Between July 1, 2020, and June 30, 2021, there were 3122 criminal incidents in Wellington Shire, down 5.8 per cent from 3315 in 2020, according to last month's release of information from the Crime Statistics Agency.
There were 306 less victims this year, with 2045 victim reports taken down.
However, recorded offences were up 3.5 per cent, from 4598 last year to 4759 this year.
Wellington Police Service Area Inspector Craig Gaffee said the information release painted an interesting picture, where it seemed the community was generally "doing the right thing".
"The drop in incidents, that's spread across the whole shire – 75 less in Sale, 45 less in Maffra, 40 less in Yarram, 42 less in Heyfield, but Rosedale was up a little bit," Inspector Gaffee said.
"Often we charge people for multiple offences, and that's about holding people to account.
"So when people offend, whether it's offences against the person or it's profiting from crime, we throw the book at them."
Inspector Gaffee said police couldn't attribute the lower crime figures to COVID; even with 100 fewer thefts recorded, drops in premeditated and opportunistic thefts were across the board.
"[The drop in theft] is not just about stuff at home either – it's about stuff stolen from cars, sheds, we've got a lot of holiday homes and weekenders in Wellington, so it's spread right across those," he said.
"Whilst we have been in some periods of lockdown, the reality is we've been relatively lucky in lockdowns, we haven't had the lengths of lockdowns that Melbourne has, so I don't think we can attribute it to COVID."
Family violence and road trauma are currently the two strongest focuses for Wellington Shire's police, as both categories can have potentially fatal consequences.
The biggest crime category for Wellington Shire, as confirmed by the latest release of data, is family violence, and breaching of intervention orders.
"That's reflected across all of our attendances; incidents, numbers of offences, offenders and victims — family violence is the number one category," Inspector Gaffee said.
"That's not unique to here, but we've got a really strong focus on holding family violence perpetrators to account."
Last year at the beginning of the COVID lockdowns, Victoria Police's Operation Ribbon was launched statewide, aiming to be a proactive and reactive response to family violence perpetrators.
"We actively visit and talk to known family violence perpetrators, with a view that we make sure that if they need help or assistance that they're referred to appropriate support agencies, but it's also around letting them know we've got zero tolerance to family violence," Inspector Gaffee said.
"Some of the increase around breaching of family violence orders is a result of that, but also our general response to family violence is that we want to hold people to account.
"People have a right to feel safe everywhere, but particularly in their home.
"Unfortunately, we know there's lots of people – mostly women – who don't feel safe in their home, and we want to change that."
While Wellington Shire didn't experience an increase in family violence incidents as lockdown was eased last year as some parts of the state did, Inspector Gaffee said the local rate was still too high.
"Our rate per 100,000 population is well above the state," the Inspector confirmed.
"We compare reasonably favourably to East Gippsland and Latrobe, but having said that, we're not particularly worried about other areas – we want to address the issues here in Wellington, and we'll continue to do that."
There has been an increase in family violence offending, but the number of incidents are down – again indicating that family violence perpetrators are offending less, but being charged more.
In the year to June 2021, there were 1344 family violence incidents reported, compared to 1411 the year prior.
"Offenders and perpetrators of family violence are generally in that 35 to 50 year age group, so we know with that age group typically there's going to be kids involved," Inspector Gaffee said.
"We're really conscious of that, and we work closely with referral agencies to make sure there's support for victims of family violence.
"We've been really lucky with The Orange Door starting up here in Wellington, which is a terrific resource for victims of family violence.
"Whilst family violence is a high priority, that doesn't mean we don't concentrate on other crimes."
Road trauma is also a major issue for Wellington Shire's police.
"While our fatal numbers are relatively low — although they're up on last year, we still get lots of serious injury collisions," Inspector Gaffee said.
"In particular this year, we've seen lots of motorbike collisions and off-road [crashes].
"Our five year average in Wellington in almost all categories is down this year, except for motorbikes, which are well above."
The TAC has two motorcyclist fatalities listed in Wellington Shire in the past 12 months, and 19 hospitalisation claims involving motorcyclists during 2020.
Inspector Gaffee said Highway Patrol worked closely with Regional Roads Victoria and Wellington Shire Council to identify roads and intersections that need safety improvements.
"Earlier in the year, we had some operations around the entry roads up into the national parks, as a way of increasing our presence and reminding people they've got some responsibilities," he said.
"It's not just 'camp out in the bush and ride however you like' – people still get seriously hurt.
"We know the impact on road trauma is not just on the people involved – it's their family, it's their friends, it's their work groups, it's a real ripple effect."
While there were some 300 fewer victims in the year to June, Inspector Gaffee said police were looking to work with the community.
A statewide initiative called Neighbourhood Policing is in its early stages, and will involve police communicating with the community directly on what it sees as safety issues.
"I've been in country policing almost my whole career, and one of the things I know is country coppers are in a really good position to know and understand what community members see as their safety issues," Inspector Gaffee said.
"One area we need to improve on is closing the loop.
"The smaller the town, the more involved the coppers are in the town, and the more information they get from the community, but it's about letting the community know what we've done with that information.
"One thing I'm looking forward to is school fairs, kids' sport … community events we'll have a presence at, and make ourselves available for people to talk to."
For support in a family violence situation, phone Quantum Support Services on 1800 243 455, Safe Steps on 1800 015 188 (24 hours a day, seven days a week) or web chat (from Monday to Friday, 9am until midnight), the Sexual Assault Crisis Line on 1800 806 292 (24 hours a day, 7 days a week), or Kids Helpline on 1800 55 1800 (24 hours a day, 7 days a week).
Perpetrators can phone the Men's Referral Service on 1300 766 491 (between 8am to 9pm, Monday to Friday; 9am to 5pm, Saturday and Sunday), which provides free, confidential, expert support to men at risk of using family violence and their family and friends.
In an emergency, phone 000.