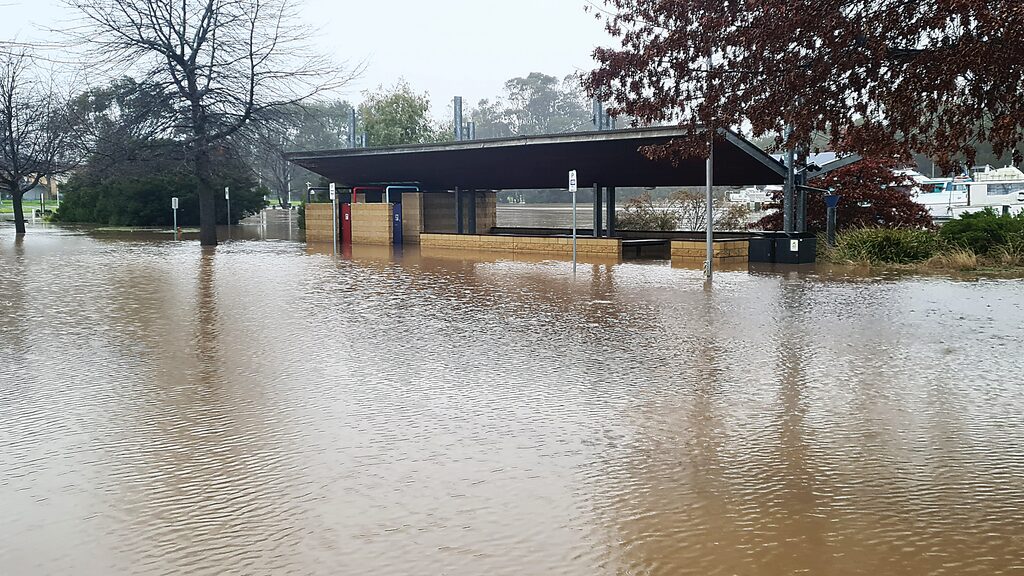 Sarah Luke
AUTHORITIES are urging residents to prepare for potential flooding and more power outages, with heavy rain and thunderstorms expected for the remainder of this week.
Between 30 to 60 millimetres is predicted to fall on Sale on Friday, with another 10 to 20mm on Saturday, according to the Bureau of Meteorology's forecast.
The bureau's senior forecaster Michael Efron said a significant low pressure system would move down from the state's north-west toward the end of the week.
"Friday looks like being the wettest day in the outlook – we may issue warnings for heavy rainfall, even for damaging winds as well," Mr Efron said, adding there was a possibility of isolated higher falls of up to 80mm across the Gippsland High Country.
"Those winds, whilst potentially not quite meeting warning thresholds, may still have a significant impact on vegetation given recent rainfall saturated soil in those areas."
Mr Efron said the low would move away on Saturday, but moderate to heavy falls were still expected through eastern Victoria – "even up to 60mm possible through east Gippsland".
"There's still some uncertainty around where the heaviest rain will be, but it's still looking like a pretty wet day in the east on Saturday," Mr Efron said.
"At the same time, we do see quite a strong cold front approaching from the south-west, so during Sunday we see that front crossing the state bringing a burst of colder air, temperatures typically six to 14 degrees below average across the state.
"We're looking at snowfalls developing above around 1000 metres elevation during Sunday – even the risk of some local hail and thunderstorms across southern and mountain districts."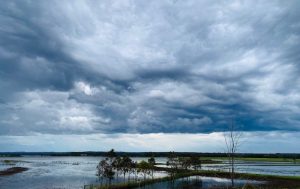 Sunday's strong winds are expected to give way for just a few showers around on Monday, with conditions expected to settle on Tuesday.
Victoria may also experience some gusty south-easterly winds across the weekend, particularly across southern and mountain areas.
The bureau has reported this is an unusual wind direction and, in combination with the wet ground, will be more likely to bring down trees and powerlines, as well as cause minor property damage.
Mr Efron said it was likely the bureau would be issuing flood watches, and potentially other warnings in terms of heavy rainfall and damaging winds, from Thursday onwards.
The bureau's hazard preparedness and response east manager, Jane Golding, said key areas of concern for the expected severe weather system ranged from Queensland through to Victoria – "we're urging people to prepare now".
"This kind of heavy rainfall over a short period of time can cause dangerous flash flooding, and combined with the fact that many river catchments down the east coast are already quite wet, there is a very real risk that we may see some rivers flood too," she said.
"Please make sure you're staying up to date with current forecasts and warnings and be careful when you are out and about this week."
Off the back of last month's windstorm, AusNet said it would be closely monitoring the weather conditions across its network.
"We have additional staff in the control and call centres as well as additional field, vegetation and aerial crews on standby ready to respond to forecast weather conditions if power outages occur," an AusNet spokesperson said.
"Trees may be damaged from the last storm, particularly with soggy ground, so it wouldn't take much to blow over damaged trees, potentially bringing down powerlines with it."
The spokesperson said people should be extremely careful of fallen powerlines, and urged caution when clearing trees around fallen lines – particularly when using chainsaws.
"Please assume they are live, stay well clear and report them to our faults and emergency team on 13 17 99," they said.
The spokesperson said preparations were currently underway for Friday's weather, but outages could still happen, so it was important everyone was "power prepared".
"A little bit of planning goes a long way, such as having mobile phone banks fully charged so you can receive alerts and knowing how to manually operate your electric gates and garage doors so that you can leave your home if you need to," she said.
The Victorian Building Authority issued a warning reminding homeowners and renters to clear their gutters and downpipes of leaves and other debris ahead of the downpour, to avoid potential flooding.
"Non-compliant box guttering is one area of roof drainage where problems are regularly identified," State Building Surveyor Andrew Cialini said.
Local SES branches are also reminding residents about what to do during flooding, which can be unpredictable and happen extremely fast.
The SES says the best way to protect people and property from rising flood water is to 'bag it, block it, lift it and leave'.
People can check how high floods are expected to rise by downloading the Vic Emergency app, and setting up a watch zone for their home.
Listening to local emergency broadcaster for information updates will also help determine whether the resident is under threat of flood.
People who will be affected should 'bag it' by sandbagging the outside of their home to help prevent floodwaters entering under doors.
Sandbagging won't always completely stop flood water, but can reduce the amount of water entering if the flood stays below the sandbags.
Blocking all drainage holes in the home, including toilets, baths and showers, can also prevent flood water that fills drains backing up into a home.
A sandbag in a plastic garbage bag placed over drainage holes should be sufficient.
People should also lift everything important up off the floor and onto tables and benches, empty bottom drawers and cupboards, tie up curtains and roll up mats or carpet.
Once everything is secured, people should get to a safe destination as soon as possible.
Gas and electricity should be turned off, emergency kits taken, and householders should leave early before the flood arrives.
For more information on how to get ready for an emergency, click here.
Current warnings can be found here, as well as on the BOM Weather App.
The bureau also regularly posts severe weather updates to its social media channels, including Facebook and Twitter.
A list of current incidents and warnings is available via VicEmergency.