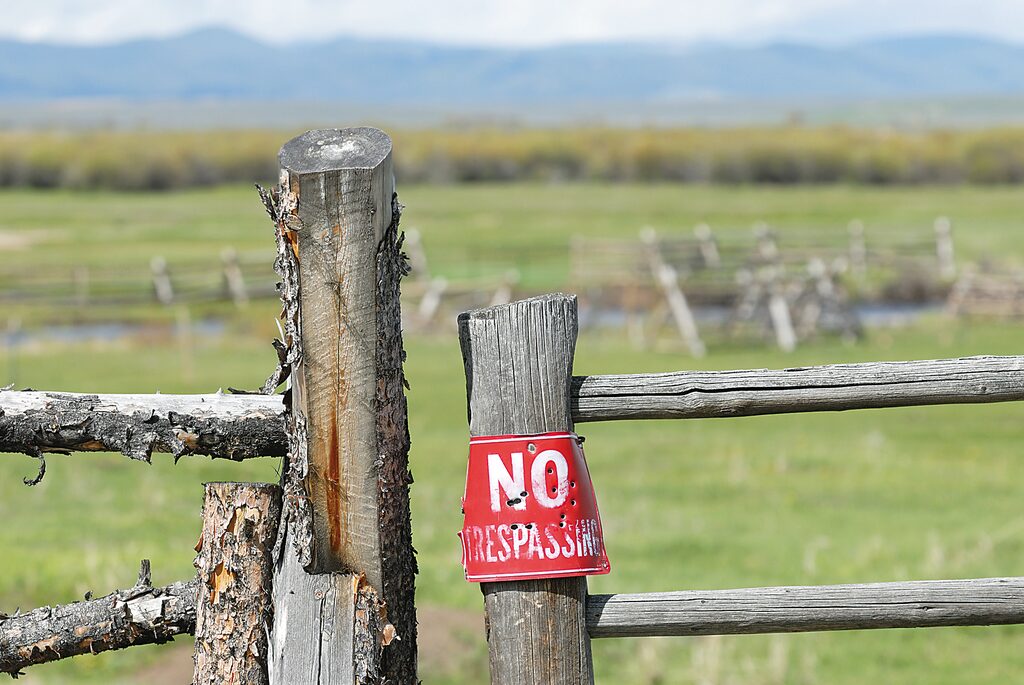 Sarah Luke
Proposed on-the-spot fines for trespassers on Victorian farms could still be a year away from coming into effect.
After a spate of incidents where activists broke into farms across the country a few years ago, resulting in stolen livestock and significant biosecurity risks, a parliamentary inquiry into farm trespass produced a report in May 2020 with several recommendations.
The following month, the state government committed to introducing hefty on-the-spot fines for biosecurity breaches on Victorian farms, describing them as "among the heaviest in Australia".
However, since the announcement, there seems to be little movement on the ground, and with fines yet to be implemented, opponents have begun questioning the government's "lack of progress".
The topic was recently reared during state parliament's question time, when Eastern Victoria MLC Melina Bath asked when the proposed on-the-spot fines would be implemented.
"It has been almost three years since 70 activists stormed and invaded John Gommans's Yarragon goat farm, greatly distressing his staff and stealing his livestock," Ms Bath said.
"It has been almost two years since the Economy and Infrastructure Committee presented to this parliament and to government the inquiry report, one that I moved in this house, with a recommendation calling for on-the-spot fines for activists that invade farms and compromise biosecurity and livestock.
"Minister, no Victorian deserves to be intimidated or threatened.
"When will you implement recommendation five of this said report?" Ms Bath asked.
Victorian Nationals leader Peter Walsh was quick to echo the call, adding the "lack of progress" left "farmers and their families exposed to theft and people illegally entering their property".
"The Agriculture Minister bizarrely tried to claim today that the delay doesn't matter because farmers are protected by existing laws — but flaws in existing legislation are exactly why these reforms are needed," Mr Walsh said.
"When current laws see criminal actions by extreme animal activists resulting in a fine of just $1, it's clear the system isn't deterring illegal trespass or protecting hard-working, law-abiding farm families.
"Other states have already done the work to draft, introduce and pass legislation for on-the-spot fines," Mr Walsh said, referring to New South Wales (fines of $1000), South Australia ($1875) and Queensland ($600), which all implemented their respective fines in 2019.
"Farming is fundamental to our regional, state and national economy, and supporting the agriculture industry must be a priority, but the minister's lack of action shows Labor's priorities are all wrong," Mr Walsh said.
Agriculture Minister Mary-Anne Thomas told the Gippsland Times Mr Walsh was "simply wrong".
"Significant work has taken place this year to engage with industry and develop legislation, and I look forward to having more to say about these reforms soon," she said.
Ms Thomas' office said despite challenges posed by the coronavirus pandemic, development of legislative amendments to deter animal activists remained on track.
Subject to parliamentary processes, the government anticipates the new framework will be in place by mid to late 2022.
The minister's office confirmed Agriculture Victoria had this year consulted with key stakeholders, including the Victorian Farmers Federation, on proposed legislative changes, which will create a new biosecurity offence relating to trespass on private land.
The feedback will inform how the legislative changes will operate with different types of production systems and existing biosecurity requirements.
Seventeen months ago, the Victorian government supported the inquiry into the Impact of Animal Activism on Victorian Agriculture, undertaken by the Legislative Council's Economy and Infrastructure Committee.
The inquiry made 15 recommendations, of which the government supported 13 in full, and one in principal.
The one recommendation the government rejected would have provided "public interest exemptions" to animal activists carrying out "surveillance" on farms.
A new biosecurity offence will be created as a result of the inquiry, requiring any person entering a livestock premises to adhere to the property's biosecurity management plan.
Those who fail to comply will receive an on-the-spot fine.
There is no requirement for the property's owners to explain the biosecurity management plan to those trespassing.
The Victorian government maintains it supports the agricultural sector to undertake its work free from unlawful interference, and condemns illegal behaviour by animal activist groups.
Illegal activities, including trespassing on farms in the name of animal activism, are unacceptable and put farming families, biosecurity and the health and welfare of animals at risk, according to the government.
Following an investigation, the group Aussie Farms, which was behind an online map sharing the details of thousands of Australian farmers, had its charity status revoked by the Australian Charities and Not-for-profits Commission in 2019.
The group has since renamed itself the Farm Transparency Project.