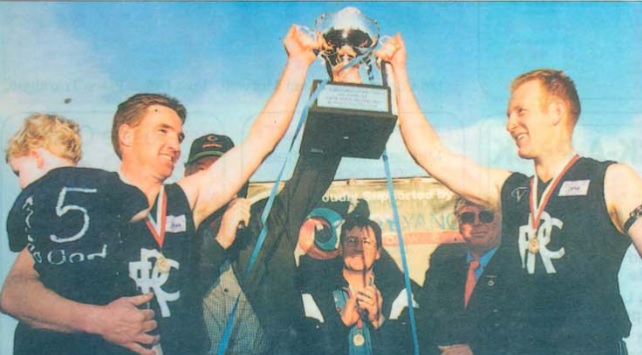 Liam Durkin
LONG before football, and indeed all sport, was put into perspective by COVID-19, another event had a similar impact.
Just four days before the 2001 North Gippsland Football-Netball League grand final between Rosedale and Churchill, shockwaves reverberated around the world following the September 11 attacks.
Where ordinarily the focus of grand final week would solely be on the impending match and nothing else, those close to the action found their attention quickly diverted to something much bigger than a game of football.
With the grand final paling in significance to what was happening overseas, Rosedale captain at the time Cameron Mayne said it was surreal experience.
"It went from football talk on the Tuesday night to 'that' talk," he said.
"It definitely made people think leading up to it.

"We had a minute silence at the grand final; it put things in perspective a fair bit, to realise how lucky you are to be doing what we were doing."
As the teams stood shoulder-to-shoulder, the national anthem and minute's silence which followed is believed to be one of the most emotionally stirring moments in NGFNL history.
The Blues were out to break a 36-year premiership drought, and after finishing the season on top of the ladder, went straight through to the decider by winning the second semi-final.
Mayne said the side had been building for a couple of years for a tilt at the flag, and the appointment of Anthony "Demon" Dessent as coach in 2000 put the wheels in motion.
"Anthony Dessent came across from Sale – he was a very handy pick-up," Mayne said.
"Demon was an old-school coach who was tough and everyone was fit.
"We picked up a couple of good players, one being Brett McGennisken and a ruckman by the name of Justin Shaeche who was an absolute man-mountain.
"We picked up Neil Robertson from Traralgon, who was a Trood Award and Rodda Medal winner, Brett Van Berkel who was another one from Sale, and we were just lucky enough to pick up a couple of other players to top it all off, and lucky enough not to have many injuries either.
"We had quite a few local blokes playing, a young kid Nick Diamond who's father had played well over 200 games for the club and his family are well entrenched in the club.
"We had a few over 30 that had won premierships before and knew what it was about, so we had the make up for it – it was just getting it all right on the day."
In a lightbulb moment and strong show of unity, Robertson had every Rosedale player wrote "we will beat Churchill today" on a board in the rooms before they ran out.
"It was something that was written and everyone was apart of it and you were almost making a pledge up on the board what we were going to do as teammates," Mayne explained.
"Everyone just had to play a part, Demon stressed that you make an impact as soon as you come on the ground and the blokes we had on the bench all did as well."
After winning the toss, Rosedale made use of a howling breeze heading toward the scoreboard end at the Traralgon Showgrounds, and kept Churchill goal-less in the first half.
Amazingly, the Cougars kicked 12 behinds before scoring a goal, but made some running in the third, and at three quarter time the margin was only 17 points, with Rosedale ahead 10.8 (68) to 6.15 (51).
The Blues ultimately kicked away in the end to run out 58-point victors, 17.10 (112) to 6.18 (54).
With a near 40-year drought broken, the festivities which followed were befitting of such an occasion.
Mayne said the support from not only past players but the town itself was something that stuck with him.
"A lot of people were hoping because they'd got so close so many other times," he said.
"We had a lot of the older guys who had played in the last one turn up at the club, the whole town was behind us.
"The celebrations were pretty hectic. Presentation was on the Friday night and we were still going then, so it pretty much went for a week."
Such was the significance of Rosedale's premiership win, some took it upon themselves to properly mark the occasion.
Drivers entering Rosedale will still see "NGFL premiers for 2001" written on the sign welcoming motorists into the town, while local baker Rex Sheehan even created a wood sculpture of the winning coach.
The creation resurfaced some time ago after many years in the wilderness.
Since the breakthrough 2001 win, Rosedale has added a further senior football premiership in 2015, and has also set some extraordinary feats in netball.
In the past decade, the Blues have reached eight A grade grand finals for five flags.
Above all, Mayne, a Rosedale boy who also coached the club, said it was great to see the next generation of Blues now leaving their own mark.
"I look back at photos from then and a lot of the kids that had the Rosedale junior jumpers on have played in flags now as well with Rosedale," he said.
Eerily, those involved in the 2001 NGFNL grand final thought the world had changed forever … and now here we are.