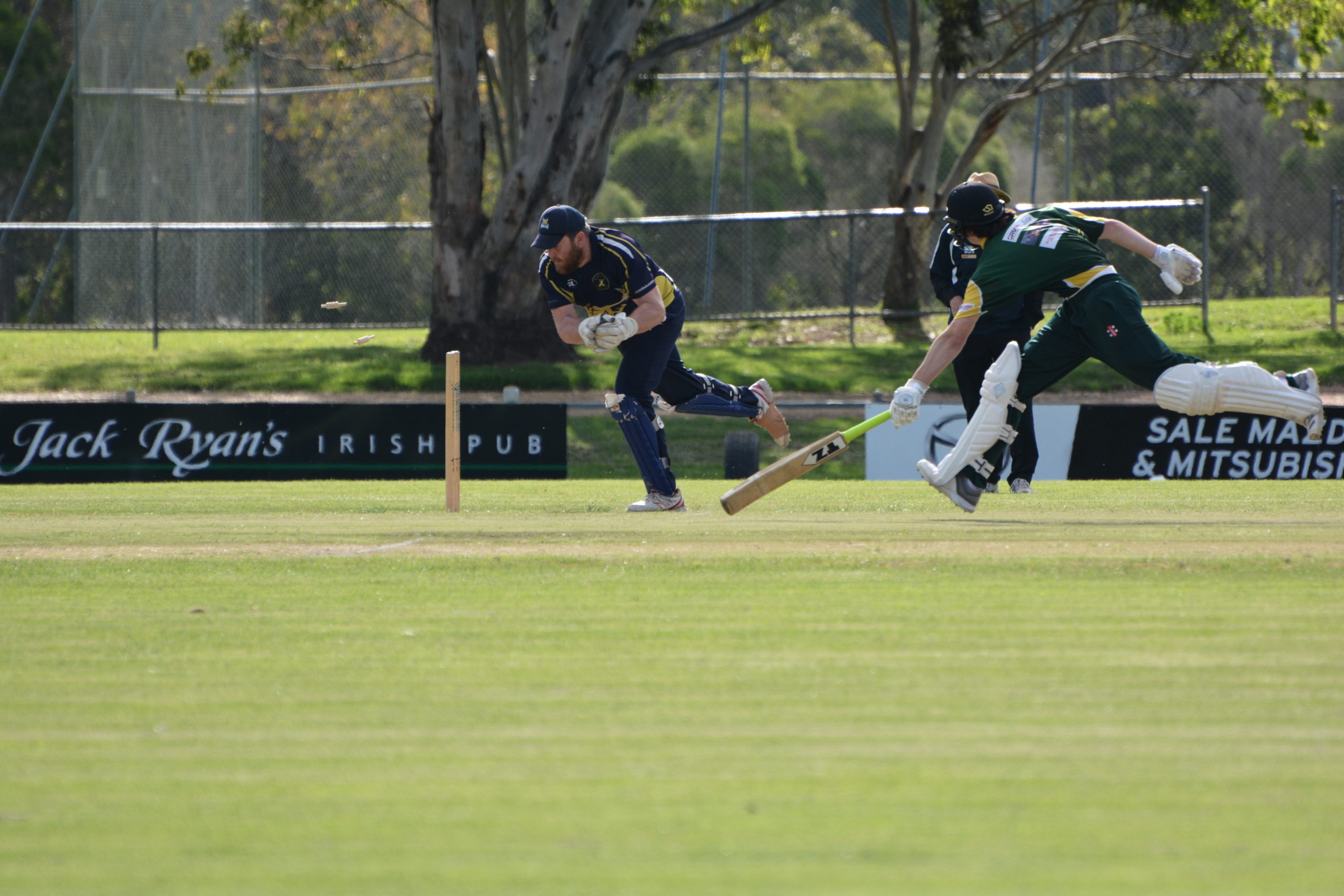 Liam Durkin
LOPSIDED results featured in Sale- Maffra cricket at the weekend, as no match was decided by less than 95 runs or seven wickets.
With the first two weeks of the season washed out, players, umpires and spectators would have been glad to finally get the 2020-21 campaign underway, after wet weather during the week again threatened to put cricket on hold.
Curators did a power of work to get wickets up to a playing standard, and must have done a good job, given only one of the four teams elected to bowl first upon winning the toss.
EVERYTHING Maffra touched turned to gold against Stratford.
The Eagles knocked over the Redbacks for 126, before getting the required runs inside 25 overs with nine wickets in the shed.
After losing an early wicket, Stratford leaders Cormac Hassett and Taylor Tatterson put on 42 for the second wicket before things quickly went south.
Young Maffra bowler Zac Kearns was introduced into the attack and found success by clean bowling Hassett and Tatterson, as Stratford collapsed from 2-47 to 4-58. The wicket of Tatterson proved vital, as he looked set after reaching 30.

Ethan Albrecht did well batting with some of the lower order to rescue the innings, scoring 31 from 51 balls, but those batting alongside him offered little if any resistance, with the final five batsman contributing just 16 runs between them.

Left arm swing bowler Nathan Magnuson found conditions suited his style, finishing with figures of 4-25, including three bowled. Lee Hopkins chipped in with 2-5, while Kearns was arguably the pick of the bowlers, taking 2-16 from eight overs with three maidens.
With bat in hand, the Eagles showed no mercy to Stratford's inexperienced attack.
Daniel Bedggood creamed two fours in the first over and from that moment there was no stopping him, as he whacked 52 from 35 balls with six fours and one maximum.
Brett Lanigan was denied a halfcentury by one run as the game closed before he could reach the milestone.

Followers of the SMCA might see names more associated with football and soccer appear on cricket team sheets this season, with players looking to get their sporting fix after winter seasons were called off. DannyButcher could be one such example, as the Maffra football champion played his first A grade cricket match since 2017.
SALE got its premiership defence off to a promising start with victory over Boisdale-Briagolong.
The Saints elected to bat first but by the third over were 2-2. Toby Leeds batted down the order and shouldered most of the workload, scoring 34, as Boisdale-Briagolong scratched out a total of 102.
Sale bowlers worked in tandem with wicket keeper Dan Padula, who gloved three catches behind the sticks.
Lachlan Carman lived up to his pre-season hype, running through the Saints to claim career best figures of 6-18.
Carman nabbed the key wickets of Leeds and skipper Dylan Bolton in a devastating spell. The Swans then got the job done in relatively easy fashion with the bat.
Rohan Blandford was his usually aggressive self with 51 from 38 balls, in a knock which featured six fours and one six. The other Blandford, new Sale player Jarrod Blandford, ensured victory with an unbeaten 27.

Bolton was the best of the Boisdale-Briagolong bowlers, taking 2-22.
BUNDALAGUAH had an emphatic win against Longford.
The Bulls racked up a strong score of 8-207, knocking the ball to all parts of Stephenson Park.
Jason Langshaw made 35 opening the batting, while others to get among the runs were Sam Bedggood (41), Mat Dowsett (38) and Steve Spoljaric (37).
For the Lizards, Kerrod Macgregor-Davies returned figures of 4-36, and Andrew Tyson kept things tidy with 1-17 from eight overs.
The Longford batting effort began disastrously and only got worse.
Bulls paceman Nathan Whitford had an ideal start to the season, claiming a wicket with his second ball, as a procession of Lizard batsmen were left to slither back to the pavilion.
At 5-25 things were looking dire for Longford, and it eventually became a matter of trying to get some respectability onto the scoreboard.
Ash Vogt provided some fireworks by hitting a few boundaries, but the task at hand proved too great.
The depth of Bundalaguah's bowlers was on full display, as it operated in five-over bursts to keep the Longford batsman on their toes.

Lachlan Floyd had a successful return from injury, taking 3-18 to finish the game. Bayden Dowsett also claimed a wicket on debut in first grade to round out a solid opening for the Bulls.
COLLEGIANS romped to a resounding win against Rosedale-Kilmany.
Jayden Allison showed a year out of the game hadn't affected his class, top-scoring with 72 opening the batting.

Allison combined with captain Zac Hurley, who made 25 in a 43-run opening stand.
Charlie Morrison showed he has what it takes to be a genuine all-rounder, making 35 from 44 balls batting at number four, as College finished its innings at 6-166.
Dylan Rowley was the Warriors' best bowler, ending with figures of 3-41. Owen Johnstone also bowled well, taking 2-22 from eight overs.

The Hurleys took the new ball for College and found immediate success, with Noah claiming a wicket in his first over.
Rosedale-Kilmany looked steady enough at 1-24, before Ned Hurley ripped the heart out of the Warriors by dismissing Cameron Whiteoak and then Rohan Diamond three balls later. From there, the Warriors innings capitulated, and they were eventually skittled for 70.

Michael Walters did his best to calm the storm, making a gritty 34 and going through seven partners in the process.
In what must have been a great luxury for Zac Hurley, Collegians had Tom Morrison coming on first change and didn't even need Charlie Morrison or Elliott Durrant to bowl.
Wickets were shared among the College cohort, with Stuart Anderson (2-11), Isaac Love (2-13) and Ned Hurley (2-14) taking multiple scalps.