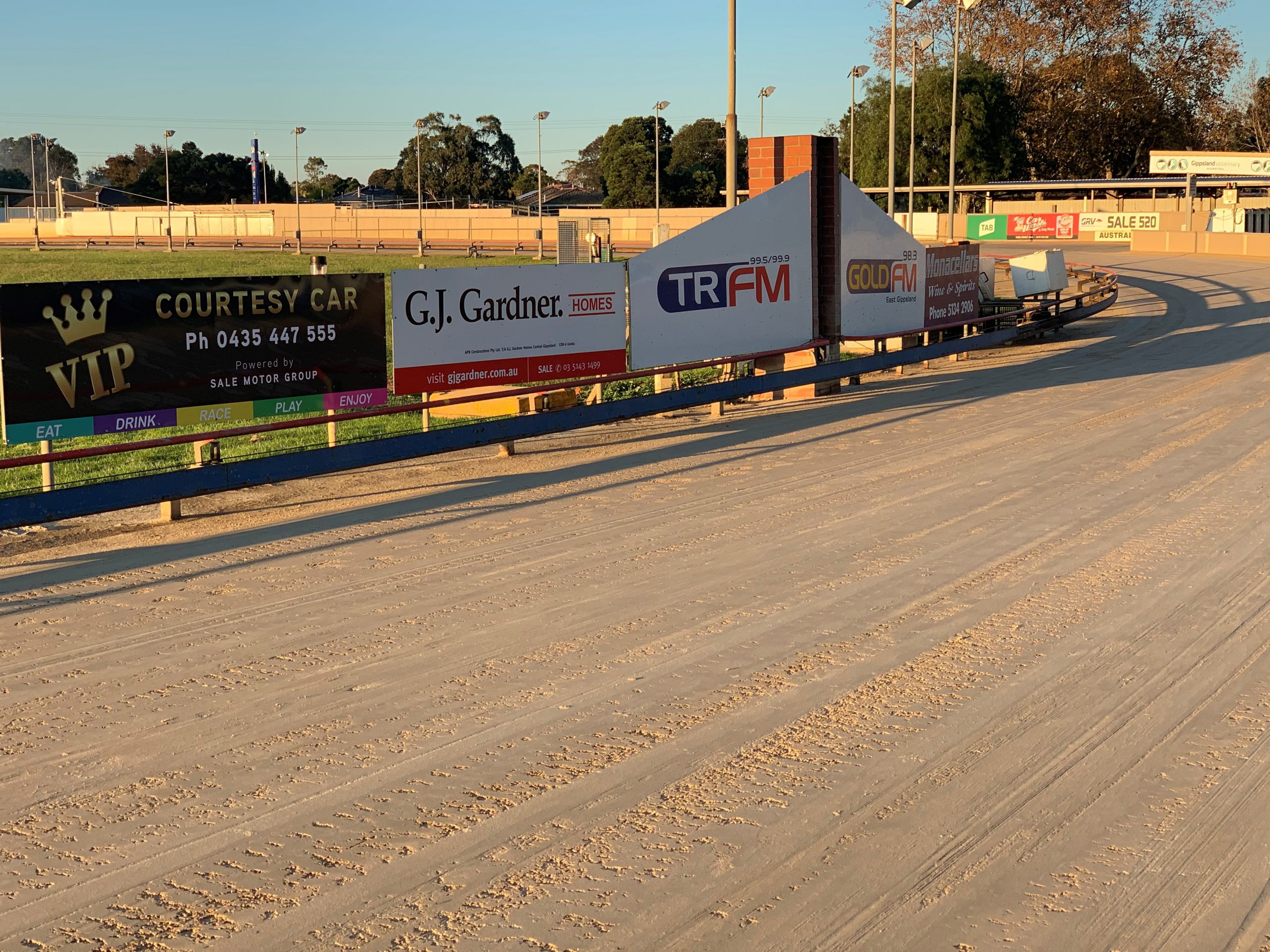 David Braithwaite
CURFEW won the feature race during Sunday night's Sale greyhounds meeting for Briagolong trainer Matt Clark.
Curfew won the final of the 440 metre series restricted to dogs with three to six wins.
The race became a two-dog affair after Curfew and Aston Frigate, trained by Gary McMillan at Nambrok, broke away before the turn.
Curfew passed his rival in the home straight to win by a length in 24.82 seconds.
There were two contenders for the run of the night.
In his first start since August, Collinda Beast, trained by Sam Tyler at Boisdale, blitzed the field to win race 10, a 440m event restricted to dogs with two to three wins. Collinda Beast claimed a fourth win from seven starts in 24.54s.
Finishing seven lengths behind was Jenny Kay Rose, trained by Jeff Chignell at Rosedale, who was a similar margin ahead of third-placed Prize Diamond, trained at Heyfield by Susan Northway.
Another impressive winner was William Rose for Sharon-Lee Chignell at Rosedale, who was too good in race eight, the 520m mixed grade four and five. William Rose won the start and increased his lead before winning by six lengths in 29.1s.
The success continued for the Chignells in the next race, the 440m mixed grade six and seven, which was won by Jet Lee Rose, trained by Jeff.
In the heats of the 440m maiden series, Darriman trainer Bill McMahon had two of the three winners.
Maxwell won the first heat, seven lengths ahead of Dr Bronte, trained by Marcus McMahon.
The third heat was won by Dr Carmel, while another of Bill McMahon's dogs, Berdeen, also advanced to next Sunday's final after finishing third.
The fastest heat winner was Willow Ash, trained by Leigh Carter at Devon Meadows, who finished five lengths clear of Darriman-trained dogs Tarlee and Fargo, for Jenny Gill and Bill McMahon respectively.
Race four, the 440m grade seven, was won by She's Our Rocket for Leanne Burke at Alberton West, who was two wins and two seconds from four starts. Madalia Pixie, trained at Heyfield by Kathleen Fogarty, finished third.
Coming off a win and second placing in his previous two runs, Swift By Design took out race five, the 520m restricted win race, for Carolyn Jones at Rosedale.
Venus Allen returned for his first run since August for Rosedale trainer Paul Galea, and won the race 12 440m grade five by five lengths from Madalia Brodie, trained by Fogarty. After a third placing at Sale on Thursday, Aston Kenji had the same result in this race for McMillan.
Race seven, the 440m mixed grade four and five, was won by I'm A Krakouer, trained by Graeme Jose at Catani, ahead of Suspense Rules, trained at Brian Alford at Yarram, and Alarm Response for Clark.
Why Not Luv won the race 11 440m grade five for Greg Carter at Devon Meadows.