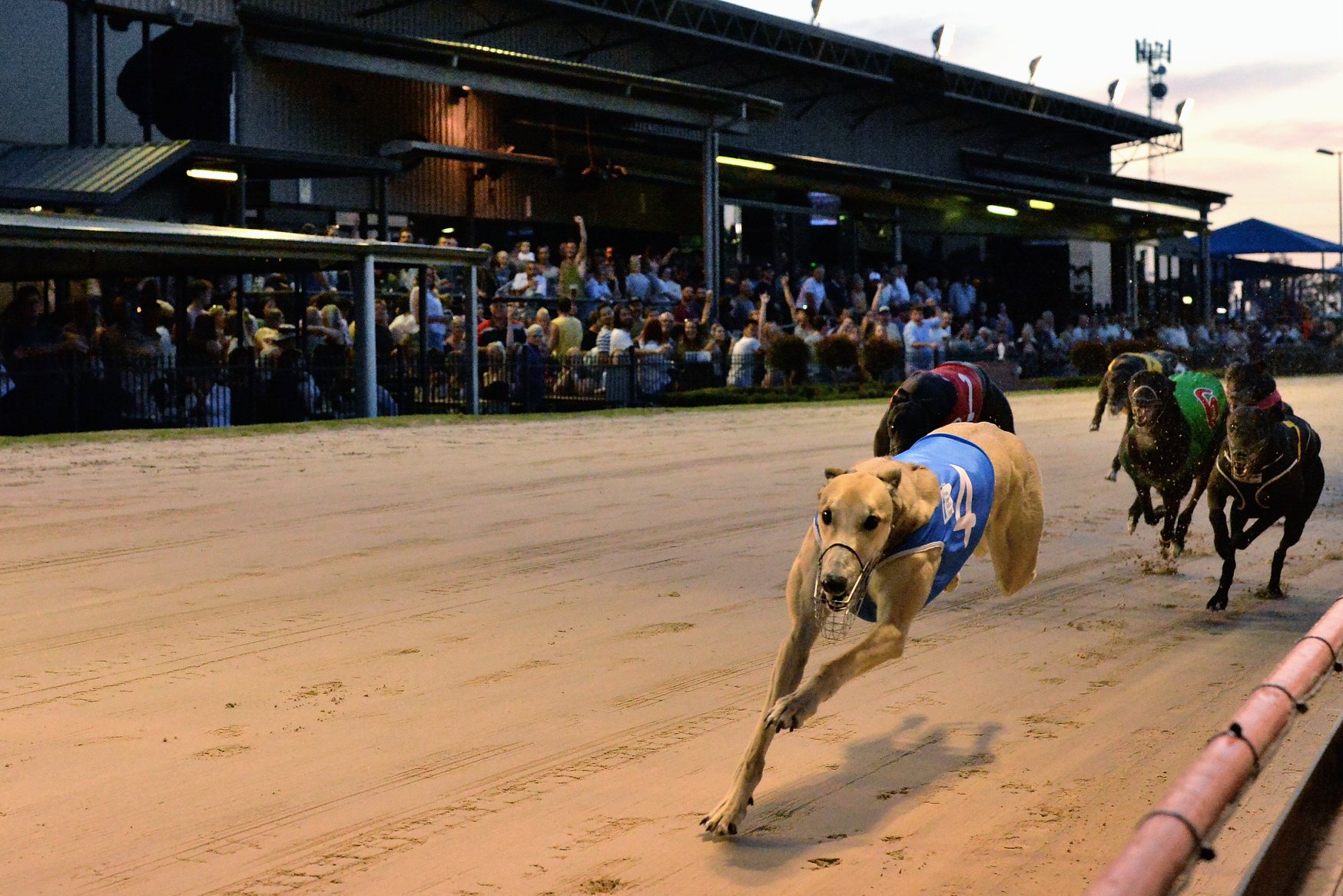 David Braithwaite
LOT Coin Babe won the Sale Cup Prelude for Kilmany greyhound trainer Steve Spoljaric on Sunday night.
Razor's Edge, trained by Rosalyn Hume at Wattle Flat, led by the first turn of the 650 metre race, followed by Lot Coin Babe, who finished better, winning by half a length to claim the $2185 first prize in 37.41 seconds.
Financial Tarra, trained by Corey Fulford at Maffra, finished third.
The night's other feature race, the 440m mixed grade six and seven final, was won by Lakeview Max for Harley Whelan at Metung.
The $2.10 favourite claimed a third win from as many starts in 25.59s, finishing six lengths ahead of Jet Lee Rose, trained by Jeff Chignell at Rosedale, who came into the race as a reserve. In third place was Kobe for Jenny Gill at Darriman.

Formidable, trained by Matt Clark at Briagolong, lived up to his name, winning the 440m grade seven by six lengths. Fargo, trained by Emily McMahon at Darriman, finished second just ahead of Somerton Rose, trained by Michael Delaney at Cobains.
Dr Luna, trained by Judy McMahon at Darriman, won the 440m race restricted to dogs with two or three wins. Prize Diamond finished third for Susan Northway at Heyfield.
Northway's California Blond won the following 440m grade five, leading all the way from box one.

Ant Man won the opening 440m maiden for David Kerr at Warragul, just ahead of Tarlee, trained by Gill, and Autumn Lynx, trained by Wayne Boreland at Seaspray.
No Talking, trained by Brian Selleck at Tooradin, won another 440m grade five, with Duke Of Airly, trained at Sale by Bruce Russell.
In the first three 520m races for dogs with one to three wins, Fast Lane, trained by Peter Presutto at Devon Meadows, won with Bodine third for Carolyn Jones at Rosedale.
Rockstar Rebel, trained at Lara by Paul Mathieson, led all the way to win the second 520m restricted race, with Swift By Design second for Jones.
The third 520m restricted race was won by Betty's Dream, trained at Brett Mackie by Tooradin, by a nose ahead of Spoljaric's Klopp.
The 520m mixed grade four and five was won by Motor City Tiger, trained by Geoff Scott-Smith at Pakenham South, ahead of Airly Pablo for Lesley Russell at Sale.
William Rose, trained at Rosedale by Sharon-Lee Chignell, led approaching the back straight, but fell after Squiggle Keeping galloped on him. This opened way for Motor City Tiger to get away and win by seven lengths.
Bad Guy won the 440m mixed grade four and five for Jason Thompson, Pearcedale.
DARRIMAN trainer Bill McMahon opened Friday night's Sale meeting with the first three winners.

Dr Bronte won the race one 440m by a neck from a fast-finishing Dundee Ember, trained by Scott-Smith. Dr Macie, trained by Judy McMahon, finished third.
Bill McMcMahon's Berdeen then won the race two 440m maiden, before his Dr Lynch led all the way to take out the 440m grade seven, with kennelmate Maxwell finishing third.

Following back-to-back second placings, Purify Virtuoso, trained by John Boreland at Giffard West, won a 440m grade five. Rio Hustler finished third for Tyllah Cornell at Giffard West.
Suspense Rules, trained at Yarram by Brian Alford, won another 440m grade five, by a head from Kutcher's Ruslie, trained by Russell Edwards at Langwarrin.
Omega Dodge recorded back-to-back wins for Barry Harper at Seaspray, taking out the 440m grade seven. Spolly James came third for Spoljaric.

Prime Time won a 440m restricted win race for Fulford, with Miss Demonica winning another for Kate Gorman at Tanjil South.
Dream Wizard won the 440m free for all for Sean Lithgow at Devon Meadows, ahead of Bill McMahon runners Sweet Demi and Dr Mumma.

In the 520m race restricted to dogs with one to four wins, Sweet Antares, trained by Justin Bowman at Toorloo Arm, opened up a big lead before going wide entering the home straight, but holding on to win by a nose from Chelsea's Love. In third place was Madalia Pixie, trained by Kathleen Fogarty at Heyfield.
THE next greyhound meeting at Sale will be this Sunday, featuring heats of the Sale Distance Championship.