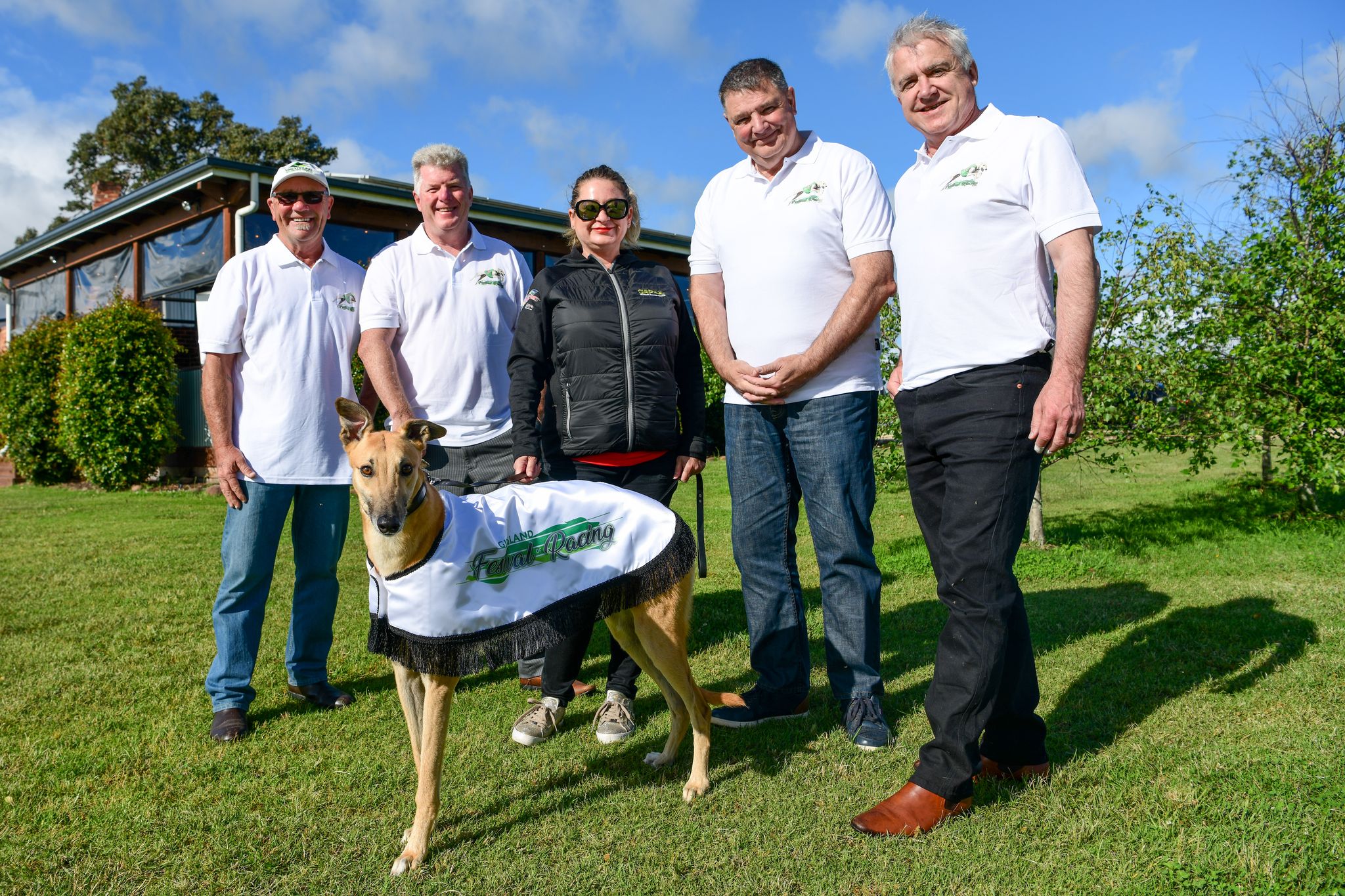 THE Gippsland Festival of Racing was launched by Greyhound Racing Victoria on Sunday.

The festival will incorporate more than half a million dollars in prize money across six nights of greyhound racing throughout December, January and February.
Set to attract the most talented greyhound athletes from around Australia, the Gippsland Festival of Racing starts with heats of the Sale Cup on Sunday, December 20, with the final to be run on Boxing Day.
From there the festival moves to the Warragul Cup series in January before concluding with the Cranbourne Cup in early February.
The launch was held locally at Blue Gables Vineyard in Maffra West Upper, and was broadcast live on greyhound racing's free-to-air television series, Thrill of the Chase on 7TWO.
GRV chairman Peita Duncan said she was looking forward to seeing the best greyhounds take on local superstars such as Catch The Thief, trained in Briagolong by Matt Clark, and exciting youngster Dr Tucker, trained in Darriman by Bill McMahon.
"Both of those greyhounds have made their presence felt on the group racing circuit in 2020," she said.
Traralgon won't be a part of the 2020-21 Gippsland Festival of Racing as it is currently undergoing a redevelopment.
Greyhound racing has long been a pivotal economic pillar, generating more than $40 million annually for the region. The sport boasts more than 1000 participants across the region (breeders, owners and trainers), employs more than 350 people and has almost 200 volunteers throughout Gippsland.
MARSHALL'S King ended Melbourne Cup night on Friday at Sandown Park with a win for Maffra greyhound trainer Des Douch.
Coming into the race as a reserve, Marshall's King won a 515 metre grade five, a fifth victory from 15 starts.
Earlier, Douch's Sovereign Wind finished third in another 515m grade five, ahead of Nicholas Rose, trained by Jeff Chignell at Rosedale.
Dr Rozzie and Dr Madison finished second and third respectively for Darriman trainer Bill McMahon in the Super Vicgreys Final over 515m. Winner Hadouken led the journey, but Dr Rozzie came home strongly, finishing a head behind.
McMahon's Dr Tucker will compete in the heats of the group two Ballarat Cup on Saturday.
In Friday night's Provincial Plate, also over 515m, Ballymac Vicar, trained by Des McPhie at Kilmany, finished fifth, and Blue Tiger sixth for Gavin Burke at Alberton West. William Rose, trained by Sharon-Lee Chignell at Rosedale, was a scratching, replaced by eventual winner Shamrock Boy.
Shantelle Rose, also trained by Chignell, finished second in a 515m grade five, a length behind the winner, Gypsy Zelda.
WOODSIDE trainer Margaret Read took home two winners from the previous day's Warragul meeting.
Speed Demon won a 400m grade five by a nose from Maximum Jodie. The two dogs battled for the lead the entire race, but Speed Demon used the inside line to claim victory.
Earlier, Captain Cruiser took out a 400m race for dogs with one or two victories. Captain Cruiser led the majority of the race, finishing two lengths ahead of So Joe Mac, trained by Andrew Wood at Nambrok.
In another front-running performance, Frost Us won a 460m grade five for Peter Elston at Sale.
Curnow Keats, trained by John Boreland at Giffard West, blitzed the field in another 400m grade five, winning by six lengths.
CURNOW Keats backed-up to win a 390m grade five at Ballarat on Monday.
At Cranbourne the same day, Honey Double One, trained by Jessica McGovern at Rosedale, took out a 520m restricted win event, her first victory in 14 starts.
KURO Kismet, trained by Matt Clark at Briagolong, won a 460m grade six at Geelong on Saturday night.
AT Healesville on Sunday, Clark's Victory Chase won a heat of the GRV Vic Bred grade five series over 350m to book a spot in this weekend's final. From his previous four starts, Victory Chase has three of his six career wins.
Midnight Monarch won the Emmett Dunne Plate, a 300m mixed grade four and five, for Sale trainer Chris Tilley.
Midnight Monash returned to Healesville on Tuesday to win the 350m free for all. Kennelmate Man Of Sun finished third.
In a good day for Tilley, Dimensional won a 300m mixed grade four and five by six lengths.
Also on Tuesday at Healesville, Throw Caution, trained by Lyn Smith at Nambrok, won a 350m grade five.
FOLLOWING back-to-back second placings, Citadel Of Chaos, trained by Douch, won a 400m grade five by a nose at Warragul on Tuesday night, with just 0.39 of a second separating the first three dogs.
Woolybully Keats, also coming off two successive second placings, won another 400m grade five for Wayne Boreland at Seaspray, while Portelli Punk, trained by Ray Floyd at Cobains, advanced to next week's final the 400m mixed grade six and seven series after winning a heat.
FOXAMI Raptor won a 311m grade five for Yvonne Andrews at Kilmany at Cranbourne on Wednesday night.
SUNDAY night's 12-race program at Sale will be headlined by heats of the Sale Distance Championship over 650m (races four and eight, 7.02pm and 8.27pm respectively).
The first race is scheduled for 5.57pm.
– David Braithwaite