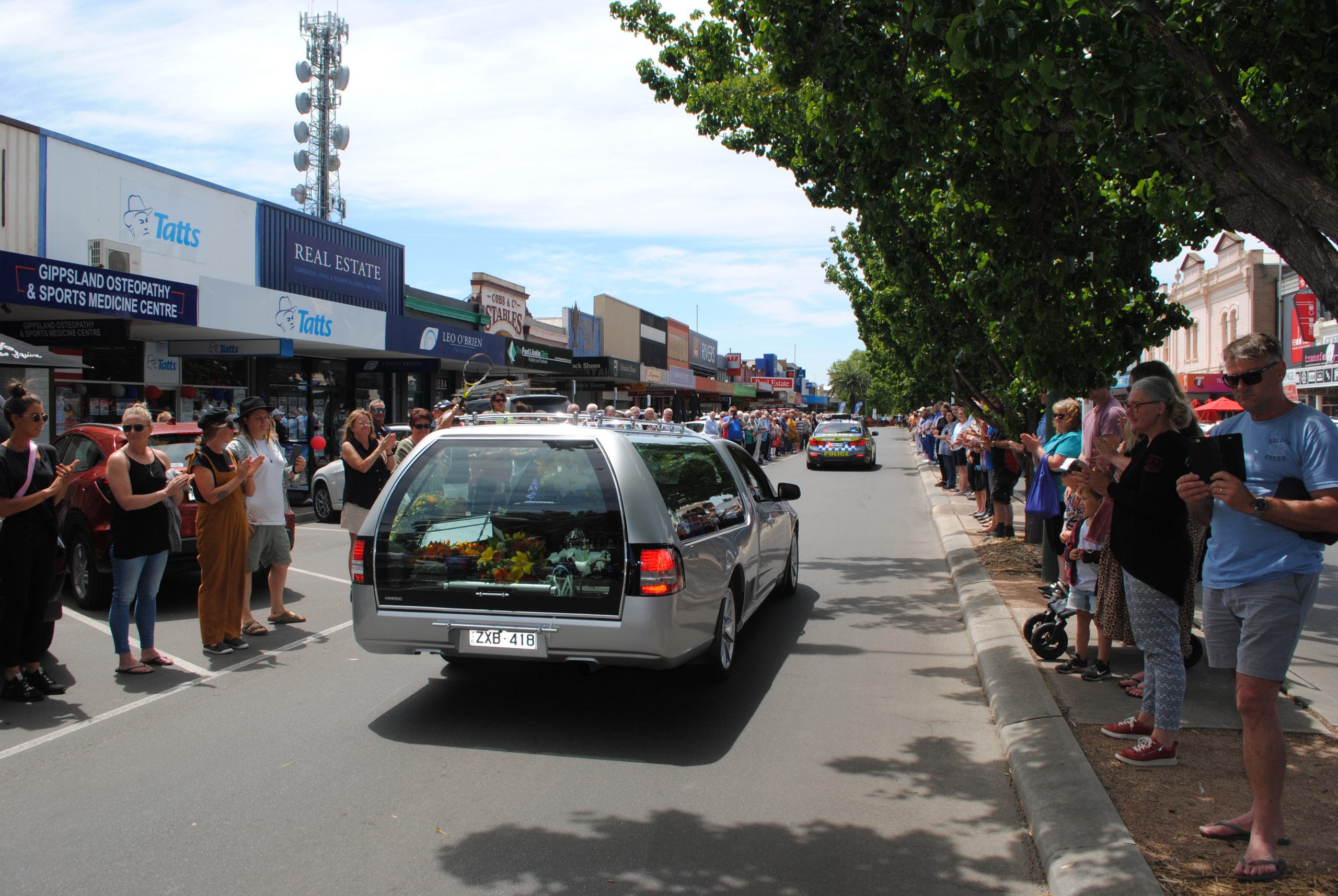 SALE has farewelled one of its most well-known sportsmen and businessmen, with Don Schuback passing away at the age of 95 years.
Don was born November 3, 1925, at the Bairnsdale hospital, the fourth child of John (Jack) and Dorothy, and was part of a large family of eight.
Times were tough for the family, Don's father having lost his leg in wartime service, and he returned to Australia.
With him his was his new English immigrant wife Dorothy, and they settled on a small plot of land at Wuk Wuk.
Don attended the Lindenow and Wuk Wuk primary schools.
In 1939 the family moved to Sale, transported on the back of Joe Guest's truck, eventually settling in McGhee St.
When Donny was almost 14, he began his first job with Alex Hitchens' bike shop.
As he was due to start, the local district school officer intervened, informing him that he could not leave school until he was 14.
So it was back to school for just one week at Sale Technical School.
Don worked well for the next 15 months and was rewarded by Mr Hitchens with an offer to go and manage his Maffra bike shop, at the tender age of just 15.
This required him to ride his bike from Sale to Maffra every morning and home again at night.
Donny worked for another 15 months, but in 1942 at the age of 17 he decided to start his own business in the shoe repair trade with his father's guidance.
He began business on the corner of the clock tower on the side of a service station next to his brother Roy's butcher shop.
It is ironic that his brother Gary also began his business Howard and Schuback Sports, on the exact same corner in 1976.
From here, he moved shop to the 'old Delopolis' building where Leading Edge computers is today.
Another move to Macalister St near the Gippsland Times newspaper office followed.
Then in 1957 he took a huge step, and bought his own premises for Schuback Shoes in Raymond St.
According to Don, it was a gut-wrenching decision to buy the shop for 3000 pounds, and he didn't sleep well for days with worry.
The shop still operates in Sale today under Brian and Quinn's expertise, and Brian had the great fortune to have worked side by side with Donny for 45 of those 63 years that the business has operated.
Donny was a quiet achiever and a self-made business man.
He developed his reputation and standing in the community with more than 80 years of contribution to Sale.
In 1948 he married his sweetheart Katheen Mary Millar, after meeting her at tennis.
It was a 64-year magnificent partnership and four children followed.
Donny's main loves where family, sport and their clubs, the church, friends and people.
He had a huge involvement with many clubs and organisations in the area.
He was part of three football premierships (two with Collegians Football Club, and one with Sale Football Club in 1949), and was in the runners-up team in three consecutive grand finals for Sale in 1946, 1947, and 1948.
He was named as a best player for Sale in the 1946 and 1947 finals.
Donny was best-and-fairest for Collegians in 1950, and named most consistent in 1951.
Described as a very handy footballer, he played more than 100 senior games between the two clubs.
He also served 30 continuous years as treasure of Sale Football Club Past Players Association.
Tennis was another great love, and Donny was a foundation and life member of Sale Tennis Club.
He was president of Sale Tennis Club for more than 10 years, and president of the Sale-Heyfield Tennis Association for more than 10, as well as being East Gippsland region president.
A proud achievement was being in the 1972 Country Week premier team with Bruce Warr, Bill Stephenson and Eric Marsdon.
He was also a fine competitor and administrator for lawn bowls.
He won three North Gippsland veteran state singles titles and teamed with son Brian to win the North Gippy pairs championship in 2003, after having won the club pairs to qualify.
He also won the North Gippsland state pairs with Gordon Jackson in 2002, and in 2005-06 he won the Sale Golf Bowls men's singles championship at the age of 80.
Donny also played table tennis with passion.
Every Monday night without fail was table tennis night.
He was described as a handy player, but knew he could not beat Peter Kluge, who was exceptional.
In athletics, he also participated in the Seaspray and Woodside gifts, and in bike riding, the Maffra to Tinamba Criterion.
In recognition of his efforts, time and commitment to sport and clubs in Sale, Don was awarded with an impressive seven life memberships – with Sale Tennis Club, Sale Football Club, Sale Community Sports Club, Sale Football Club Past Players, Sale-Heyfield (now Wellington Gippsland) Tennis Association, Sale Table Tennis Association and Sale Golf Bowls Club.
He was also inducted into Sale Football Club's Hall of Fame.
Donny was a generous man, helping many families in Sale during hard times.
A lot of families where able to send their children to school in shoes by allowing them to book them up and pay them off.
He was very good with his hands, learning carpentry at night school.
He built his own caravan from a shell in his back shed.
His family said a great love was raffles, describing Donny as ranking "with the likes of Les Carter and Ossie Ruff as one of the best ticket sellers in the caper".
Donny had an uncanny ability to welcome, help and integrate people and new families into town and the community – families such as the Dalitzs, the Greens, the Downies, the Kluges, the Gillespies, and many more who have remained lifelong family friends.
He always stressed that if someone entered a clubhouse or room on their own, someone must greet and welcome them, and get them settled and comfortable.
He and his old mate Billy Slater would often say "you must be doing a little bit, all the time".
These tips were part of Donny's ethos on how clubs can survive and prosper.
While Donny's competitive spirit drove his success, it was is humble manner, honesty and care for others that defined the man.
He had a boundless energy and zest for life, which has left a huge imprint on many people.
Don's wife Kathleen predeceased him eight years ago.
He leaves behind children Kaye, Gary, Brian Donald and Glenn, grandchildren Jason, Marcus, Abe, Lee, Jae, Quinn, Callan, Jacob, Ryan, Leah and Cohan, and great-grandchildren Huey, Demmi, Taryn, Fergus, Baylin, Nate, Kai, Carter, Piper, Mackenna, Riley, Tori, Zac, Ava, Jonti, Harper, Taj and Layla.
Don's siblings Jack, Roy, Bill, Norm, Alex and Joan are now all deceased, but his brother Peter survives him.