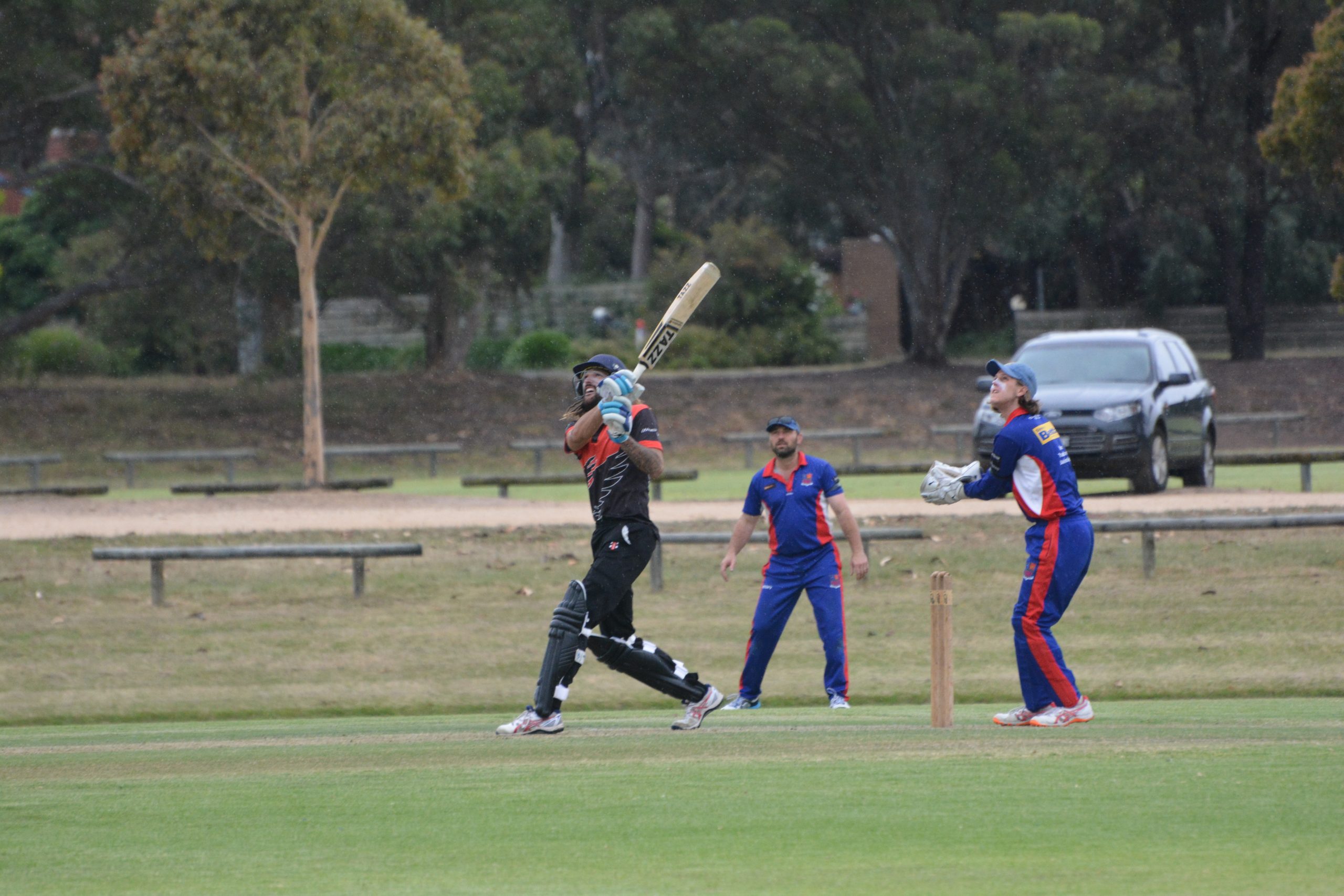 Liam Durkin
MAFFRA maintained its ascendency at the top of the Sale-Maffra cricket ladder after round eight on Saturday.
The Eagles accounted for Collegians thanks mainly to a mighty innings by Daniel Bedggood, who put on a one-man-show at the Cameron Sporting Complex.
The dreadlocked dynamo smashed 107 from just 65 balls to see Maffra chase down a near 200 total with more than five overs to spare.
Whatever Bedggood had for breakfast clearly worked, as he struck at an unbelievable 164.62, whacking 13 fours and five sixes – meaning 82 of his runs came in boundaries.
The opening batsman had his eye in from the outset, and creamed three fours in the first over he faced, bringing up his century before the drinks break.
College was forced to activate spin in just the fourth over, as anything with pace-on for Bedggood was like facing throw downs.
Such was the onslaught, spectators were forced to move their cars after Bedggood hit three consecutive sixes.
Fellow opener Brett Lanigan played something of a forgotten innings, making 38 in a 150-run opening stand.
Coach Lee Hopkins made 33 later in the innings to help get the team over the line.
Multiple wicket-takers for College were Mark Nicholls and Stuart Anderson.
Earlier in the day, Collegians would have been feeling confident after raking up 6-193.
Jayden Allison was again among the runs at the top of the order, making 29. The Morrison brothers Charlie and Tom had identical scores of 51, and put on 90 for the third wicket.
Wickets were shared among the Maffra bowlers, with Hopkins taking 2-15.
BUNDALAGUAH scored an important win against Boisdale-Briagolong.
The Saints batted first after winning the toss and compiled 178. Boisdale-Briagolong found handy contributions from most of the top order, with Toby Leeds leading all comers with 58.
Steve Spoljaric took 4-33 to be the Bulls' best bowler, while Nathan Whitford (2-30) and Nick French (2-31) also chipped in.
With a score of 178 on the board – four more than the average for teams batting first at Colin Wrigglesworth Oval in the past five seasons – Boisdale-Briagolong would have gone into the second half of the match with a degree of assurance about its chances.
In the end, the match was arguably decided by the difference in batting partnerships.
The Saints' highest partnership was 45, while Bundalaguah's was 101 – made by new captain Jason Langshaw and Spoljaric for the second wicket. Langshaw notched up a half-century, before Jake Wynd came in at number four and played another mature innings, scoring 42.
The Bulls got home with relative ease by seven wickets with plenty of time left.
Spoljaric more than likely collected three votes for the game, after scoring an unbeaten 75 to go with his four wickets.
SALE returned to the winners' list with victory over Rosedale-Kilmany.
The Warriors ended at 7-120 after their allotted overs, with Rohan Diamond top-scoring on 34.
Wicket keeper Josh Carter also got among the runs, making 26.
In true Rohan Blandford style, the Swans skipper threw a curveball by opening the bowling with the spin of Daniel Croft and Ben Howes – who hadn't bowled in more than a month after nursing a shoulder injury. Howes was able to get through eight overs and only go for 15 runs which should be a positive for the team moving forward.
Usual new ball bowlers Andrew Nicholas (3-19) and Ben Jones (3-23) came into the game later and took six of the seven wickets to fall.
In reply, Blandford threw another curveball by dropping himself to bat at number five. It was the first time Blandford hadn't opened the batting since coming to Sale.
Ironically, it was Hayden Glover, who captained RK last season, who took the opening position and proved to be thorn against his old side – making 42 not out.
Blandford came in with the score 3-58, and ended unbeaten on 38 as he and Glover scored the 65 runs needed.
STRATFORD again made a 200-plus score, this time against Longford. The Redbacks got busy at the crease and concluded at 7-235.
Amazingly, only 68 runs came in boundaries, as Stratford pushed plenty of singles around and worked the ball to the expanses of their 165 metre long ground.
A player with the surname Tatterson was again the top run scorer for Stratford, although this week it was Taylor Tatterson who did the damage. The Redbacks skipper scored 65 from 75 balls, and received good support from Cormac Hassett (38) and Chris Aurisch who made a quick fire 49 from 37.
Andrew Tyson continued his strong season with the ball, taking 2-28. Kerrod Macgregor-Davies also nabbed 2-34.
Longford made a good fist of the run chase, but ultimately fell 40 runs short. Lincoln Rolfe was a shinning light for the Lizards, making 62 batting first drop.
Neil Charman also contributed with 33 from 25 balls, combining with Rolfe for a 51-run fourth wicket partnership. Some double figure scores in the middle to lower order for Longford showed what might have been had a few converted starts into substance.
It was tough going for the bowlers of both teams, as more than 400 runs were scored in the day.

Sam Anstee essentially broke the game open, reducing Longford from 1-41 to 3-57, and finished with figures of 3-34. The master and apprentice combination of Simon Williams (2-36) and Seb Pendergast (2-23) also picked up multiple scalps.