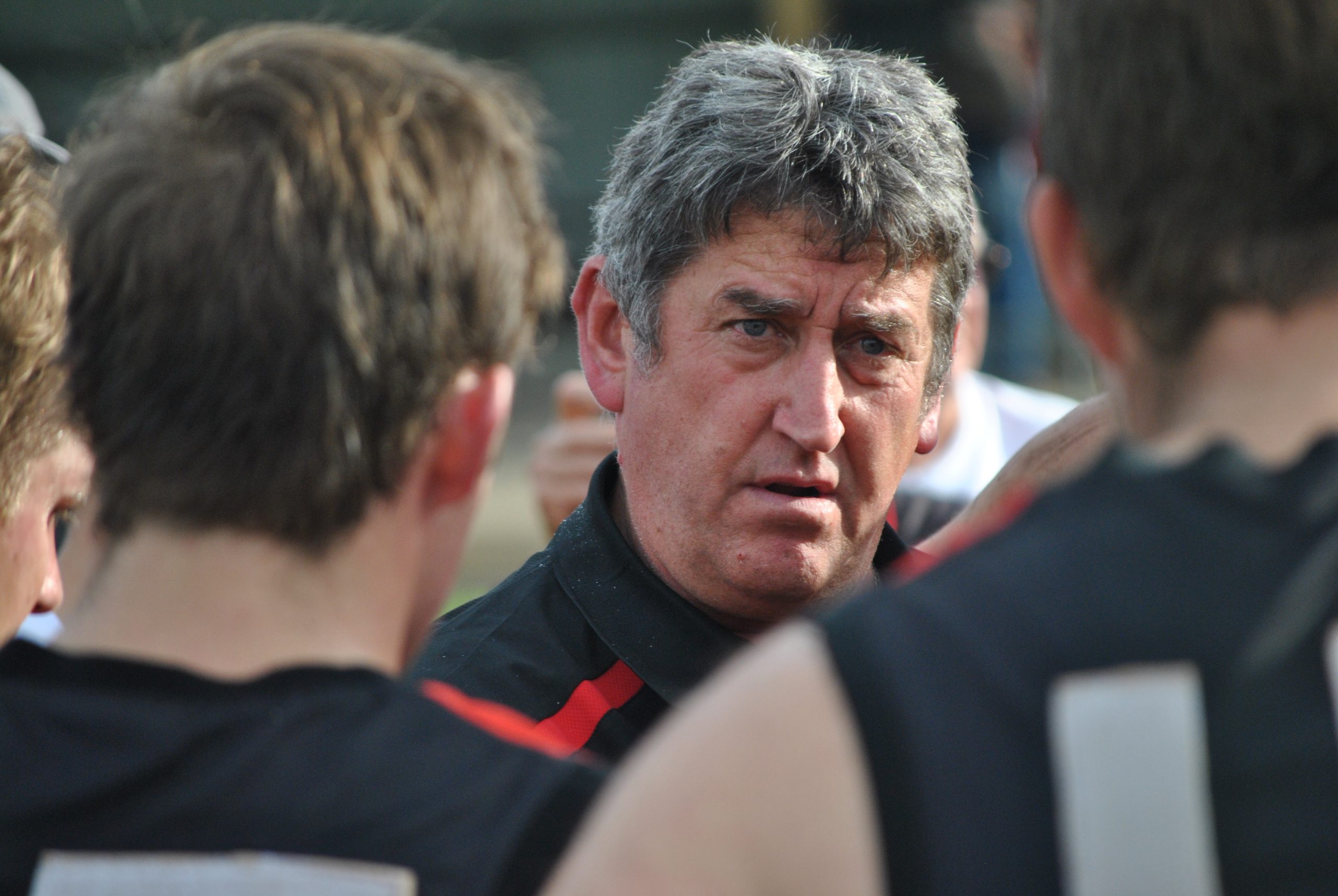 Liam Durkin
MAFFRA Football-Netball Club legend Wayne Butcher has a coaching record few, if any, could beat.
Butcher has won five senior premierships in 10 seasons and made the grand final in all but two seasons he has been in charge.
From 2002 until 2005 and from 2014 to present, he has coached the Eagles in 200 senior games with a winning rate of more than 80 per cent.
In fact, Butcher has won more premierships than every current Gippsland League coach combined, and has even won more flags individually than half of the current teams have managed in their entire existence Not that the man himself is counting.

"I don't even know those stats," he said.
"Someone will say 'you've been in the last 20 finals', but we don't even talk about that."
It is not just the Maffra seniors who have benefited from his tutelage, with Butcher calling the shots in the Eagles' reserves, under 18s and under 16s, as well as at neighbouring Boisdale-Briagolong – winning premierships and making grand finals at all.
After a more than 200-game senior career with Maffra across nearly 15 seasons, Butcher's first coaching jig came with the reserves in 1990.
In a sensational coaching debut, the reserves took out the premiership, and backed it up the following year, this time with Butcher as captain-coach.
It was a fitting end to Butcher's playing days, as he was named among Maffra's best players in his final match. He ended with 210 senior and 55 reserve grade games for a club total of 265.
Butcher was then appointed senior coach of Boisdale-Briagolong and found instant success, guiding the Bombers to Riviera league grand finals in his first four years. A premiership came in 1995 – the club's first as Boisdale-Briagolong after the two clubs had merged in 1982.
Butcher returned to Maffra to coach the under 18s in 1997, making it to the grand final, before heading back to Boisdale-Briagolong. During his second stint, Butcher guided the Bombers to back-to-back flags in 2000-01 – their last senior premiership to date.
And then the Maffra senior coaching dynasty began.
But before that dynasty was a club bereft of a senior premiership, with the Eagles drought extending way back to 1948.
After being in the football wilderness for more than 50 years, Butcher and a band of fellow Maffra legends concluded that a more holistic approach was required.
"The history of the footy club was they wanted to win one grand final," Butcher explained.
"What was never talked about was building a culture or keeping the club strong for a long time.
"That's why when we came back as a group, Graham Robbins, Garry Pleming, Terry McConnell and myself, our main thing was to build a strong club rather than worry about winning a grand final – we weren't even talking about it.

"We won the grand final in that first year and that was the furthest thing that we thought would ever happen."
With Butcher as coach, the Eagles found on field success became a by-product of strong infrastructure off the field.
"It was just about recruiting good people, we changed a lot of things, we changed our captain and we put a really good leader in as captain," he said.
"There was a guy that played the year before, he wouldn't train or respect what we were doing, I gave him a clearance after round two which shocked everybody – he was runner up in the best and fairest the year before.
"I went through the era when I played we were buying in players from Melbourne straight out of league footy, paying them a lot of money and us locals were the ones selling raffle tickets and raising the money to give it to these guys who'd play a year and then off they'd go.
"We were very unsuccessful, so I learnt from that, I didn't want Maffra to be like that when I came back as coach, I wanted to look after the locals.

"It wasn't about one person it was always about the club and I think that's why we've been successful – because we've kept a constant theme all the way through to try and keep the club strong and not just try and win a premiership."
Whilst culture is often a buzzword tossed around football parlances, there can be no denying a strong set of accepted behaviours have been instilled in Maffra players since 2002.
Those privy to the home change rooms at Maffra Recreation Reserve will be familiar with the sign detailing the feats of Eagles' players from yesteryear and telling current players to 'be proud of your club history' and to 'be proud of your red and black jumper'.
"That's our culture. Everyone is brought up with it," Butcher said. "When I was playing we use to just throw our jumpers down and someone would pick them up, in 2002 we brought a thing in where we fold them up, respect it (the jumper) and then the team manager can come and pick them up.
"It sounds strange but it all helps, they're all doing it for the club, not just for themselves.
"If I think there's a troublemaker, he's not there very long, even if he's the best player in the side."
Once players have made their way from the change rooms to the ground, hallmark's of a Butcher-coached side are relentless pressure and a distinct ability to grind teams into oblivion once they sense a weakness – something Butcher believed stemmed from a concerted effort to avoid a return to the dark ages.
"That competitiveness is probably driven from the years we got hammered," he said.
"We got hammered for a lot of years. We use to go to Traralgon and kick two goals and get beaten by 150 points when I was playing.
"Leongatha use to do the same to us – they'd just laugh at us.
"We don't want to see those days again. We want to be tough and strong, that's what we want to be – we're not getting stepped on anymore."
In terms of game style, perhaps the most astonishing part about the Eagles success is how unspectacularly they play their football under Butcher, with a game plan that seems to virtually involve getting more numbers at the ball than the opposition and surging forward at every opportunity.
"It's a very simple game plan," the coach said.
"If you can kick 15 or 16 goals you're going to win most games.
"If you can keep the opposition to under 10 you're going to be in most games you play.
"That's all we try and do.

"There's no great secret at all."
As a dairy farming community competing against towns four times its size, Maffra seems to have carried the work-hard-play-hard attitude of many farmers into its football.

Judging by what happens when the Eagles walk off the ground, they appear to have made something of a mockery of modern sports science, although Butcher said he was happy to take a backward step straight after a match to let the players unwind.
"I bring an esky of cans in, give the boys a can, the ladies bring the left over pies and sandwiches, they sit around and have a yak to each other, if one bloke's had a bit of a bad game, they do it themselves, have a beer and a pie – it's country footy," he said.
"I learnt over the years the players don't want to sit down after a game and write out about their own performance.
"We don't hold meetings, we don't make people write essays about their performance.
"Coaching wise we would probably be the most relaxed coaching group that you've ever seen if you played with us."
Perhaps it was part of that laconic country attitude that helped Maffra win the 2019 premiership.
At three-quarter-time of the grand final, the Eagles had a 15-point lead over fellow dairy farming town Leongatha, and with the game in the balance, eyes were turned to Butcher to weave some tactical magic. However, to the shock of many, the coach hardly said a word, basically just imploring one more quarters worth of effort.
"All they had to be told was if they won the last quarter we were going to win the grand final," Butcher said.
"You can talk as much as you like but when they're playing they don't want to be read the whole bible on footy because they are only going to remember two things that you say for your whole speech.

"They knew what they had to do. All the work is done during the week."

Of all the premierships Butcher has coached, arguably the greatest achievement stems from the fact in most if not all grand finals, the vast majority of players standing on the dais at the end are genuine Maffra people. In today's world of absurd player payments and mercenaries, the Eagles line-up which won the 2019 title were all one-point players under the player points system designed to encourage clubs to field local talent.

"We really pride ourselves on that," Butcher said.
"The kids have got to play somewhere and if they're good enough to play – let them play.
"If we have a good kid go to Melbourne I'd rather pay his petrol money to come home from uni to play (than pay for a recruit).
"You get it back because his mum and dad come to watch him play, mum will work in the canteen and dad will have a few beers."

Because of this, Maffra's depth has remained strong over the years, and its reserve grade team has become just as dominant as the seniors.
With minor league clubs close by, one can only imagine how many Maffra reserve grade players have knocked back significant offers to play senior football elsewhere.
Maffra has established a template to use the reserves properly, something Butcher said had benefited the senior team.
"The secret is to keep them there and get them through that period knowing that they are going to play senior footy," he said.
"We treat the twos the same way we treat the seniors, everyone is equal, we don't class them as seconds or seniors.
"They're good club people, all our reserves players are probably our best club people, they're all locals and they're the guys that keep the club going.

"In such a small town everybody knows each other and respects each other. All the families have been intertwined for years."
Behind every great team is great support, and Butcher has had a plethora of people to bounce ideas off, including his two sons John and Danny, who both spent time at Port Adelaide, and 200-game Port Melbourne veteran Sam Pleming.
Although he may be the one holding up the premiership cup on grand final day, Butcher said coaching was truly a collective effort.
"I'm 60, I couldn't keep up with it if I didn't have Sam Pleming, Danny and John," he said.
"I had the luxury of watching Port Adelaide train and Sam brought his experience in.
"Garry Pleming still takes the running, he was taking the running for me in 2002 and he's still taking the running now. Anthony Robbins could coach the side today.
"It's a coaching group, you can't do it on your own."