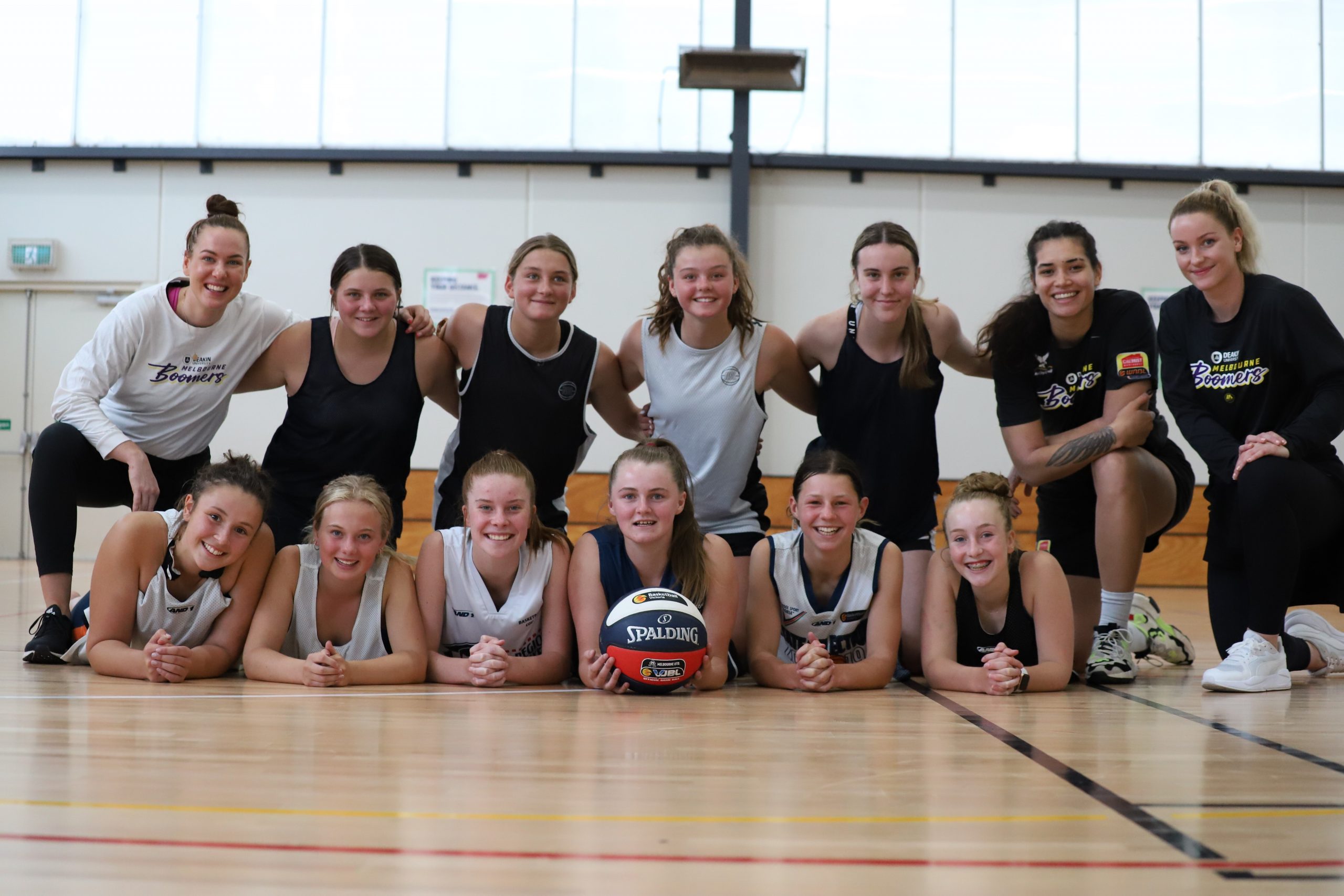 Sarah Luke
IF anyone was wondering what those shock waves were rippling through Sale on Wednesday morning, it was just the Sonic Boom happening at Gippsland Regional Sports Complex.
Sale Sonics' under 16 girls were joined at training by Melbourne Boomers players Tess Madgen, Penina Davidson and Rachel Brewster.
Madgen is a member of the Australians Opals women's basketball team, Davidson a member of the New Zealand national team and Brewster is fresh from an extremely successful four year stint at Utah State University.
In town as part of the Latrobe Valley Authority's Back to Sport tour, the Women's National Basketball League players were giving the Sonics some last minute tips ahead of the Eltham-Dandenong Junior Basketball Tournament, which will be held this Australia Day weekend.
The tournament is touted as the biggest basketball tournament in the Southern Hemisphere, and Sale Amateur Basketball Association has junior teams from under 10s through to under 16s entered – some for the first time.
The Sonics' under 16s girls will play in the championship division at the Eltham-Dandenong tournament, which is an invitation-only level.
This puts them in the intimidating position of being pitted against the best teams and biggest clubs in Melbourne.
The tournament will be a key platform in the Sonics' preparations to defend their title as Victorian Country Champions.
Sonics' guard and swingman Jemma Birss said it was a really good experience learning from the best, even if she was a bit starstruck.
"We did five on five against the other offence, ran through our offences, and then they gave us feedback and picked out things that they wanted us to improve on," she said.
"It'll help us a lot, because they gave us some advice and tips we can take away and put into our game.
"I've learnt to communicate more, and let all my teammates know what we're in and what we're running.
"They've also taught us to be more aggressive when we switch on a screen."
Sonics' point guard Sienna Wynd said she was in awe of the language the Boomers used while directing them, adding the session taught her to be more vocal too.
"It was really exciting to have some of the best people come down and teach us and give us some advice on things we can add to our game," she said.
"They really focused on me talking a lot more as a point guard, and not being so shy – being able to talk and not feel bossy is just part of the game.
"We've had a few intense trainings, learning a lot of offences, especially since we've just come back from the break – it's been intense, but I think we've got our head around it.
"It's going to be a fun weekend."
Speaking about the Victoria Country Championships, which will be held on February 20 and 21 at Traralgon Sports Stadium, Wynd said the Sonics were looking forward to attempting to hold onto their crown.
"Because we're reigning champs, there's a little bit of pressure to come back up, but I think we can handle it as a team," she said.
"We're all a big group of friends as well – it's a lot of fun."
Madgen said it was great to give the team some tips and tricks to get them ready for the weekend.
"I think their coach [Andrew Hack] is all over it; he seems really great and he already had a lot of great foundation in place, but hopefully they got something out of us today," she said.
Madgen said she believed the Sonics had what it took to reclaim the Victoria Country title.
"They've got a lot of versatility – they're very tall but very athletic, and then they've got some great little guards that get after the ball and play great defence.
"They all try really hard as well, and they're all very polite and take feedback very well, so yes, I think they've got what it takes."
As a professional female basketballer, Madgen said she enjoyed watching the girls strive to make it to a top level in sport.
"They're asking us a lot of questions about what it does take, which is very positive for them to have that interest and see what they have to do to get there," she said.
Sale Amateur Basketball Association president Ben Lancaster said it was an incredible opportunity to have the Boomers train with and mentor the girls.
"Our Sonics girls are a talented group," he said.
"This is a rare opportunity for the girls to learn from and be inspired by their role models.
"… they have so much to share with our Sonics girls and hopefully motivate and inspire the local girls to continue playing and loving the sport of basketball."
Lancaster thanked the Latrobe Valley Authority for its support of local sport and the opportunity for the Sonics to train with the Melbourne Boomers.
"We know there is a significant dropout rate in teenage girls playing sport from 14 years upward and we are hopeful that initiatives such as this, where we can connect our female basketballers to their role models, will assist to keep girls playing sport and chasing their dreams."
The Back to Sport tour was held at Warragul, Sale and Traralgon this week, and aims to inspire the next generation of home-grown athletes.