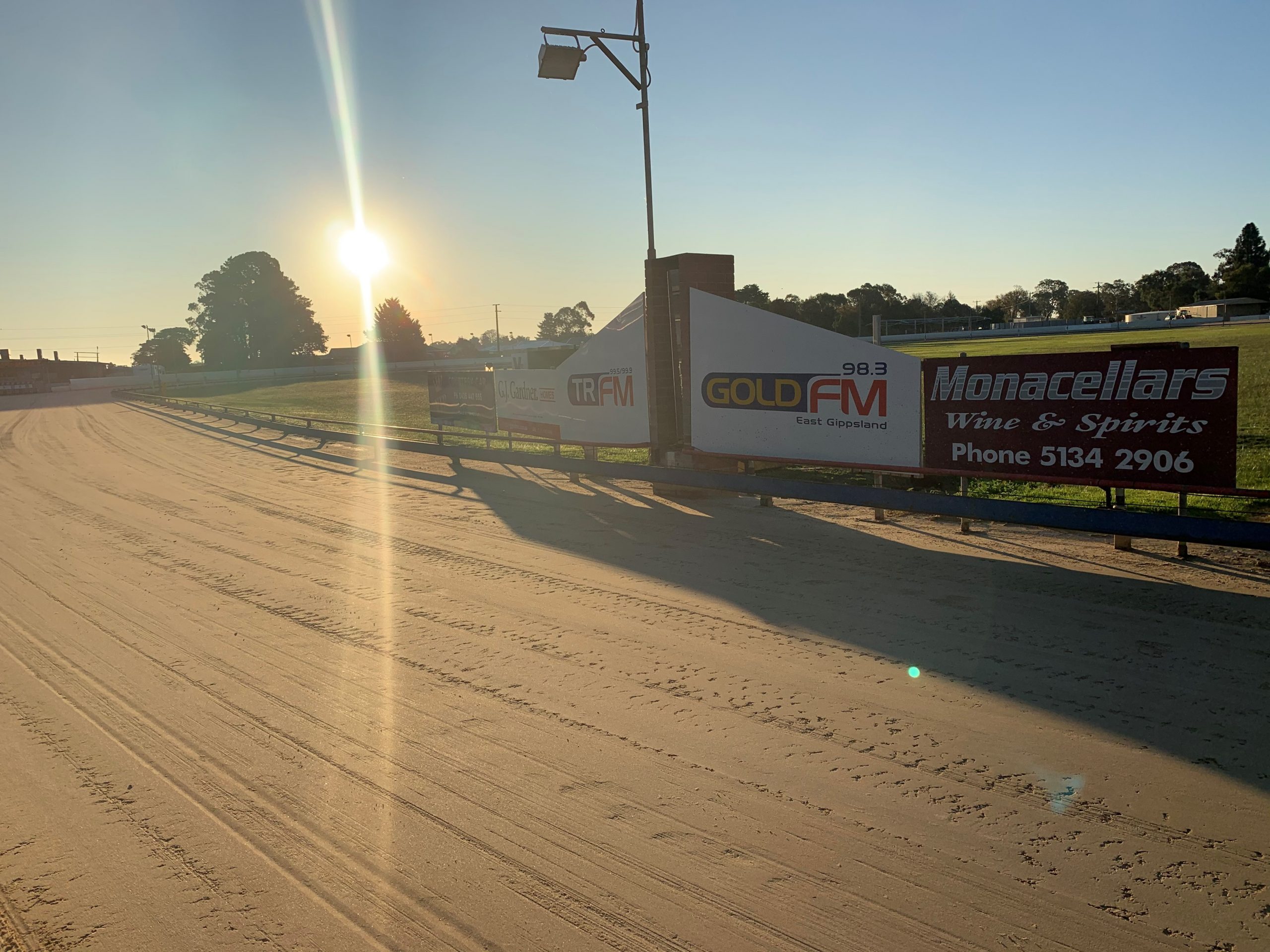 David Braithwaite
NAMBROK greyhound trainer Lyn Smith recorded two winners during Sunday night's meeting at Sale.
Smith's first win came in the opening race, a 440 metre maiden, when Earn The Fizz overcame Let Out, trained by Yvonne Andrews at Kilmany, by two lengths.
Reinforced won race nine, a 440m event restricted to dogs with two to five wins, by a half a length for Smith, holding off a challenge from Yazid Bale.

Aston Poker, trained at Longford by Adrian Smit, finished third.
Smith's Freddie Cruiser finished second in the 440m mixed grade six and seven final. Scorching Sun, trained by Ben Joske at Yinnar South, won by two and a half lengths to claim the $1900 winner's purse.
Backing up from a win at Sale on Friday night, Dr Xander, trained by Kim McMahon at Darriman, won race two, the 440m grade seven, ahead of Barwidgi, trained by Jenny Gill, also at Darriman.
Angel Eyes, trained by Carolyn Jones at Rosedale, led race four over 520m from start to finish, winning by seven lengths. Geena Bale, trained by Susan Northway at Heyfield, won a good race for second from Crouching Tiger, trained at Maffra by Corey Fulford.
Annie Rose won race six, the 520m mixed grade four and five, for Sharon-Lee Chignell at Rosedale with a strong finish.
Nowhere Nathe, trained by John Boreland at Giffard West, flew past My Faith and Top Faith to win the race 12 440m grade five by a neck.
Balliang trainer Mark Delbridge qualified three dogs for this Sunday's 440m grade five series final, with Byron Bale and Zipping Rambo winning two of the four heats.
Keiki, trained by Shaun Coulson at Balliang, and Imperial Jack, for Mel Lithgow at Devon Meadows, won the other two heats.
Stirling Lights, trained by Kate Gorman at Tanjil South, pipped Spring Hummer at the post to win race eight, the 440m free for all. Nicholas Rose finished third for Jeff Chignell at Rosedale.
MAFFRA trainer Des Douch won two races at the Sale greyhounds on Friday night.
Race six, the 440m mixed grade four and five, became a two-dog matchrase, with Eilish finishing a length and a half ahead of Dr Lynch, trained by Ronald Winter at Denison.
Douch brought up his winning double in race eight, the 440m free for all, when Citadel Of Chaos finished half a length ahead of Matilda Hook.
All Ford, trained by Brian Alford at Yarram, followed a second placing on debut the previous Sunday with a win in the opening 440m maiden. In second place was Dr Francisco for Marcus McMahon at Darriman.
Dr Xander took out race three, the 440m grade seven, for Kim McMahon, sprinting away from Manila Sunrise to win by a length and a half.
Zachary, trained at Darriman by Bill McMahon, won race nine, the 440m grade six. Zachary raced away early and never looked beaten, winning by 10 lengths and claiming a third victory from seven starts.
Aston Blade finished third for Lyn Smith.

The race 11 440m grade five was won by $26.80 chance Velocity Sunrise, trained by Dawn Johnston at Boisdale. American Spy, trained at Kilmany by Rachael Busuttil.
The run of the night came in race four, the 650m novice grade five.
Mac's A Million, trained by Dale Chapman at Lara, was checked on the first turn, but worked his way through the field to win his first race from 29 starts and the $3300 first prize.
Taylor's Jewel, trained by Kerry Houlahan at Lang Lang, was a start to finish winner in race two, the 440m grade seven.
Nella Ruslie won race five over 440m for Russell Edwards at Langwarrin.
Parumba Rebel, trained by Eddie Lieshout at Drouin West, took out the race seven 440m grade five.
The race 10 440m grade five was won by Katey Penny for Jason Sharp at Avalon.
KINGFISHER Rose, trained by Jeff Chignell, won a 515m grade five at Sandown Park on Thursday night, while Annie Rose finished third in another 515m grade five for Sharon-Lee Chignell.
Curfew, trained by Matt Clark at Briagolong, won another 515m grade five. Curfew started slowly, but kept the inside line as the race opened up for him to win by a length and a half.
William Rose finished third in a 525m grade five for Sharon-Lee Chignell at The Meadows on Saturday night, missing out on second place by a neck.
Betty Spolly, trained by Steve Spoljaric at Kilmany, won a 350m race at Healesville on Sunday by a head.
GREYHOUND racing will continue at Sale on Wednesday night.