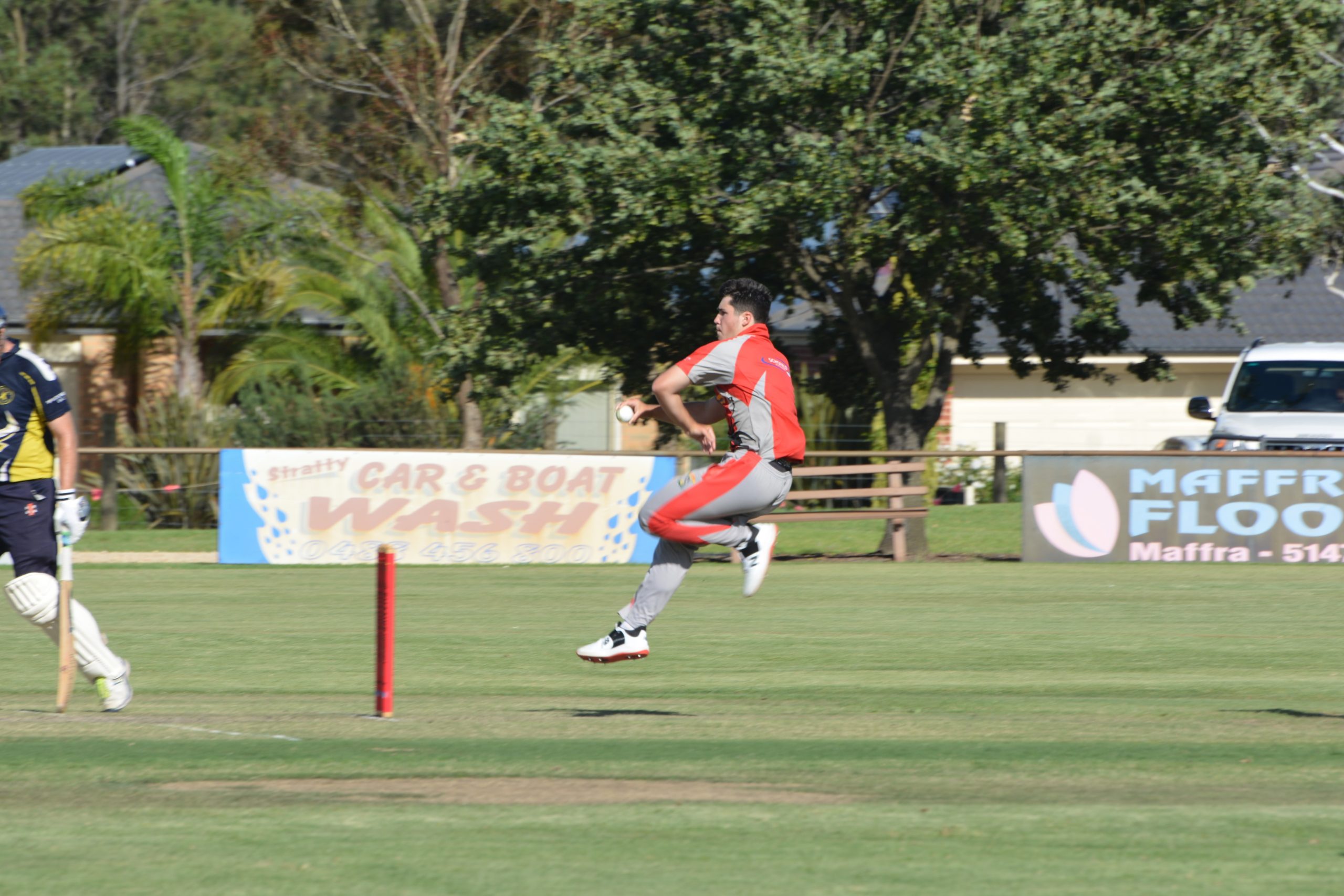 David Braithwaite
THE top three teams on the Sale-Maffra cricket ladder are separated only by net run rate, while Stratford has moved into fourth place following Saturday's round of matches.
Stratford leap-frogged Bundalaguah after a 38-run victory over the Bulls at home.
The Redbacks scored 7-203 from their 40 overs before the visitors made 8-165.
Chris Aurisch and Andrew Tatterson gave Stratford a good start, putting on 59 for the first wicket before the latter was dismissed for 30 from 35 balls faced.
Aurisch was the next batsman to go, out for 27, the first of Gayashan Munasinghe's two wickets.
Captain Taylor Tatterson and Bohdi Walker ensured the Redbacks posted a more than competitive target, combining to a 98-run partnership.
Walker hit a quickfire 54 from 48 balls, while Tatterson, the backbone of the innings, was dismissed in the penultimate over for 66.
Munasinghe was the Bulls' only multiple wicket-taker, finishing with 2-31 from seven overs.

After his half-century, Walker continued his form with the ball, dismissing Jake Wynd with the second delivery of the Bundalaguah innings.
Coming together at 3-53, Steve Spoljaric and Kyle O'Reilly gave the Bulls a chance, but the required run rate was creeping up.
The pair took the score to 152, when Spoljaric was caught off Walker's bowling for 72 in the 36th over. The Bulls only added one more run, when Nathan Hibbins was trapped in front of his stumps by Jack Tatterson the next over.
Walker dismissed the O'Reillys in consecutive balls to end the 38th over, with Kyle bowled for 52. Walker finished with 4-29 from eight overs, while Andrew and Jack Tatterson both claimed 2-26.
The fourth-placed Redbacks are now a win ahead of the Bulls, who are ahead of Boisdale-Briagolong in sixth because of superior net run rate.
COLLEGIANS moved to the top of the ladder after overcoming Longford at home.
College made 7-158 before the Lizards finished 10 runs short in their best performance of the season.
Isaac Love top-scored for Collegians with 43, while Noah Hurley scored 34 and Jayden Allison 22.

Kerrod Macgregor-Davies and Cameron Wrigglesworth claimed two wickets each for Longford. The pair then put on 47 for the opening wicket of the Lizards' innings, with Macgregor-Davies run-out for 35, while Wrigglesworth was dismissed for 13.
Austin Bauer and Brett McMaster combined for a 75-run fourth wicket partnership.
When Bauer was bowled by Mark Nicholls for 31, the Lizards needed another 39 runs from 19 balls.
McMaster and Sam Smith kept the scoreboard ticking over, without hitting boundaries. Needing 18 off Stuart Anderson's final over, McMaster was caught behind for 52 from 57 balls.
SALE moved into second place, and relegated former leader Maffra to third after winning a low-scoring match at the Cameron Sporting Complex.
On a testing day for batsmen, the Swans were bowled out for 116, but bowled the Eagles out for 87.

Ben Jones scored what turned out to be a vital 35 for Sale, while Josh Granger made 18 and captain Rohan Blandford 16. The final wicket to fall, Jones made sure the Swans' total reached triple-figures.

Ben Durrant claimed 3-14 from eight overs, while Nathan Magnuson and Daniel Bedggood took two wicket each.
After falling to 3-17 at the start of the 15th over, Zach Durrant and Lee Hopkins took the score to 33 when Hopkins was caught after scoring a patient four from 40 balls.
When Jones trapped captain Josh Davis for 13, the Eagles were 5-41, but lost Cooper Bailey and Danny Butcher in consecutive Ben Howes deliveries to have the hosts 7-52.
Zach Durrant was proving to be the key batsman for Maffra, but was caught off Lucas Mowat's bowling for 33 in the 33rd over, with the Eagles still needing 40 runs to win.
The Eagles added only 10 more runs as they lost their final two wickets.
Each of the six bowlers Sale used claimed a wicket, with two for Andrew Nicholas (2-10 from eight overs), Howes, Jones and Mowat.
BOISDALE-Briagolong kept in touch with the top four with a tight victory over Rosedale-Kilmany.

The visiting Warriors scored 6-140, a total the Saints passed with an over and two wickets to spare.
The Warriors were in early trouble, with Adam Diamond and Brad Scott dismissed by Louis Howard to have the visitors 2-7.
After Josh Cope was dismissed for 16, captain Rohan Dimond ensured the runs kept coming, along with Cameron Freshwater, as the pair put on 65 for the fourth wicket.
Freshwater was caught off Ned Sutton's bowling for 32. Soon after, Sutton dismissed Diamond for 56 from 66 balls just as he was lifting the scoring rate.

Dylan Rowley scored an unbeaten 15 to give his side something to defend.
The Boisdale-Briagolong reply struggled to get going, with Rowley striking three times to have the Saints 3-23.
The Saints were 5-58, when Howard and Jonny Lash got them back into the contest with a 55-run partnership.
When Lash was dismissed for 44 from 30 balls, the Saints still needed 28 runs to win. Howard and Sutton got them over the line, finishing unbeaten on 35 and 16 respectively.
Dowley claimed 3-20 for the Warriors, with Rohan Diamond 2-22 and Ben Fleming 2-37.