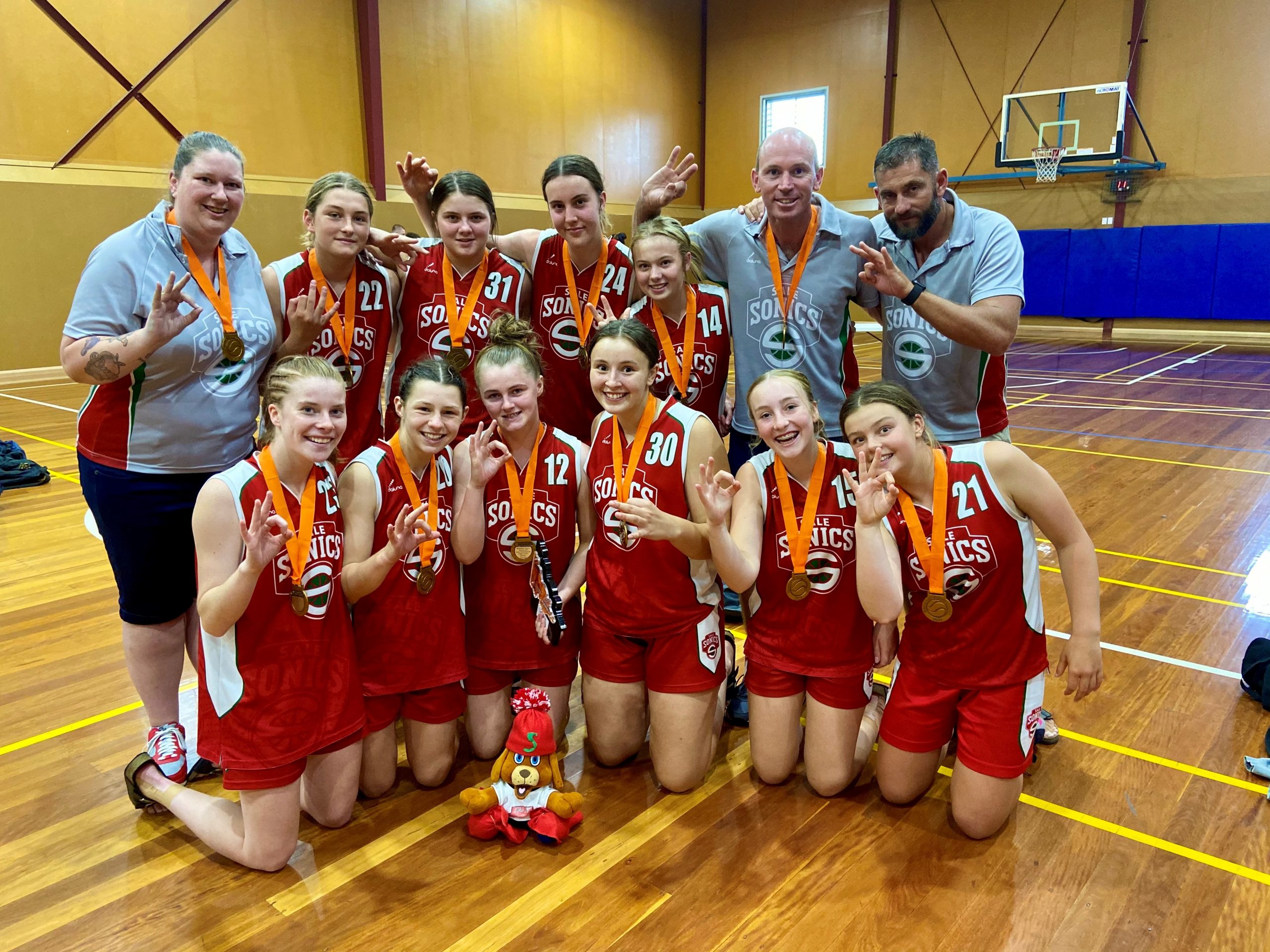 THE Sale Sonics under 16 girls' team has won the country Victoria junior championships, claiming a "three-peat".
The girls have been crowned the best team in country Victoria for the third time, having won the under 12 title in 2017, under 14 title in 2019 and now the under 16 title.
The championships were played at Traralgon's new stadium at the weekend.
The Sonics' under 16 boys also had an impressive weekend, missing the division one finals by percentage. The boys finished third in division two, which ranks them 11th in the state.
The under 16 girls began the tournament with a hard-fought five point win over Warrnambool, then defeated Macedon 69-19 and Wonthaggi 67-25 on the first day.
Sale got through the quarter-final with a 46-27 point win over Bendigo, then the semi-final berth against local rival Traralgon 40-28 to earn a spot on the grand final against Geelong.
The girls saved their best for last. With accurate shooting and tough defence, they defeated Geelong 54-39.
During the presentation the game was described as fast, physical and skilful, and one of highest standard finals seen in the under 16 age group.
The boys opened the tournament with losses to Bendigo and Horsham then turned the tables, defeating Wangaratta and Korumburra to finish equal second in their pool. The four-point loss to Horsham earlier in the day pushed them into division two.
A thrilling quarter-final went into overtime before the Sale boys secured a 36-34 win over Pakenham, but the physicality of the match took its toll and the boys lost their semi-final to eventual winner Hamilton 44-32.
The under 18 division one and two country championships were played in Bendigo at the weekend.
The Sale under 18 boys had narrow losses to Horsham, Shepparton and Echuca in games that could have gone either way. The boys made it through to the quarter-finals, but lost to Echuca 39-31 hurt by bad turnovers in the first half.