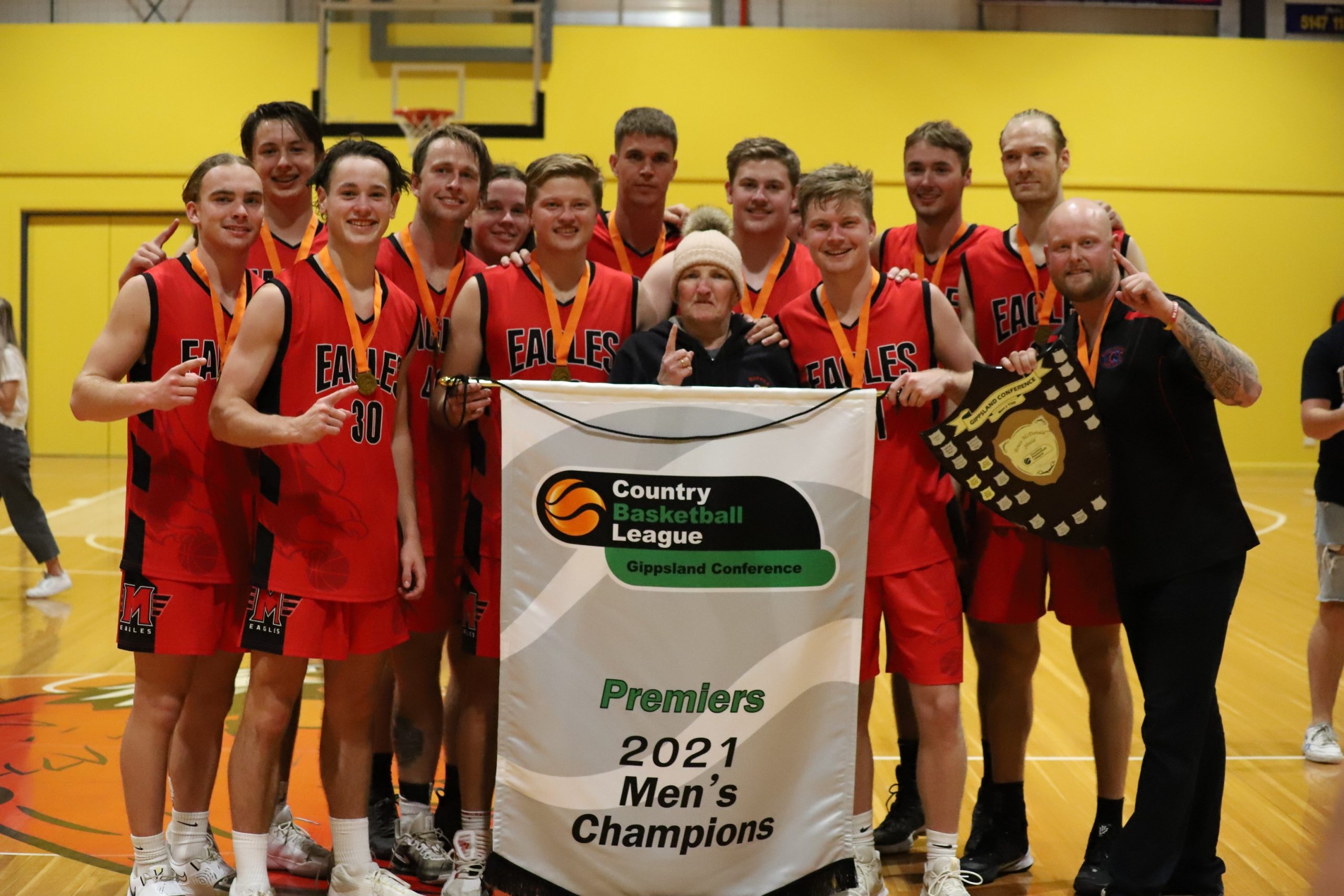 Sarah Luke
IT was an emotional win for Maffra in the Country Basketball League Gippsland conference men's grand final on Saturday night.
The Eagles made the most of their opportunities in the rematch of the 2019 grand final, to this time overcome the Moe Meteors 85-71 in front of their home crowd on Cameron Sporting Complex's new Yvonne Higgins Showcourt.
Higgins, who has been president of Maffra Amateur Basketball Association since 1987 and is responsible for leading a small army of volunteers and multi-million dollar upgrades to Cameron Sporting Complex, has been battling illness, but was courtside to cheer on the men over the line.
After the game, Elliot Hunt was awarded the most valuable player for his consistent scoring and steadying presence on court when it counted most.

Two sides which are well-acquainted, Maffra and Moe, began the grand final with a bang, but it wasn't difficult for spectators to tell which wanted the win more.
While a two-point margin separated the teams at quarter-time, Maffra kicked ahead 45-34 at half-time, before a stellar third quarter resulted in the Eagles pocketing 19 points to give them a 16-point winning margin headed into the final term.
Stalwart James Whelan racked up 12 points, while young gun Coby Burgiel let his presence be known with an impressive 10 points under the hoop.
Sam Whelan fell into his groove, and slotted an effortless six three-pointers for the Eagles, before some foul trouble resulted in both the Whelan brothers being benched. Sam and James clocked up their five and were cheered off by a supportive home crowd, while Moe's Liam Fitzpatrick was also confined to the bench.
With tensions running high, the game was paused as some Moe supporters were escorted out of the stadium for umpire abuse.
Despite the trouble, the unfazed Maffra men kept chipping away at the scoreboard to keep the Meteors at a comfortable distance.
Some rushed play from Maffra coincided with some bursts of energy from the visitors, leading to some turnovers and keeping the spectators on the edge of their seats, but any momentum was quickly stemmed.
The Eagles put on a defensive clinic, making it extremely difficult for the Meteors to find the basket, and then capitalised on any turnovers, with Maffra's Frazar Brouns leading the charge to protect the key.
Hunt was instrumental in re-stabilising the team, taking his time to make considered drives to the basket or set up teammates while under pressure, and managed 24 points for Maffra during the game.
While Moe was able to out-score Maffra in the final quarter by a point, it wasn't enough to claw back any ground, and the Eagles' supporters could finally rest easy as the final buzzer sounded.
After the game, Maffra coach Kaleb Sclater said his team had a goal and battled away, but it got there.
"It's been six years in the making, but we finally got there," Sclater remarked.
"It was just an all-round team effort. I can't give votes tonight.
"We had guys step up – young Brodie Johnson got thrown in the deep end, he didn't play a hell of a lot of the last game, Tom Stephenson same thing, Coby Burgiel, Sam [Whelan] got hot in patches, Elliot [Hunt] was unreal early, and James [Whelan] was good too."
Sclater said the key difference for the Eagles' game was their defensive play.
"We kept guys in front of us, something we've struggled to do in past few years," he said.
"That was the difference for us tonight, just keeping them in front and making it difficult for them to score."
Sclater agreed it was particularly important the team dug deep in honour of the association's president of 34 years.
"To see her go through what she's gone through, and to still be up here every night, still reffing, still doing this, still yelling at me, still yelling at everyone … just to win it for her, it's pretty special, it's pretty emotional," he said.
"She's a workhorse, and she is this club."
Undeterred by a bizarre COVID-affected shortened CBL season, Maffra worked its way through the 2021 men's draw undefeated.
Maffra's women's side was stopped short of a grand final appearance by three points, losing to eventual premiers Warragul in the semi final a week prior.
The undefeated Warragul side played off against Moe before the men's grand final, and stretched out an early lead to bag the CBL women's season, 84-68.