Jacob Richardson took out Sale United Football Club's men's best-and-fairest for season 2021, while Hollie Ryan made it back-to-back women's titles.
Richardson, a former National Premier League player, polled 44 votes to win ahead of dual runners-up, Nathi Khamchom and Richard Kessling, on 22 votes each.
The club captain had a productive year, winning the senior team golden boot trophy as well as being awarded the club's goal of the year for his free kick against East Gippsland United back in April.
The shot was taken from 50 yards out and perfectly placed into the top right-hand corner leaving the goalkeeper stranded in his spot. What made it extra special was that he called it before taking the kick and then it spurred the team on.
In the women's, Hollie Ryan polled 16 votes to take out her second consecutive best-and-fairest, while Lemoni Japhary was runner-up for the third consecutive season, polling 13 votes — demonstrating how consistently strong these two players are.
Ryan scored 24 goals this year and as well as winning the women's team golden boot award, she was also the Latrobe Valley Soccer League's leading scorer when the season was cut short.
Jade Duve received the Ben Piefke Award for most determined player out of all the senior playing group of men and women. The pint size rocket's display of strength and grit on the field is impressive and she possesses an ability and skill to beat players double her size.
The John Errol Flynn Sportsmanship Trophy was won by Riley Macreadie, who played with honour and integrity and has an excellent attitude admired by all at the club.
Cooper Coleman was the recipient of the men's rising star award. The 15-year-old has first class skills and put in excellent performances which cemented himself a solid place in the senior teams starting line-up.
Ryan won the women's rising star award for the second time. At just 17-years old, Ryan, is a huge asset to the women's team where she displays confidence, strength, great skill and an inspiring goal scoring ability.
The goalkeeper of the year trophy went to Cooper Kelly-Williams for his consistency, self-motivation and determination.
He has improved immensely throughout the season which saw him progress through the ranks.
For their ongoing dedication to and work at the club throughout another COVID-disrupted year, the president's award was won jointly by Laurel and Cameron Irvine. Along with her usual club duties, Laurel has worked hard as the league representative. Cameron continues to put countless volunteer hours into the club and is at the forefront of all new projects.
Anouk Meereboer was a standout choice for the club person of the year, as she brings a great deal of skill and knowledge as player and coach. She has committed a large amount of time coaching across many teams from juniors through to seniors and is an advocate for female football and has a passion to see the club excel.
The players' player trophy is a highly sought-after award, as all players put forward their votes as to who is their best player.
The men's award was won convincingly by Jacob Richardson who polled 42 votes. Solomon Nash was runner-up on 28, with Richard Kessling 26, Alan Harris 21, Cooper Kelly-Williams 20, Tom Breakspear 11, Brandon Saunders 11, David Durning 11, Richard Kemp 11 and Jacob Godde rounding out the top 10 on eight votes.
Courtney Quadrell had a great season and received the womens players player trophy on 29 votes. Anouk Meereboer 18, Lemoni Japhary 15, Hollie Ryan 12 and Laurel Irvine 11 made the top five.
Other awards winners were Jacob Godde (most improved player overall, men's), Camille Japhart (most improved player overall, women's), Kieran Horgan (reserves best-and-fairest), Tom Hughes and Jacob Godde (reserves runner up best-and-fairest), Nick Bartlett (coach's award), Kieran Horgan (golden boot), Cameron Rule (second division best-and-fairest), Luke Williams (runner up best-and-fairest second division, golden boot), and Will Coleman (coaches award),.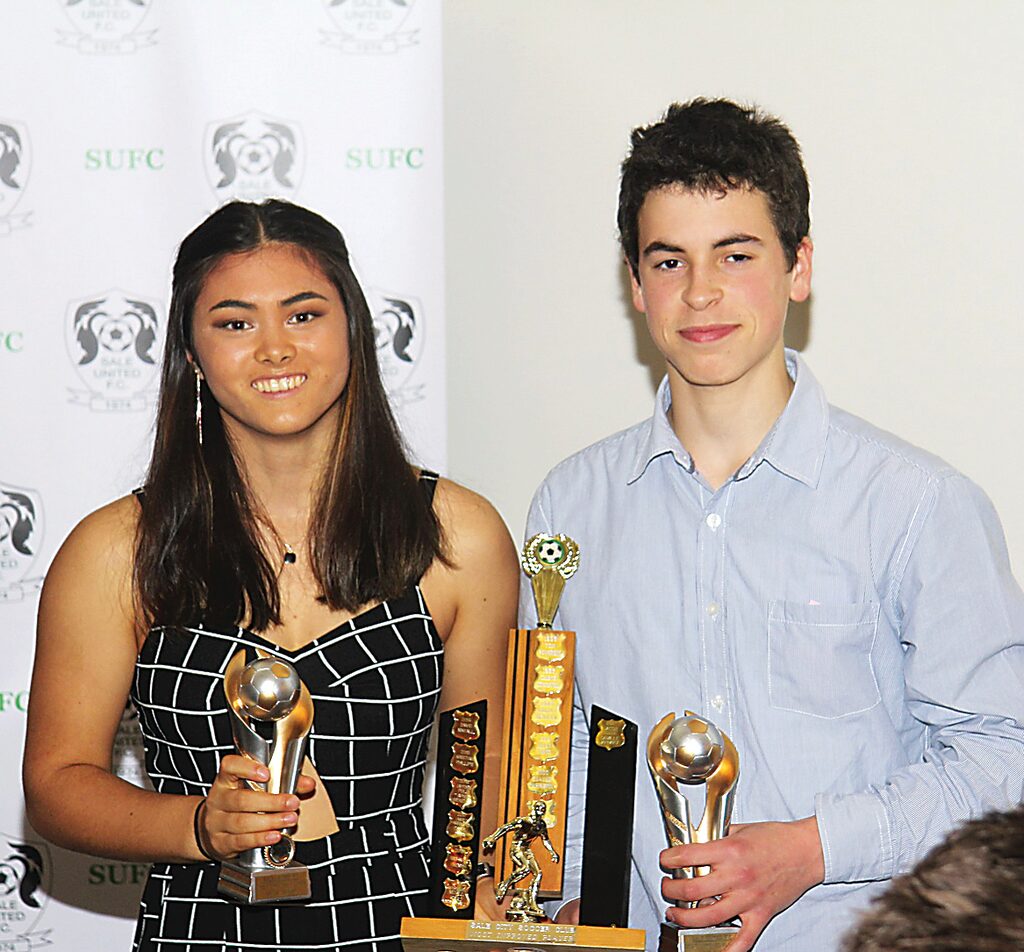 Left: Camille Japhary and Jacob Godde were recognised as most improved players for Sale United in women's and men's respectively.
Photo supplied.