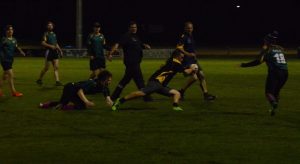 SALE Touch Football resumed last Wednesday night in a social round, with all players pleased to be back following a forced break because of COVID.
Eight teams competed in a friendly round. Unfortunately, light rain fell for the entire round, however this did not dampen the players enthusiasm.
Phoenix was undermanned when it took on Nagle, and the final score really did not indicate the spirit in which the game was played. Sammy Churches and Jack Neal each made five tries for the visitors. Mason Annear, Oscar Crunden-Smith and Kyle Grummisch each made one.
Kate Laskowski had a great game scoring two tries. Lexi Laskowski and Carl Muir each made one.
Longford Trailer Hire and Pink Panthers played an even contest, with the Trailers running out winners with five tries to four. Seven players made one try with Albert Van de Vyver the only player to make two tries.
Players were keen to be back — none more so than Longford Trailer's Brodie Towers, Jack Neesham and the Hinchcliffe family in Kye, Michael and Ryder.
The Pink Panthers were very competitive and like all teams were lacking match fitness.
Longford Trailer Hire scorers were Peter Hall, Kye and Ryder Hinchcliffe, Rhiannon Massey and Brodie Towers.
Albert Van de Vyver made two tries for the Panthers. Brock Dyke and King each made one.
Porky's and the Mustangs also played in an even
contest, with each team only managing two tries each.
Corey Siebel led the Mustangs, however his efforts were not enough to get his team over the line.
Porky's look good, and with the return of Anthea Todd, they should be a formidable combination when touch season returns in the new year.
Clint Freebody and Emily McGovern each made one try for the Mustangs while the versatile Leigh Morley and Kyan Ropeti made one try for Porky's.
Kyan landed heavily following a solid accidental knock from an opposition player and had to helped from the field.
In the other match-up, the Drop Kicks took on the Maffra Vets (veterinarians, not oldies, and the new kids on the block).
The Drop Kicks have shown experienced game skills, while the Vets are only too keen to learn. The Vets' and the Drop Kicks' leaders are Tanya Lowe and Aysia Tepatu respectively.
Joshua Broome was the only scorer for the Vets, while Tawh Ashby and Andrew Campbell each made two tries for the Drop Kicks. Lish Kingi, TJ Sturmey and Siarah Poropat each made one. This was Poropat's first game.
Tomorrow night at 6.30pm, Nagle plays the Drop Kicks (referee Pink Panthers) and Maffra Vets play Mustangs (referee Longford Trailer Hire).
At 7.20pm, Pink Panthers play Phoenix (referee Nagle) and Porky's play Longford Trailer Hire (referee Mustangs).
Individual players or teams are invited to come along for a run at Stephenson Park from 6.30pm.
Phone Laurie on 0419 132 824 for details.