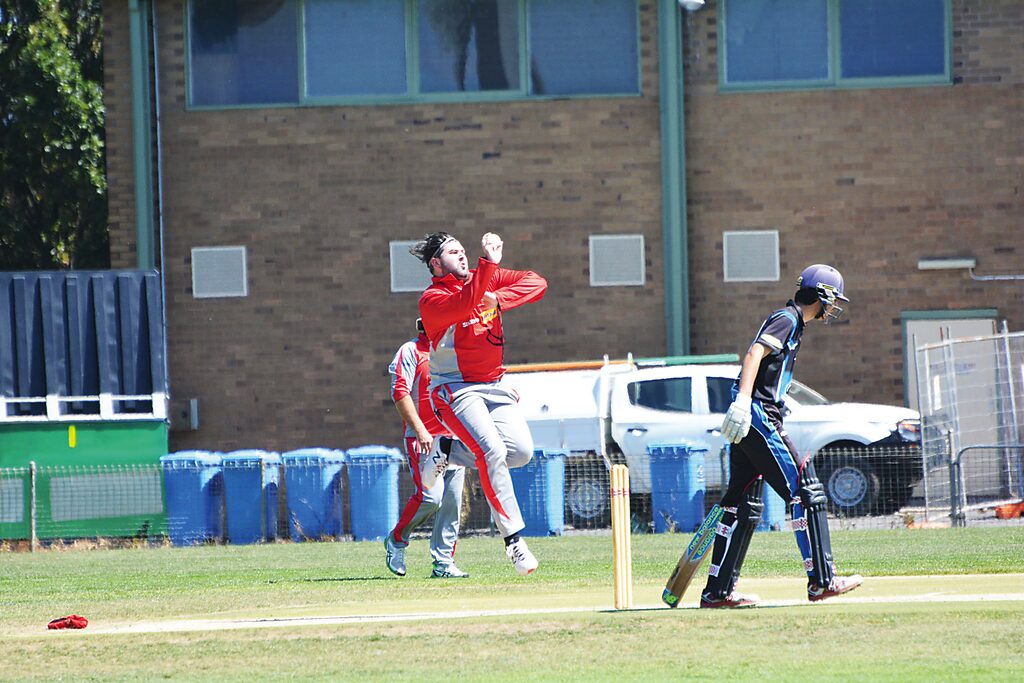 Josh Farrell
As predicted in Friday's Gippsland Times, the Sale-Maffra Cricket Association first grade match between Maffra and Stratford delivered an incredibly close finish with the Redbacks getting over the line by one wicket
The battle between second and third was a seesawing affair at Cameron Sporting Complex in Maffra legend Brett Lanigan's 250th A Grade game.
Eagles skipper Josh Davis won the toss and decided to bat first knowing that a win in this match would be vital for ladder position.
Scoring was slow early and Maffra lost wickets at regular intervals but Lee Hopkins was holding steady before Stratford broke through courtesy of a caught and bowled from Sam Anstee which saw Hopkins depart for 26.
After Hopkins was dismissed the match was evenly-poised with the score at 4/74, but Davis was joined at the crease by man of the moment Lanigan.
They got to work building the Eagles' score and put on 60 before Davis fell for 44 after Lanigan hit a ball back straight and Stratford Jack Rietschel got a hand to it.
The Redbacks bowlers kept it tight late in the innings restricting Maffra to 6/153.
Lanigan finished unbeaten on 32, showing he is still one of the premier batters in the SMCA.
Rietschel and Sam Anstee were the pick of the bowlers taking two each to keep Stratford in the hunt for another win.
Maffra's bowlers came out with a point to prove and broke through early reducing the visitors to 4/29 courtesy of David Griffiths (2/14) and Ben Durrant (3/28).
Jack Rietschel had survived the carnage and along with Bodhi Walker set about bringing Stratford back into the game.
Rietschel anchored the innings for the Redbacks and Walker set about counter-attacking reversing the pressure onto the Eagles' bowlers.
Walker made 57 from 55 on the expansive Maffra ground hitting six boundaries before he became one of Lee Hopkins two victims.
Nathan French fell soon after then Maffra got the big wicket of Rietschel and the match once again had taken a turn and the pressure was back on the Redbacks.
Small partnerships continued but it was Simon Williams who guided the Redbacks home will five balls to spare.
The result sees Maffra drop to fourth and Stratford extend its gap between third and fourth to nine points.
Other results throughout the league were not quite as close, but Longford and Rosedale-Kilmany played out a low scoring affair at Rosedale.
The Warriors got the win by 36 runs after being sent in by Lachie Floyd.
Once again it was Rohan Diamond (57 off 69 balls) who made the bulk of the runs in Rosedale-Kilmany's all out for 143.
He found help from Brandon McDonald who made 32 at the top of the order – he will be hoping to have recaptured some of the form he found early in the season.
Jake Wynd continued his affinity for the Warriors batters taking 4/34 from his nine overs meaning he has taken 10 wickets so far this season against Rosedale-Kilmany.
Kerrod Macgregor-Davies was impressive with the ball taking 3/23 from his eight overs and Cameron Wrigglesworth was important taking 2/38 to help bowl out the Warriors.
For the Lizards, it was a similar tale to previous matches in which it struggled to get its batting innings going.
Macgregor-Davies got a start before he fell for 17 and Jake Wynd got his innings going but departed for 15.
Adam Vogt tried to add respectability to the score making 31 not out off 25 before he ran out of partners, with Longford bundled out 107.
Tom Love was the one who did the damage for Rosedale-Kilmany taking an impressive 5/26 from his nine overs which included two maidens.
Harper Fox was important with the ball taking 2/30 off his six overs.
In what has been a tough season for both sides, week in week out they have patches in which they play well – which bodes well for the future.
Collegians walked away with a commanding victory over Boisdale-Briagolong.
It was the Morrison show that did the damage for College, restricting the Saints to 110 in its innings.
Charlie Morrison was impressive taking 4/14 from his nine overs which included three maidens while Tom Morrison took 2/12 from his five.
Henry Anderson chipped in picking up 2/9 from his four overs to wrap up the Saints innings.
Most batters struggled to get going throughout Boisdale-Briagolong's innings but Jonathon Outhart was the standout making 35 from 84 in a stoic innings.
The top three for College chased down the Saint's score with little issue.
Jed Malone top scored with 39 from 79, Mark Nicholls made 28 from 48 and number three Henry Anderson finished his impressive day with 29 from 42.
College will be pleased to have climbed to third on the ladder and know important wins such as these will be imperative throughout the season.
Boisdale-Briagolong were ravaged by a lack of numbers across the club this week but will look to work on team make up for next season.
Bundalaguah got an impressive win over Sale to remain on top of the ladder.
The Bulls dismantled the Swans batters with the only resistance coming from skipper Rohan Blandford who made 31 at the top of the order.
It was a good spread of wickets for the Bundalaguah bowlers with Nathan Whitford taking 3/9 from his five overs, Steve Spoljaric 2/26 from six and Toby O'Reilly, who got 2/9 from his four.
It was always going to be a simple chase for the Bulls and although an early wicket might have had them worried, they quickly settled.
Opener Kyle O'Reilly made 38 at a better than a run a ball, Steve Spoljaric came out and played flamboyantly dispatching the Swans bowlers for six boundaries on his way to 34 not out from 20 deliveries.
The Bulls will be happy to get a win to remain on top of the ladder while Sale will know it will need to bounce back this week to stay in touch with the top four.