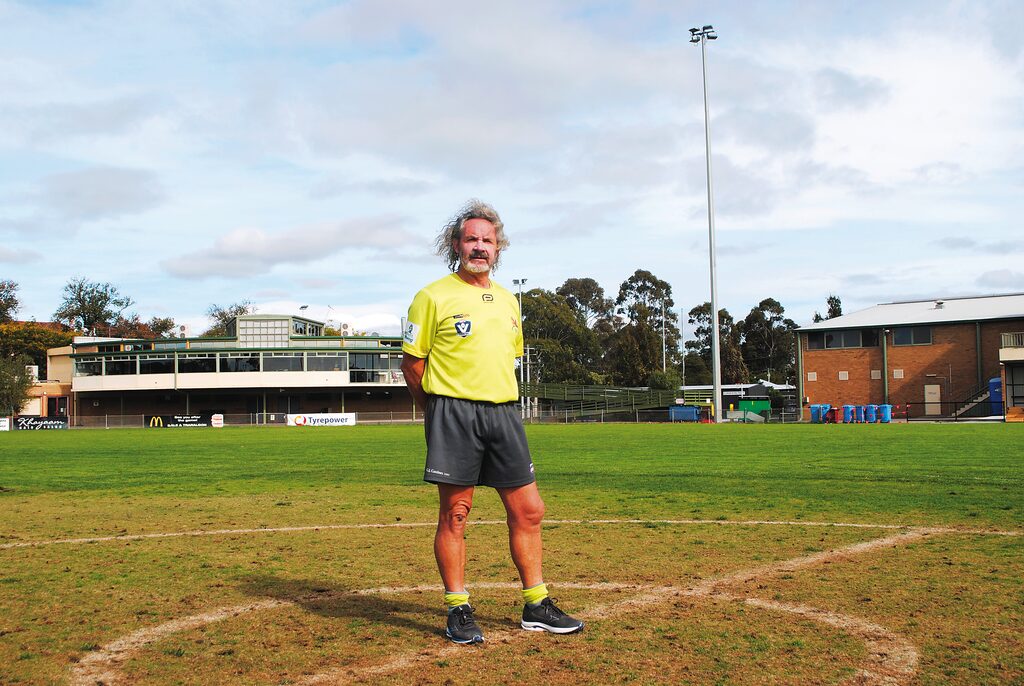 This weekend's North Gippsland senior football clash between Heyfield and Yarram brings with it a milestone for one of the region's unsung heroes.
Pete Perillo will be overseeing his 1000th football game as umpire, a feat unmatched by any of his peers.
Mr Perillo, who has officiated every match so far as a central field umpire, first became involved with the Sale Umpires Association in February 2005.
"I'd come to a bit of a crossroad in life, and I saw an ad in the Gippsland Times, in fact – a little five or six-line paragraph, 'Sale Umpires Association are looking for umpires'," he said.
"And I haven't stopped since. I love it."
By his own estimation, Mr Perillo drives up to 400 kilometres each weekend to umpire matches, and runs the equivalent of 12 to 15 kilometres per game, which can grow tiring.
"Sometimes, you get to an end of a game and think, 'Oh, what am I doing here?'
"And there's a couple of times where I've got close to giving it away, but you wake up the next morning and you think, 'why would you?'
"And I probably won't give it away until I can't run anymore."
Although he enjoys umpiring, Mr Perillo admits that sledging and abuse from the crowds can be a problem.
"When the opinions are coming from over the boundary line, it's really difficult to concentrate, and stay focused – and that's the most important thing.
"And when you lose focus out there, the game's over."
He invites anybody who seeks to criticise umpires to come down to training on a Tuesday or Thursday evening.
"I encourage everybody to have a look and have a think about what we do, before they start yelling and screaming."
Regardless of whether footy fans accept his invitation or not, Mr Perillo is simply going to continue doing what he loves: "I'll keep going until they stop selecting me."
You can watch Mr Perillo umpire his 1000th game on Saturday, May 7 at the Gordon Street Recreation Reserve, Heyfield from 2.30pm.