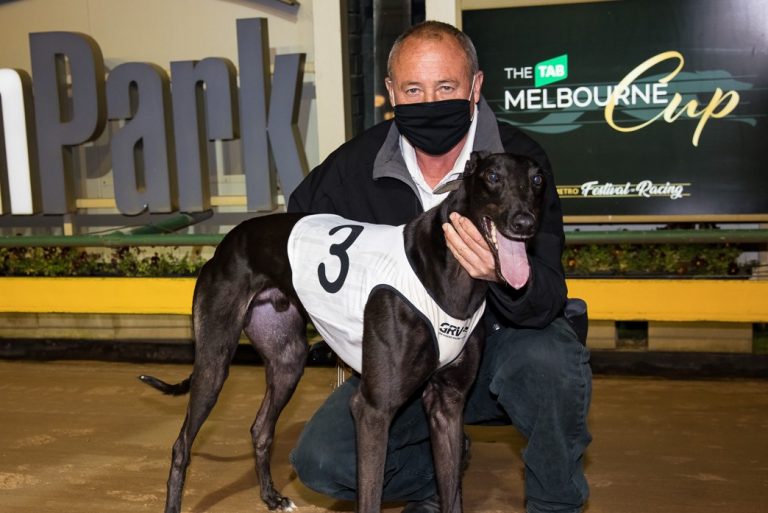 David Braithwaite
DR Tucker booked a spot in the Melbourne Cup heats after winning a Cup Prelude event at Sandown Park on Thursday night.
A week after winning the Great Chase, the greyhound, trained at Darriman by Bill McMahon, won the 515 metre race by three lengths after taking a commanding lead by the first turn.
Dr Tucker claimed a sixth consecutive victory – a ninth from 12 starts – in the fastest time of the night, 29.28 seconds.
Dr Tucker on Monday night will take on Australian greyhound of the year Simon Told Helen in the group three Silver Bullet at The Meadows.
The heats of the Melbourne Cup will be at Sandown Park on November 20, with the final a week later.
Cup favourite Catch The Thief, trained by Matt Clark at Briagolong, is yet to confirm a spot in the heats after finishing second in another Cup Prelude race. Sovereign Wind finished second for Des Douch at Maffra.
While group race wins this year are likely to see Catch The Thief qualify for the event, the final Melbourne Cup Prelude series will be run November 12.
Another Clark dog, Playlist, who had already qualified for the cup heats after winning the group one Vic Peters Classic in Sydney in July, finished third in a 595m mixed grade four and five. Demolition came four for Nambrok trainer Lyn Smith.
Kingfisher Rose, trained by Jeff Chignell at Rosedale, won a 515m grade five, pipping Mr Fix It at the post.
Carrie finished second in another 515m grade for Jenny Gill at Darriman, while kennelmate Kasey Anne, trained by McMahon, came third in another 515m grade five. At Warragul earlier in the day, Boisdale trainer Dawn Johnston had two winners.
Gerry's Lara and Bomber's Smokey, trained by Geoff Green at Woodside, battled for the win in a 400m maiden, but Johnston's dog surged in the home straight to win by four lengths.

Johnston's Velocity Sunrise won a 400m restricted win race by half a length with a strong finish.
Sale trainers Lesley and Kym Russell also had winners. Pine Gem won a 460m restricted win event, while Airly Spence claimed a 400m grade five by a nose.
Foxzami Raptor, trained at Kilmany by Yvonne Andrews, won a 400m grade five, holding off a fast-finishing Brave Traveller to win by a neck.
Foxzami Raptor has two wins from his previous three starts.
Podium, trained by Smith, advanced to the final of the 390m grade five series at Warrnambool after winning her heat on Thursday night.
ON Friday night at Warragul, Madalia Champ, trained by John Connor at Rosedale, won a 460m free-for-all by a head, claiming a third victory from his previous five starts.
Tribal, trained by Kaylah Thorburn at Gormandale, won a heat of the GRV Vic Bred 460m mixed grade six and seven series.
Rosedale dogs Bobby Bean, trained by Sharon-Lee Chignell, and Bodine, for Carolyn Jones, also advanced to this Friday night's final after finishing second and third respectively in another heat.
On the same program, General Collinda, trained by Stephanie Tyler at Boisdale, finished second in a 460m grade five race, booking him a spot in the final at Sandown Park on Thursday night.
MAN Of Sun, trained by Christopher Tilley at Sale, won a 300m grade five at Healesville on Sunday, three lengths ahead of Spolly Bear, trained at Kilmany by Steve Spoljaric.