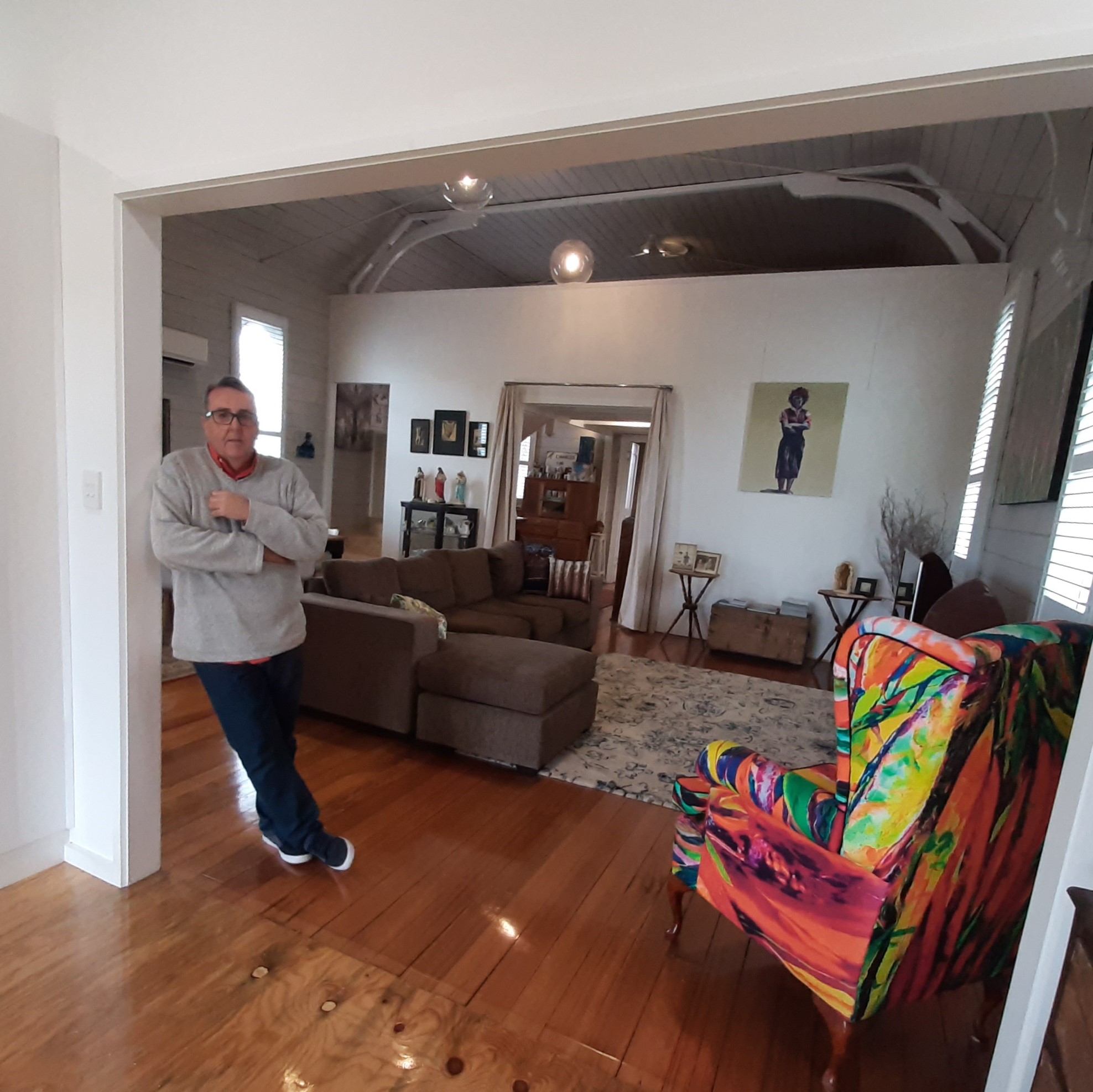 Liz Bell
ALTHOUGH he wasn't in the market for a new home, Gippsland artist Ken Roberts' creative imagination went into overdrive when he discovered a small, run down church for sale four years ago.
The former Anglican church in the tiny town of Boisdale was a draughty, empty shell when Ken purchased it "by accident", but today the property is a sympathetic conversion that has embraced the openness and mood of its past.
"I didn't even mean to buy it," he said.
"I just saw it and got curious, so I put in a low offer thinking it wouldn't happen, but it did."
Having finished the transformation and keen to get on with other "projects", Ken is selling the house – which he originally planned to turn into a bed and breakfast – and is moving on with a sense of excitement and optimism about the future.
He has loved being part of the tight-knit community of Boisdale, where he threw himself into community life and joined the Boisdale and District Progress Association, co-edited the town newsletter and became a "town mower".
But, he says he has things he wants to do and other dreams he wants to achieve.
"Owning it and transforming it has been a wonderful experience, but it's time to move on and for me to get back to other things I wanted to do before I was distracted by this project," he said.
Ken admits it's been a challenge to work within heritage guidelines to renovate the building while being true to its past, but he has managed to breathe warmth into the old frame, and repurpose it into a spectacular, modern family home.
The church is just one of more than a dozen properties he has renovated over the years, but its simple layout made designing a liveable space a little more difficult than most.
"I had a bit of an idea of what to do, but deciding on how to divide a church into a liveable space did pose some problems," he said.
Not only is the finished result "liveable", it is a testament to the owner's creativity and commitment to honour the building's heritage.
Not that it's been easy.
It took a year to get the planning permit to turn it into a house, and another six months for the plans to be approved.
In line with requirements, from the street it still looks like it did when it was the town's original centre of worship, but inside the transformation is breathtaking.
Although he was limited with colours and structural changes because of heritage guidelines, Ken has blended the old with the new and added bold splashes of colour in furnishings and decor.
There are many reminders of its holy past, such as the original arched windows, the pew now used as a piece of furniture in the loungeroom, and hymn boards from the old Briagolong and Seaspray churches.
Its timber-lined walls and soaring timber ceilings give the home character and charm, and hint at its early settler past.
A new rear extension houses a bedroom and bathroom, while new interior walls create two rooms and a loft studio space.
Modern fittings and fixtures, such as in the stunning tiled bathroom with claw foot bath and glass-walled shower, and a showcase kitchen with Red Gum bench tops, add class.
Ken said while the renovations had cost him more than he expected, living in a church was a humbling experience, and an opportunity he was grateful for.
"It's very different living here; it's still a house but there's something about it," he said.
"I think there's a responsibility that it had to be done properly, and I wanted to do it the right way."
He said the former church still had an aura that drew people to it, with passers-by often stopping to look, and people dropping in to share a yarn about the old days.
"It's strange. I'm not a terribly social person, but after I moved in I found myself putting on high teas and having groups of six or seven people at a time around," he said.
One guest was the church's former organist Jan Davidson, who told him stories of attending Sunday school out the back, and how during the war the women of the town would knit socks for the soldiers during the service. She even remembered where her family's pew was.
"Thankfully, she was happy to see what I had done and said she'd rather it was useful than abandoned or demolished. It was great that it could have a new life."